V1782
Octal Digital Multi Channel Analyzer
Eight independent 32k digital MCA in VME form factor
Perfectly suited for high resolution gamma ray spectroscopy with
single and segmented HPGe, Clover and Silicon detectors and
compatible with medium-fast scintillator like NaI, CsI, BGO
Four step of software selectable coarse gain
Two jumper selectable dynamical ranges (0.2-0.4-0.8-1.6 Vpp and
1-2-4-8 Vpp)
10 μs AC coupling jumper selectable for TRP detectors
Digital oscilloscope for an easy acquistion parameters setup and
signal monitoring
Features Digital Pulse Processing for PHA, providing Energy and
Timestamp in list mode
Software adjustable digital shaping filter, baseline restoration and
fine gain
Online pile-up rejection and software dead time evaluation
Suited also for high count rate application
Configurable coincidence or anti-coincidence of the input analog
signals for background rejection and anti-compton shield
VME and Optical Link communication interface
Drivers, libraries and API for Windows and Linux 32/64 bit
MC2Analyzer and CoMPASS software to manage the acquisition and perform basic
spectrum analysis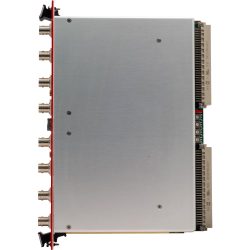 Overview
The V1782 is the new CAEN Octal 32k digital MCA. Designed for high energy resolution semiconductor detector is perfectly suited for those application in which the number of input channels start becoming relevant such as when segmented HPGe, Clovers and silicon detectors are involved.
The V1782 provides four steps of software selectable coarse gain and two possible jumper selectable dynamical ranges (0.2-0.4-0.8-1.6 Vpp and 1-2-4-8 Vpp).
It is also compatible with Transitor reset preamplifier thanks to the jumper selectable 10 us AC coupling.
Like the other members of the x781 family, the V1782 integrates advanced firmware algorithm for the processing of any kind of exponential signal or coming from charge sensitive preamplifier and can be easily adapted to different detectors and application ensuring an effective processing even at high count rates.
These algorithms includes advanced tools for the baseline restoration and pile-up rejection.
Thanks to the multiple input simultaneous acquisition, the module is able to manage coincidence and anticoincidence logic between segment of the same detector or different detectors, allowing the user to take advantage of background rejection or anti-Compton techniques.
The V1782 provides at the same time energy, time stamp and, if required, digitized pulse in a configurable acquisition windows in order to perform further off line analysis.
Acquisition settings and simple analysis operation are performed using the MC2Analyzer software that provides energy spectra up to 32k channels. The spectra can be exported and imported in ASCII o N42.42 compliant files.
CAEN provides also the drivers for the supported communication interfaces, C and Labview libraries (CAENComm, CAENDigitizer, CAENDPP) demo application and utilities.
MECHANICAL

Form Factor
2-unit wide VME 6U module
Weight
800 g
ENVIRONMENTAL

Operational Conditions
0 to 50°C Temperature Range
Compliance
EMC compliant
ANALOG INPUT

Input Features

BNC connector
Single ended, DC and 10 μs AC coupling hardware selectable
Impedance: 1 kΩ
Positive and negative signals accepted
Analog Coarse Gain: x1, x2, x4, x8 software selectable (Gain 1 = 1 Vpp); gain attenuation x0.2 by on-board jumper
Programmable DC offset adjustment on each input in the full-scale
range

Number of Inputs 8
ADC

Resolution
14 bits
Sampling Rate
100 MS/s (simultaneously on each input)
DIGITAL SIGNAL PROCESSING

Trapezoidal filter for the energy calculation: adjustable rise time 0.02 to 40 μs; flat top 0.02 to 40 μs
Trigger and Timing filter based on integrative-derivative component (30-bit time stamp, 10 ns resolution, 10 s range, 64-bit extension by software, roll-over tracking event)
Trigger threshold adjustment
Digital fine gain: 1 to 2.2 in steps of 0.0001
Trapezoid tail correction; decay time 0.1 to 650 μs
Trigger time tag discrimination by RC-CR2 filter; shaping time 0.01 to 2.4 μs
Trigger hold-off (imposed dead-time) to prevent after pulses: 0 to 40 μs
Programmable Pile-up Guard duration: 0 to 80 μs beyond the end of the flat top
Baseline restorer: fast, medium, slow
OPERATING MODES

Pulse Height Analysis (PHA): 1k-2k-4k-8k-16k-32k pulse height histogram built at software level
List mode: pulse height and time stamp for each event
Oscilloscope mode: signal inspection of input pulses and internal filters outputs
TRIGGER MODES

Uncorrelated: each channel operates independently (based on channel self-trigger)
Correlated: coincidence/anticoincidence among channels and/or an external trigger (TRG-IN)
External: channels are triggered by external trigger only (TRG-IN)
FRONT PANEL I/Os

CLK-IN (3-pin AMPMODU II)
AC-coupled differential clock input LVDS, ECL, PECL, LVPECL, CML (single-ended NIM/TTL adaptor orderable) Jitter < 100ppm requested
CLK-OUT (3-pin AMPMODU II)
AC-coupled differential clock output
TRG-IN (LEMO)
General purpose single-ended digital input Software programmable functions NIM/TTL, Zin = 50 Ω
TRG-OUT (LEMO)
General Purpose Digital output Software programmable functions NIM/ TTL, Zin = 50 Ω
S-IN (LEMO)
TTTReset/AcqStartStop digital Input NIM/TTL, Zin = 50 Ω
LVDS I/O (32-pin AMPMODU II)
16 general purpose differential LVDS I/O An input pattern from the LVDS I/O can be associated to each trigger as an event marker Multiple functions configurable by register
ANALOG MONITOR OUPTUT

12-bit / 100MHz DAC FPGA controlled
1 Vpp dynamics, 50 Ω termination
Configurable for test signals
COMMUNICATION INTERFACE

Optical Link
CAEN CONET proprietary protocol, Up to 80 MB/s transfer rate; Daisy chain capability by connecting up to 8 or 32 ADC modules to a single Optical Link Controller (A2818 or A3818 respectively)

VME
VME 64X compliant interface, Data transfer mode:
BLT32, MBLT64 (70 MB/s using CAEN Bridge) CBLT32/64, 2eVME, 2eSST (up to 200 MB/s)
FIRMWARE

DPP-PHA firmware can be upgraded via VMEbus/Optical Link
SOFTWARE

Fully controlled by MC² Analyzer and CoMPASS COMING SOON spectroscopy software (up to 16k PHA histogram supported).
General purpose C libraries with demo samples available for developers Windows® and Linux® OS supported
CONSUMPTIONS

5.6 A @ +5V; 0.320 A @ +12 V; 0.180 A @ -12V
Compare
Compare with Multi Channel Analyzers.
Ordering Options
Code
Description
WV1782XAAAAA
V1782 - Octal 32K Digital Multi Channel Analyzer

RoHS