VME8001
1U 2 Slot VME64 Mini Crate
19″ x 1U enclosure
2 slot for 6U x 160mm VME modules
200W Power Supply
Short circuit protection
VME64 J1/J2 monolithic backplane
Horizontal Ventilation (side to side)
Powered by 100÷230 VAC, 50÷60 Hz


Overview
The Model VME8001 is a 2 slot VME crate, suitable for 6U x 160mm boards, with VME64 compliant backplane. The Unit is powered by 110 ÷240 Vac, 50 ÷ 60 Hz,. The power distribution is 16A@+5V, 7A@+12V, 0.7A@-12V.
Note: VME8001 cooling airflow is not sufficient for CAEN Mod. V1740/VX1740, V1751/VX1751, V1730/VX1730, V1743/VX1743.
Mechanics

19″ VME case, 2 slots 6U, 160mm VME boards
Dimensions

19″ width , 1U height
Backplane

VME 2 slot monolithic backplane
Mains Input

100 Vac or 230 Vac, 50÷60 Hz
Output power

16A@+5V, 7A@+12V, 0.7A@-12V
Noise and ripple

typical < 20 mVpp( 20MHz bandwidth)
Isolation

CE acc. to EN 61010
Operation

0÷50°C without derating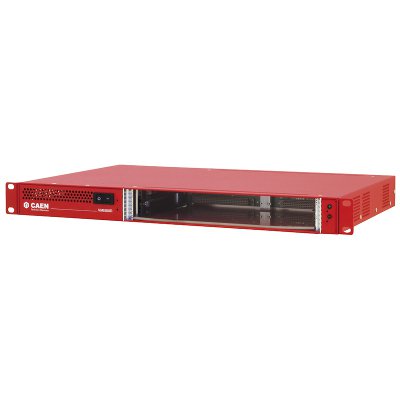 Documentation
Software
Firmware
Compare
Compare with Powered Crates.
Ordering Options
Code
Description
WV8001VME000
VME8001 - VME64 1U Mini crate, 2 Slot J1/J2,(5V 16A, +12V 7A, -12V 0.7A)

RoHS