VME8010
7U 21 Slot VME64 Low Cost Crate
Low cost compact solution
19″ x 7U (6+1) enclosure
21 slot for 6U x 160mm VME modules
470W Power Supply
VME64 J1/J2 monolithic backplane
Short circuit protection
Over / Undervoltage protection
Over temperature protection
1U space for Fan Unit
Powered by 100÷230 VAC, 50 ÷ 60 Hz
CBLT cycles supported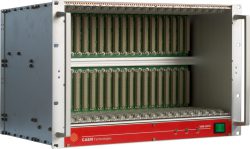 Overview
The Mod. VME8010 is a 21 slot VME crate, suitable for 6U x160mm boards, with VME64 compliant backplane. A 1U space is reserved for Fan Unit.
The Unit is powered by 100÷230 VAC, 50 ÷ 60 Hz. The power distribution is +5V@60A, -12V@6A, +12V@8.9A.
Mechanics

7U bin for 6U x 160 mm VME cards, 21 slots, 1U space for fan tray
Mains input

Auto range: 85 ÷264 Vac, 47÷63 Hz,
inrush current: <40 A @ 264 Vac
power. fact.: 0.99 Typical
Fuse

F10 A, fast type
Maximum Total Output Power

470 W @ 110 / 264 Vac
Output power

60 A @ +5 V, 6 A @ -12 V, 8.9 A @ +12 V
Isolation

CE acc. to EN 61010
Regulation

< 25mV for 0-100% load change
Noise and ripple

+5V < 50mV
+12V < 90mV
-12V < 90mV
(measured at 90% of full load)
RFI-rejection

CE EN 50081-1, FCC (emission), EN 50082-1 or 2 (immunity)
Over Current Protection

Trip off at 105-125% of the nominal values
Overvoltage protection

Trip off at 120-130% of the nominal values
DC Off (trip off)

within 5 ms if +5%, -2.5% deviation from adjusted nominal values, after overload, overheat, over voltage, under voltage (bad status) and fan fail trip off voltages and currents adjustable, processor controlled
Internal temperature limits

Cut off: 110 °C heat sink, 70 °C ambient, autom. maximum fan speed if air above VME modules >45°C
Operation

0÷50°C without derating
Temperature coefficient

< 0.2% / 10K
Stability

10mV or 0.1% within 24 hours 50mV or 1.0% within 6 months
Over Temperature Protection

Trip off all Output Voltages and PS internal fan
Efficiency

75% typical at 230Vac & 100% rated power
Cooling Airflow

408 m³/h (at maximum fan speed)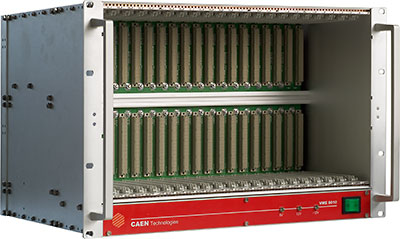 Documentation
Software
Firmware
Compare
Compare with Powered Crates.
Ordering Options
Code
Description
WV8010VME000
VME8010 - VME64 7U Low Cost crate, 21 Slot J1/J2,(5V 60A, +12V 6A, -12V 8.9A)

RoHS