VME8004X
2U 4 Slot VME64X Mini Crate
19″ x 2U enclosure
4 slot for 6U x 160mm VME modules
450W Power Supply
Short circuit protection
VME64x J1/J2/J0 monolithic backplane
Horizontal Ventilation (side to side)
Powered by 100 – 240 Vac (50 – 60 Hz)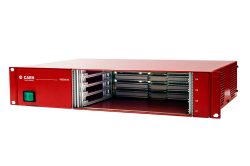 Overview
The Model VME8004X is a 4 slot VME crate, suitable for 6U x 160mm boards, with VME64x compliant backplane. The Unit is powered by 100 – 240 Vac (50 – 60 Hz). The power distribution is 25A@+5V, 10A@+12V, 10A@-12V, 25A @3.3V. The VME8004X provides automatic daisy chain and supports CBLT data cycles.
Mechanics

19″ x 2U enclosure, depth: 290mm, weigth: 5.5kg; 4 slots 6U, 160mm VME boards
Backplane

VME64X J0/J1/J2, 4 slot Automatic daisy chain
Mains Input

100 – 240 Vac (50 – 60 Hz)
Output power

450 W
Power requirements

565W
Maximum Current

25 A @ +5 V, 10 A @ +12 V, 10 A @ -12 V, 25A @ 3.3V
Noise and ripple (backplane connector)

+5V: 10 mVpp; ±12V: 20 mVpp. Measured on 100nF ceramic in parallel to 10µF electrolytic
Power supply type

ROAL RCB600
Cooling Airflow

Horizontal Ventilation (side to side)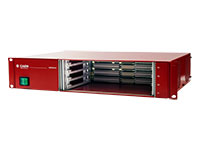 Documentation
Software
Firmware
Compare
Compare with Powered Crates.
Ordering Options
Code
Description
WV8004XVME00
VME8004X - VME64x 2U Mini crate,4 Slot J1/J0/J2,(5V 25A, +12V 10A, -12V 10A, 3.3V 25A)

RoHS