A1424
Scintillation Preamplifier
Fast, low noise inverting preamplifier specifically designed for Scintillation Detectors 
Variable sensitivity from 0.8 to 10 mV/pC 
Fast output for timing measurements 
Test input for calibration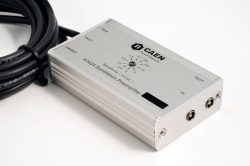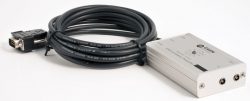 Overview
The A1424 is a preamplifier specifically designed for Scintillation Detectors widely used in Nuclear and High Energy Physics where low noise, fast response and high counting rates are required.
The A1424 relies on an inverting Charge Sensitive Preamplifier which integrates both positive and negative input charge pulses coming from the Photodetector (e.g. PMT) coupled to the Scintillator.
It provides a voltage signal in the ±4 V range on 50 Ohm termination (±8 V on 1 kOhm) with exponential decay (t= 50 µs) as Energy output (ENERGY). The height of the resulting pulse is proportional to the integrated charge. The sensitivity of the Charge Sensitive Preamplifier can be set via a 10 position rotary switch ranging from 0.8 to 10 mV/pC.
The A1424 is provided with a non-inverting buffer (gain ~ 1) which reproduces the input signals coming from the detector as fast output being useful for timing measurements (FAST). Moreover, a test input accepts positive and negative signals for calibration purposes (TEST).
Packaging

Shielded box
No. of Channels

1
Rise Time

ENERGY Out < 60 ns
FAST Out < 2.3 ns
Preamplifier Fall Time

ENERGY Out: 50 µs
Input Sensitivities

0.8, 0.9, 1.1, 1.3, 1.5, 1.7, 2.5, 3, 5, 10 mV/pC
selectable via Rotary Switch
Integral Nonlinearity

< ± 0.02%
Counting Rate

Gain shift < 0.15% on 130 mV pulses on IN input (sensitivity: 3 mV/pC),
adding on TEST input 60 mV @40 kHz random pulses.
Noise (ENERGY Out)

3.2 fC with 10 mV/pC sensitivity (max.)
8.5 fC with 0.8 mV/pC sensitivity (min.)
Temperature Coefficent

±0.01% /C°
Detector input (IN)

LEMO-00 connector
Accepts positive and negative input charge pulses from Scintillation detectors
Maximum Input Voltage: ±4 V, input impedance: 50 Ohm
TEST Input

LEMO-00 connector
Positive or negative inputs for the energy calibration via Ctest = 100 pF
ENERGY Out

LEMO-00 connector
50 Ohm back termination
Range: ± 8V (on 1 kOhm),
FAST Out

LEMO-00 connector
50 Ohm back termination
Power Requirements

15mA @ +12V; 15mA @ -12V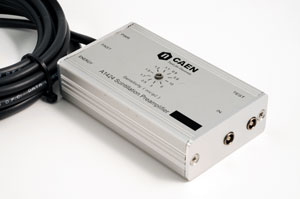 Documentation
Software
Firmware
Compare
Compare with Preamplifiers for Scintillation Detectors.
Ordering Options
| Code | Description |
| --- | --- |
| WA1424XAAAAA | A1424 - Scintillation Preamplifier |