DT5730
8 Channel 14 bit 500 MS/s Digitizer
14-bit @ 500 MS/s
Analog inputs on MCX coaxial connectors
NSCLDAQ Supported (DPP-PSD and DPP-PHA only)
8 channels, Desktop module
0.5 and 2 Vpp selectable input dynamic range with programmable DC offset adjustment
Algorithms for Digital Pulse Processing
USB and Optical Link communication interfaces
Multi-board synchronization features
Daisy chain capability
Compliant with CoMPASS, MC2Analyzer, DPP-ZLEplus and DPP-DAW Demo Software, C and LabVIEW libraries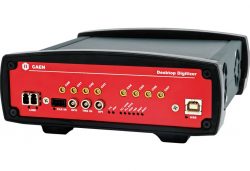 Overview
The DT5730 is a CAEN Waveform Digitizer able to perform basic waveform recording and run online advanced algorithms (DPP) for digital pulse processing: charge integration and pulse shape discrimination with constant fraction timing, pulse height analysis, zero-length encoding, and dynamic acquisition window. The wide selection of DPP algorithms supported by this digitizer makes the DT5730 a "must-have" for any kind of nuclear physics application.
Data is read by a Flash ADC, 14-bit resolution and 500 MS/s sampling rate, which is well suited for mid fast signals as the ones coming from liquid or inorganic scintillators coupled to PMTs or Silicon Photomultipliers, but also for high precision detectors as Silicon or HPGe coupled with charged sensitive preamplifier. In this case, the sampling rate can be reduced using the decimation feature. The acquisition can be channel independent and it is possible to make coincidence/anti-coincidence logic among different channels and external veto/gating. Multiple boards can be synchronized to build up complex systems. In the case of DPP mode, data can be saved in time-stamped list mode to support higher input rates and improving the throughput performances. Piled-up events can be rejected or saved for offline analysis. The acquisition in DPP mode is fully controlled by the CoMPASS and MC2Analyzer software, which manage the algorithm parameters, build the plots and saves the relevant energy, time, and PSD spectra. In the case of waveform recording mode, the user can take advantage of the CAENScope and WaveDump software to access and save the waveforms. Libraries and demo software in C and LabView are available for integration and customization of specific acquisition systems.
The DT5730 comes in a Desktop form factor, with 8 input channels. The communication to and from the board is provided through the USB and Optical Link interfaces.
GENERAL

Form Factor: 154x50x164 mm3 (WxHxD) Desktop
Weight: 670 g
ANALOG INPUT

Channels
8 channels single ended

Impedance
50 Ohm

Connector
MCX

Full Scale Range
0.5 or 2 Vpp
(SW selectable)

Bandwidth
250 MHz

Offset
Programmable DAC for DC offset adjustment in the full scale range
DIGITAL CONVERSION

Resolution
14 bits

Sampling Rate
500 MS/s
Simultaneously on each channel
ADC CLOCK GENERATION

Clock source: internal/external
Onboard programmable PLL provides generation of the main board clocks from an internal (50 MHz local Oscillator) or external (front panel CLK-IN connector) reference
DIGITAL I/O

CLK-IN (AMP Modu II)
AC coupled differential input clock LVDS, ECL, PECL, LVPECL, CML (single ended NIM/TTL available by CAEN adapter)
Jitter<100ppm requested

GPO (LEMO)
General purpose digital output
NIM/TTL, Rt = 50 Ohm

GPI (LEMO)
General purpose digital input
NIM/TTL, Zin = 50 Ohm

TRG-IN (LEMO)
External trigger digital input
NIM/TTL, Zin = 50 Ohm
MEMORY

640 kS/ch or 5.12 MS/s Multi-event Buffer divisible into 1 ÷ 1024 buffers
Independent read and write access; programmable event size and pre/post-trigger
TRIGGER

Trigger Source
Self-trigger: channel over/under threshold for either Common or Individual (DPP only) trigger generation
External-trigger: Common by TRG-IN connector
Software-trigger: Common by software command

Trigger Propagation
GPO digital output

Trigger Time Stamp
Waveform Recording: 31-bit counter, 16 ns resolution, 17 s range; 48-bit extension by firmware
DPP-PSD: 47-bit counter, 2 ns resolution, 78 h range; 10-bit and 2 ps fine time stamp with digital CFD
DPP-PHA: 47-bit counter, 2 ns resolution, 78 h range
DPP-DAW: 48-bit counter, 2 ns resolution, 156 h range
DPP-ZLEplus: 48-bit counter, 16 ns resolution, 625 h range
SYNCHRONIZATION

Clock Propagation
One-to-many: clock distribution from DT4700 to CLK-IN connector

Acquisition Synchronization
Sync Start/Stop through digital I/O (TRG-IN input, GPO output)

Trigger Time Stamp Alignment
By GPI input connector
ADC & MEMORY CONTROLLER FPGA

Altera Cyclone EP4CE30 (one FPGA serves 4 channels)
COMMUNICATION INTERFACE

USB
USB 2.0 compliant
Transfer rate up to 30 MB/s

Optical Link
CAEN CONET proprietary protocol, up to 80 MB/s transfer rate
Daisy chainable: it is possible to connect up to 8/32 ADC modules to a single Optical Link Controller (Mod.A2818/A3818)
FIRMWARE

Waveform Recording Firmware
Free firmware for waveform recording

Upgrades
Firmware can be upgraded via Optical Link or USB

DPP Firmware
Paid firmware for Digital Pulse Processing: DPP-PSD, DPP-PHA, DPP-ZLEplus, and DPP-DAW

POWER CONSUMPTIONS

2.8 A @ 12 V (Typ.)

2.1A @ +12V  (Typ. – DT5730S)
Compare
Compare with Digitizers.
Ordering Options
Code
Description
WDT5730BXAAA
DT5730B - 8 Ch. 14 bit 500 MS/s Digitizer: 5.12MS/ch, CE30, SE

RoHS

WDT5730XAAAA
DT5730 - 8 Ch. 14 bit 500 MS/s Digitizer: 640kS/ch, CE30, SE

RoHS

WDT5730SBXAA
DT5730SB - 8 Ch. 14 bit 500 MS/s Digitizer: 5.12MS/ch, CE30, SE

RoHS

WDT5730SXAAA
DT5730S - 8 Ch. 14 bit 500 MS/s Digitizer: 640kS/ch, CE30, SE

RoHS