DPP-PHA
Digital Pulse Processing for the Pulse Height Analysis
Digital solution equivalent to shaping amplifier + peak sensing ADC (Multi-Channel Analyzer)

Implemented in the 724, 725 and 730 digitizer families, DT5770 and x780/81 Digital MCA

The digitize/MCA is directly connected to the charge sensitive preamplifier
Programmable input offset, trigger and energy filter parameters
Better correction of pile-up and ballistic deficit
Higher counting rate (live time)
Provides also timing information (pulse time stamps and/or rise/fall time)
Free downloadable Trial version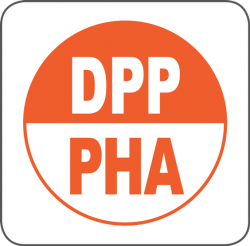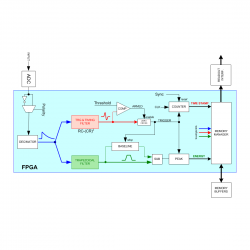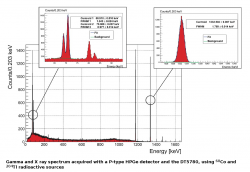 Overview
Free downloadable DPP-PHA Trial version for 724, 725 and 730 series.
The User can download the Trial Version for evaluation

The Trial version has a DAQ time frame limitation: every 30 min the user have to restart (Power off/power on) the board

To get full functionality the user should purchase a License and register it

The procedure is automatic and can be completed on our web site
Note: x780/81 Digital MCA are factory provided with time-unlimited operating DPP-PHA firmware and don't require licensing.
CAEN Waveform Digitizers feature firmware for Digital Pulse Processing (DPP) for physics applications.
The purpose of the DPP is to perform online signal processing on detector signals directly digitized, able to transform the raw sequence of samples into a compressed data packet that preserves the information required, minimizing the event data size. DPP algorithms are implemented in FPGA and can be reprogrammed at any time. In one single module you have the complete information and the capability to extract all the quantities of interest.
724 and 730 digitizers running DPP-PHA firmware become multichannel data acquisition systems for nuclear physics or other applications requiring radiation detection.
The digitizers accept signals directly from Charge Sensitive Preamplifiers or photomultiplier and implement a digital replacement of Shaping Amplifier and Peak Sensing ADC (Multi-Channel Analyzer).
The digitizer runs on real time:
Self Trigger using CR-RC-CR digital algorithm
Trapezoidal filter for Pulse Height Analysis and Energy spectra
Digital Constant Fraction Discriminator for event time measurement
Some typical applications:
Gamma ray spectroscopy with Germanium and Silicon Detectors
Readout of PMTs with slow scintillators (for instance NaI)
Applications that require a moderate timing resolution to make coincidences
MC² Analyzer – Digital MCA Data Acquisition and Analysis Software (NEW!)
MC² Analyzer
has been specifically designed as user friendly interface for CAEN
Digital MCA
or digitizers running the DPP-PHA firmware.
The selected format recalls the familiar operation of a conventional analog Nuclear Multi Channel Analyzer. MC² Analyzer allows the user to set all the relevant DPP-PHA parameters for each acquisition input, handle the communication with the connected boards, run the data acquisition and plot both waveforms for on-line monitoring of the acquisition and histograms. It can also control the HV power supplies provided in DT5780. Moreover, it is able to perform advanced
mathematical analysis
on both the online and collected spectra.

DPP-PHA control Software (724 series and DT5780 only)
DPP-PHA Control Software
is a demo program that allows the user to understand the principle of operation of the DPP-PHA firmware and to manage the acquisition of acquired signals. The DPP-PHA Control Software supports only 724 series and DT5780, and it is going to be phased out, being already replaced by the MC2Analyzer software for Windows. Linux users can take advantage of the DPP-PHA Control Software to control 724 and DT5780 boards until the MC
2
Analyzer will be available for Linux too.
DPP-PHA
Digital Pulse Processing for the Pulse Height Analysis
Product page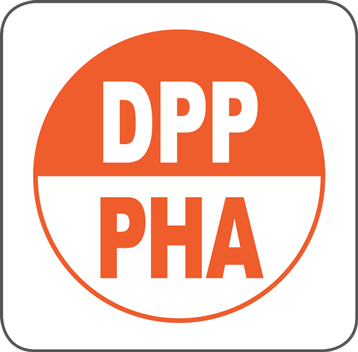 Documentation
Software
Firmware
Ordering Options
Code
Description
WFWDPPTF0230
DPP-PHA - Digital Pulse Processing for Pulse Height Analysis (x730) - 2 Licence Pack (Obsolete)
WFWDPPTF02AA
DPP-PHA - Digital Pulse Processing for Pulse Height Analysis (x724) - 2 Licence Pack (Obsolete)
WFWDPPTF0530
DPP-PHA - Digital Pulse Processing for Pulse Height Analysis (x730) - 5 Licence Pack (Obsolete)
WFWDPPTF05AA
DPP-PHA - Digital Pulse Processing for Pulse Height Analysis (x724) - 5 Licence Pack (Obsolete)
WFWDPPTF1030
DPP-PHA - Digital Pulse Processing for Pulse Height Analysis (x730) - 10 Licence Pack (Obsolete)
WFWDPPTF10AA
DPP-PHA - Digital Pulse Processing for Pulse Height Analysis (x724) - 10 Licence Pack (Obsolete)
WFWDPPTF2030
DPP-PHA - Digital Pulse Processing for Pulse Height Analysis (x730) - 20 Licence Pack (Obsolete)
WFWDPPTF20AA
DPP-PHA - Digital Pulse Processing for Pulse Height Analysis (x724) - 20 Licence Pack (Obsolete)
WFWDPPTFAA30
DPP-PHA - Digital Pulse Processing for Pulse Height Analysis (16ch x 730)
WFWDPPTFAAAA
DPP-PHA - Digital Pulse Processing for Pulse Height Analysis (8ch x 724)
WFWDPPTF0525
DPP-PHA - Digital Pulse Processing for Pulse Height Analysis for (x725) -5 Licence Pack (Obsolete)
WFWDPPTF1025
DPP-PHA - Digital Pulse Processing for Pulse Height Analysis for (x725) - 10 Licence Pack (Obsolete)
WFWDPPTF2025
DPP-PHA - Digital Pulse Processing for Pulse Height Analysis for (x725) - 20 Licence Pack (Obsolete)
WFWDPPTFAA25
DPP-PHA - Digital Pulse Processing for Pulse Height Analysis for (16ch x 725)
WFWDPPTFAD24
DPP-PHA - Digital Pulse Processing for Pulse Height Analysis (4/2 ch x 724)
WFWDPPTFAD25
DPP-PHA - Digital Pulse Processing for Pulse Height Analysis for (8ch x 725)
WFWDPPTFAD30
DPP-PHA - Digital Pulse Processing for Pulse Height Analysis (8ch x 730)