DPP-PSD
Digital Pulse Processing for Charge Integration and Pulse Shape Discrimination
Features
Digital solution equivalent to Dual Gate QDC + Discriminator + Gate Generator
Implemented in the digitizer families:
Fully supported by the CoMPASS software
Double charge integration for Pulse Shape Discrimination

Programmable width and position of the two gates

Single gate integration for energy spectra calculation
Self-Gating (no discriminator) with digital noise filtering

No delay line is needed to fit the position of the pulse inside the gate

Automatic baseline subtraction (pedestal)
Digital Constant Fraction Discrimination for fine time stamp interpolation (pico-second intrinsic resolution)

Timing information (pulse time-stamps)

No conversion time to reduce the dead-time of the acquisition
On-line coincidences/anti-coincidences acquisition mode among channels
Free downloadable firmware trial version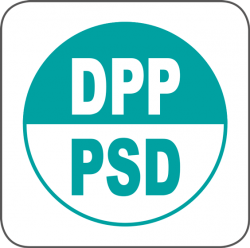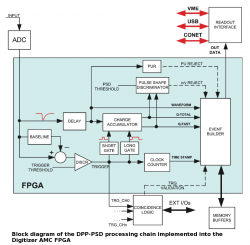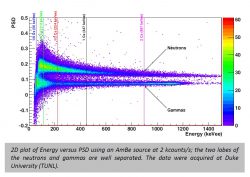 Overview
Free downloadable DPP-PSD Trial version for 720, 725, 730, 751, 2740 and 2745 series.
The user can download and install DPP-PSD firmware without any license key and use it with time frame limitation: every 30 min the user have to restart (Power off/power on) the board

To get time-unlimited operating DPP-PSD the user should purchase a License

x790 Digital Pulse Analyzers are factory provided with time-unlimited operating DPP-PSD firmware and don't require licensing
DPP-PSD (Digital Pulse Processing for Charge Integration and Pulse Shape Discrimination) firmware is fully controlled by CoMPASS, the CAEN multiparametric spectroscopy software for Physics applications.
A digitizer running the DPP-PSD firmware becomes a multichannel data acquisition system for nuclear physics or other applications requiring radiation detectors. The digitizer accepts signals directly from the detector and implements a digital replacement of Dual Gate QDC, Discriminator and Gate Generator. All these functions are performed inside the board FPGA without any use of external cables, nor additional boards or delay lines. Therefore, a single compact system takes care of the acquisition, replacing the traditional analog boards.
It is also possible to realize multi-board systems: the front panel clock, the trigger and the general-purpose LVDS I/Os connectors (VME only) make possible the synchronization of multiple boards.
Software
Firmware
Features
720 (1)
725
730
751
2740
2745
Compass
DPP-PSD
ICH (Independent channels)
✔
✔
✔
✔
✔
✔
WV (Waveforms)
✔
✔
✔
✔
✔
✔
TS (Timestamp)
✔
✔
✔
✔
✔
✔
TDC (Time to Digital Converter)
✔
✔
✔
✔
✔
QDC (Charge to Digital Converter)
✔
✔
✔
✔
✔
✔
CFD (Constant Fraction Discriminator)
✔
✔
✔
✔
✔
PSD (Pulse Shape Discrimination)
✔
✔
✔
✔
✔
✔
(1) ONLY versions: E/F/G (VME) – E/F (Desktop) – E/F (VME64X) – B/C/D/E (NIM)
Spectroscopy with scintillation organic/inorganic detectors
SiPM readout systems
Neutron physics with liquid scintillation detectors
Acquisition from phoswich detectors
Time-dependent spectroscopy
Precise timing for Time of Flight measurements
Homeland security
Neutron imagine
PET
Tagged neutron for inspection systems
DPP-PSD
Digital Pulse Processing for Charge Integration and Pulse Shape Discrimination
Product page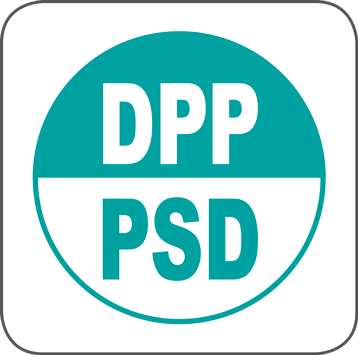 Documentation
Software
Firmware