DT5790
Dual Digital Aquisition System for Charge Integration and Pulse Shape Discrimination
2 x 250 MS/s 12-bit Waveform Digitizer
Suited for detectors based on Organic, Inorganic and Liquid Scintillators
2 x HV bias outputs for dectector driving up to ± 4 kV, 3 mA, (4 W)
2 x Low Voltage bias outputs for preamps driving (± 12 V, ± 24 V)
On-line Digital Pulse Processing for Charge Integration and Pulse Shape Discrimination (DPP-PSD)
Oscilloscope operating mode for an easy setup and signal monitoring
Energy histograms and 2-D Scatter plots of PSD parameter
Waveform or lists of energy & time stamp (4 ns resolution) events
Synchronization, coincidences & anti-coincidences capabilities
Windows and Linux, 32 and 64 bit OS supported
DPP-PSD Control Software to control acquisition, data plot and saving, HV parameters
C/C++ and LabVIEW libraries for an easy interface to custom DAQ systems
USB and Optical Link communication interfaces
Firmware upgradeable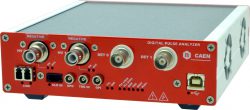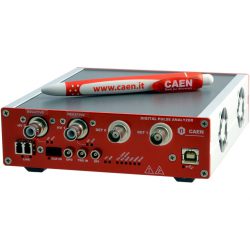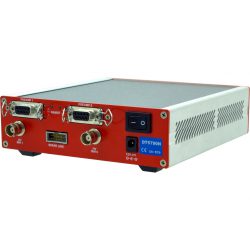 Overview
The DT5790 is a complete digital acquisition system for scintillators and other detectors. It is ideally suited for Organic, Inorganic and Liquid Scintillators coupled to photodetectors like PMTs and SiPMs whose pulses can be directly accepted by the board.
In a compact desktop form factor, the DT5790 houses:
2x 250 MS/s and 12-bit waveform digitizer with single-ended analog inputs on BNC connectors. 2 Vpp of input dynamics and adjustable DC offset via a 16-bit DAC on each channel in the full range.

2x ±4 kV 3 mA (4 W max.) HV bias outputs

on SHV connectors for detectors driving. HV polarity NEGATIVE, POSITIVE or MIXED selectable by ordering options.
2x ±12 V 100 mA and ±24 V 50 mA Low Voltage bias outputs on DB9 connectors for preamplifiers driving.
The DT5790 operates upon the DPP-PSD firmware, specially developed for Charge Integration and Pulse Shape Discrimination. DPP-PSD is based on an advanced on line Digital Dual Gate Charge Integration allowing an effective data analysis even at high count rate. It performs input signal baseline calculation, self-triggering and double-gate charge integration with programmable parameters, double integration of both prompt and total charge for Pulse Shape Discrimination and pedestal subtraction for energy calculation.
Thanks to the 2-input simultaneous acquisition, the DT5790 is able to manage coincidence and anti-coincidence between a pair of detectors, allowing the user, for example, to easily take advantage of background rejection or anti-Compton techniques.
The module has been designed to operate as a scalable multi-input multi-board acquisition system, offering synchronization capabilities. A CLK IN front panel connector is provided to synchronize the clocks from different boards, as well as digital I/Os can serve for trigger propagation and Start/Stop acquisition management.
The DT5790 houses USB 2.0 and Optical Link interfaces. USB 2.0 allows data transfers up to 30 MB/s. The Optical Link supports transfer rate of 80 MB/s and offers Daisy-chain capability. Therefore, it is possible to connect up to 8/32 DT5790 modules to a single Optical Link Controller (Mod. A2818/A3818).
Operating modes:
"Oscilloscope": makes possible to acquire waveforms, either input signals or the outputs of the internal digital filters, for monitoring and parameters tuning
"List": parameters like charge, PSD and time stamp are extracted from the pulses.
"Pulse Shape Discrimination (PSD)": histogram of the total charge (16k) and 2-D scatter plot of PSD parameter are built at software level.
Software available (Windows and Linux):
CAEN provides drivers for all the different types of physical communication channels, a set of C and LabView libraries (CAENComm and CAENDigitizer), demo applications and utilities:
CAENUpgrader: tool that allows the user to update the firmware of the digitizers, change the PLL settings, load, when requested, the license for the pay firmware and other utilities.
DPP-PSD Control Software: graphical interface for the DPP-PSD management and the HV / Preamp power supply channels control (Mixed mode not supported).
Mechanical

Dimensions
154 W x 50 H x 164 L mm³ (without connectors)
154 W x 50 H x 194 L mm³ (including connectors)

Weight
950 g
Analog Input

Input Features

–

BNC connector

–

Single-ended, DC coupled

–

Input range: 2 Vpp

–

Impedance: 50 Ω

–

Positive and negative signals accepted

–

Bandwidth: DC to 125 MHz

–

Programmable DC offset adjustment on each input in the full scale range
ADC

Resolution: 12 bits

Sampling Rate: 250 MS/s simultaneously on each channel
Digital Signal Processing

–

Input baseline calculation and subtraction

–

Manual trigger threshold adjustment

–

Dual gate charge integration

–

Pile-up detection and rejection

–

Online PSD calculation

–

Configurable PSD threshold for Neutron Gamma discrimination

–

Time Stamp: 4 ns resolution, 32 bit
Preamplifier Power Supply

Preamp Features

–

DB9 connector

–

± 12 V, 100 mA output

–

± 24 V, 50 mA output

–

Output voltage tolerance: 2%

–

Voltage ripple < 5 mVpp

Extra Features

–

Aux. analog input: 0 ÷ 10 V

–

Ext. input for detector's temperature readout
High Voltage Power Supply

HV Features

–

SHV connector

–

4 kV Vset, 3 mA Iset (4 W power limited)

–

HV polarity configurable by ordering option

–

Vset, Vmon resolution: 0.1 V

–

Iset,Imon resolution: 0.05 µA

–

User configurable Ramp-Up/Ramp-Down rates independently for each channel:
1÷ 500 V/s range in steps of 1 V/s

–

User configurable HV parameters independently for each channel

HV Outputs
2

Safety Features

–

OverVoltage/UnderVoltage alarms

–

Overcurrent/OverTemperature alarms (Kill or Ramp selectable esc modes)

–

Channel Inhibit on DB9 and dedicated BNC connectors, configurable logic by panel switch

Voltage Ripple
3 mVpp (Typ.), 5 mVpp (Max.) @ 1 kV/500 µA
3 mVpp (Typ.), 5 mVpp (Max.) @ 2 kV/1 mA
10 mVpp (Typ.), 15 mVpp (Max.) @ 4 kV/1 mA
Operating Modes

–

Pulse Shape Discrimination (PSD): histogram of Total Charge (16k) and 2-D Scatter Plot of PSD parameter (built at SW level)

–

List Mode: Total Charge, Prompt Charge and Time Stamp for each event

–

Oscilloscope mode: input and internal filters waveforms
Trigger Modes

–

Uncorrelated: each channel operates independently (basing on channel self-trigger)

–

Correlated: coincidences & anticoincidences among channels AND/OR an external trigger (TRG IN)

–

External: channels are triggered by external trigger only (TRG IN)
Front Panel Digital I/Os

CLK-IN (AMP Modu II)
AC coupled differential Input Clock:
LVDS, ECL, PECL, LVPECL, CML
(single ended NIM/TTL available by orderable cable); Jitter<100ppm requested; can be used as external clock reference for single board or to synchronize the clocks of multiple boards, provided through a Fan In.TRG-IN (LEMO)
External trigger Input: NIM/TTL, Zin = 50 Ω
can be used either to force the event acquisition from all the board channels, or to GATE/VETO the individual channel self-triggers, or in coincidence/anticoincidence with the self-triggers, or to propagate the common trigger in multi-board synchronization (in combination with GPO)

GPO (LEMO)
General Purpose Output: NIM/TTL, Zin = 50 Ω
can be used to propagate the global trigger in multi-board synchronization (in combination with TRG IN), as output register or Run ON/OFF statusGPI (LEMO)
General Purpose Input: NIM/TTL, Zin = 50 Ω
can be used as SYNC/START in multi-board synchronization or Run ON/OFF control
Communication Interface

Optical Link
CAEN CONET proprietary protocol
Up to 80 MB/s transfer rate
Daisy-chain capability: it is possible to connect up to 8 or 32 ADC moduels to a single Optical Link Controller (A2818 or A3838 respectively)

USB
USB2.0 compliant
Up to 30 MB/s transfer rate
Firmware

Firmware upgradeable via USB/Optical Link
Software

–

Controlled by the DPP-PSD Control Software

–

For developers: general purpose C libraries with demo samples available
Power Requirements

Operating Supply Voltage
+12 VDC ± 10%

Consumptions(@ +12 VDC)
3.2 A(*) Typ. ( ± 10% tolerance)

The module is powered by external AC/DC stabilized power supply included in the kit (12 VDC, 45 W)
(*)measured with maximum current charge on preamp outputs and 1kV/1mA (1W) charge on HV outputs
Environmental

Operating Conditions
0 – 50°C Temperature range
EMC compliant
DT5790
Dual Digital Aquisition System for Charge Integration and Pulse Shape Discrimination
Product page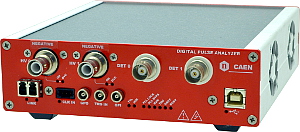 Documentation
Software
Firmware
Ordering Options
Code
Description
WDT5790XMAAA
DT5790M - Dual Digital Pulse Analyzer - 1HVPS +4kV, 1HVPS -4kV, (3mA 4W), 2LVPS ±12V/100mA ±24V/50mA

RoHS

WDT5790XNAAA
DT5790N - Dual Digital Pulse Analyzer - 2 HVPS -4kV/3mA (4W), 2 LVPS ±12V/100mA, ±24V/50mA

RoHS

WDT5790XPAAA
DT5790P - Dual Digital Pulse Analyzer - 2 HVPS +4kV/3mA (4W), 2 LVPS ±12V/100mA, ±24V/50mA

RoHS