A2818
PCI CONET Controller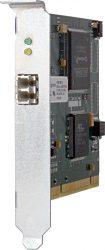 Overview
The Mod. A2818 is a 32-bit 33 MHz PCI card, which allows the control, through a standard PC, of up to 8 CAEN Optical Slave Cards (CAEN VME Bridge or Digitizers).  The communication protocols used are the CONET1 or the new CONET2 (A dedicated firmware for the desired protocol must be installed on the board). Optical fiber cables are used as physical transmission line (AI2700 – Optical Fiber Series). The card drivers, together with C functions libraries and demo programs are provided for both Windows and Linux Users.
Packaging

32 bit PCI card
Transmission Channel

Optical Fiber
Channel Bandwidth

1.25 Gb/sec
Data Transfer rate

Up to 85 MB/sec (CONET 2 CAEN proprietary protocol)
Compare
Compare with Controllers (ALL).
Ordering Options
Code
Description
WA2818XAAAAA
A2818 - PCI Optical Link (Rohs compliant)

RoHS