DT5751
2/4 Channel 10 bit 2/1 GS/s Digitizer
10 bit 2 GS/s (interleaved) – 1 GS/s ADC
2-4 channel
FPGA for real time Digital Pulse Processing:
0.2 or 1 Vpp input dynamics single ended
16-bit programmable DC offset adjustment: ±0.5 V / ±0.1 V
MCX input (50ohm , single ended)
Trigger Time stamps
Memory buffer: 1.835 MS/s
FPGA for real-time data processing
Programmable event size and pre-post trigger adjustment
USB 2.0 compliant interface
Optical Link interface (CAEN proprietary protocol)
Firmware upgradeable via USB/Optical Link
Libraries, Demos (C and LabView) and Software tools for Windows and Linux
External AC-DC Power Supply Adapter (+12V)
Dimension: 154x50x164 mm3 (WxHxD)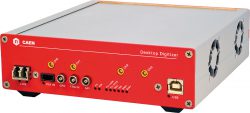 Overview
The DT5751 is a 2-4 Channel 10 bit 2/1 GS/s Desktop Waveform Digitizer with 1 Vpp dynamic range on single ended MCX coaxial input connectors. Versions with 0.2 Vpp single ended customization are also available. 2 GS/s is featured when working in Dual Edge Sampling (DES) mode. The DC offset is adjustable via a 16-bit DAC on each channel in the ±0.5 V range @ 1 Vpp or ±0.1 V @ 0.2 Vpp.
The module features a front panel clock In and a PLL for clock synthesis from internal/external references. The data stream is continuously written in a circular memory buffer. When the trigger occurs, the FPGA writes further N samples for the post trigger and freezes the buffer that can be read via USB or optical link. The acquisition can continue without dead time in a new buffer.
Each channel has a SRAM Multi-Event Buffer of 1.835 MS (3.6 MS in DES mode) divisible into 1 ÷ 1024 buffers of programmable size. The readout (from USB or Optical link) of a frozen buffer is independent from the write operations in the active circular buffer (ADC data storage). Mod. DT5751 supports multi-board synchronization allowing all ADCs to be synchronized to a common clock source and ensuring Trigger time stamps alignment. When synchronized, all data will be aligned and coherent across multiple DT5751 boards.
The trigger signal can be provided via the front panel input as well as via the software, but it can also be generated internally with threshold auto-trigger capability.
DT5751 houses USB 2.0 and optical link interfaces. USB 2.0 allows data transfers up to 30 MB/s. The Optical Link supports transfer rate of 80 MB/s, and offer daisy-chain capability. Therefore it is possible to connect up to 8/32 ADC modules to a single Optical Link Controller (Mod. A2818/A3818).

Software available (Windows and Linux):
CAEN provides drivers for all the different types of physical communication channels, a set of C and LabView libraries (CAENComm and CAENDigitizer), demo applications and utilities:
CAENSCOPE: fully graphical program that implements a simple oscilloscope.
CAENUpgrader: tool that allows the user to update the firmware of the digitizers, change the PLL settings, load, when requested, the license for the pay firmware and other utilities.
CAEN WaveDump: software console application that can be used to configure and readout event data from any model of the CAEN digitizer family and save the data into a memory buffer allocated for this purpose.
CAEN provides also for this model two Digital Pulse Processing firmware for Physics Applications:
(*) The DPP-PSD firmware runs only on V1720E/V1720F/V1720G
Package

Desktop module:154x50x164 mm3 (WxHxD)
Weight: 680 gr
Analog Input

2/4 channels (MCX 50 Ohm)
Single-ended
Input range: 1 Vpp (default); 0.2 Vpp (on request)
Bandwidth: 500 MHz
Programmable DAC for Offset Adjustment x channel: Programmable DAC for Offset Adjustment x channel; adjustment range: ±0.5 V @ 1 Vpp, ±0.1 V @ 0.2 Vpp
Digital Conversion

Resolution: 10 bit
Sampling rate: 200 MS/s to 1 GS/s (2 GS/s in DES mode) simultaneously on each channel
ADC Sampling Clock generation

Three operating modes:
– PLL mode: internal reference (50 MHz loc. oscillator)
– PLL mode: external reference on CLK_IN (±100ppm tolerance)
– PLL Bypass mode: ext. clock on CLK_IN drives directly ADC clocks (Freq.: 200 MS/s to 1 GS/s)
Digital I/O

CLK_IN (AMP Modu II):
– AC coupled differential input clock LVDS, ECL, PECL, LVPECL, CML(single ended NIM/TTL available by custom cable)
– Jitter<100ppm
TRG_IN (LEMO 50 Ohm, NIM/TTL)
GPI/GPO (LEMO 50 Ohm, NIM/TTL)
Memory Buffer

1.835 MS/ch (3.6 MS/ch in DES mode) Multi Event Buffer
Programmable event size and pre-post trigger
Divisible into 1 ÷ 1024 buffers
Readout of Frozen buffer independent from write operations in the active buffer (ADC data storage)
Trigger

Common Trigger:
– External (signal on TRG_IN)
– Self trigger (internal threshold self-trigger)
Daisy chain trigger propagation among boards (using GPO)
Trigger Time Stamp

31-bit counter – 16 ns resolution – 17 s range
Multi Modules Synchronization

Clock distribution: by Fan Out
Trigger distribution: by Daisy chain or Fan Out
Time stamp synchronization
ADC and Memory controller FPGA

One Altera Cyclone III EP3C16 per channel
USB interface

USB2.0 compliant
Up to 30 MB/s transfer rate
Optical Link

CAEN proprietary protocol, up to 80 MB/s transfer rate
Daisy chainable: it is possible to connect up to 8/32 ADC modules to a single Optical Link Controller (Mod. A2818/A3818)
Upgrade

Firmware can be upgraded via Optical Link or USB interface
Software

General purpose C and LabView LibrariesDemo and Software Tools for Windows and Linux
Electrical Power

Voltage range: 12 ± 10% Vdc. Power consumption (typ.): 1.8A @12V
Compare
Compare with Digitizers.
Ordering Options
Code
Description
WDT5751XAAAA
DT5751 - 2/4 Ch. 10 bit 2/1 GS/s Digitizer: 3.6/1.8MS/ch, EP3C16, SE

RoHS