DPP-ZLEplus
Digital Pulse Processing for the Zero Length Encoding
Enhanced Zero Suppression of input signals

Implemented in the 751 digitizer family (10 bit @ 1 GSps)

Input signal baseline calculation
Acquisition window generated by external trigger
Upper and Lower Thresholds referred to the baseline or to absolute values
Dead-timeless acquisition (no conversion time)
Provides also timing information (trigger time stamps)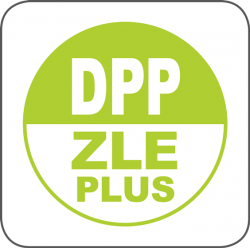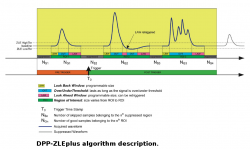 Overview
Free downloadable DPP-ZLEplus Trial version.
The user can download and install DPP-ZLEplus firmware without any license key and use it with time frame limitation: every 30 min the user have to restart (Power off/power on) the board
To get time-unlimited operating DPP-ZLEplus the user should purchase a License
The Zero Length Encoding (DPP-ZLEplus) firmware has been developed for the 751 digitizer family. It allows the user to transfer the digitized waveforms in compressed mode, performing an enhanced Zero Suppression algorithm on the input signals.
DPP-ZLE continuously calculates the baseline of the input signals and, whenever an external trigger occurs, it searches for the significant input pulses within an user-defined Acquisition window. An input pulse is considered significant if it either exceeds an Upper Threshold or falls below a Lower Threshold referred either to the calculated baseline or absolute values.
It is possible to store not only the over threshold part of the significant pulses, but also the samples before and after the threshold crossing points by means of programmable Look Back and Look Ahead windows.

The digitizer runs on real time:
Input signal baseline calculation channel by channel
Acquisition window generation whenever an external trigger occurs
Enhanced Zero Suppression of input signals within the Acquisition window
Storage of just the pulses that cross user defined Upper or Lower Thresholds
Programmable Look Back and Look Ahead windows
Provides also timing information (trigger time stamps)
Some typical applications:
Read out of a large number of detectors following a global trigger
Application requiring an effective data reduction
DPP-ZLEplus Supported Boards
DT5751- 2/4 Channel 10 bit 2/1 GS/s Digitizer – Desktop module
N6751- 2/4 Channel 10 bit 2/1 GS/s Digitizer – NIM module
V1751- 4/8 Channel 10 bit 2/1 GS/s Digitizer – VME 6U module
VX1751- 4/8 Channel 10 bit 2/1 GS/s Digitizer – VME64X 6U module
DPP-ZLEplus Control Software is a demo application introducing the user to understand the principle of operation of the Digital Pulse Processing for the Zero Length Encoding (DPP-ZLEplus). It can manage single-board communication and acquisition of CAEN 751 Digitizer family (10 bit @ 1 GS/s) running DPP-ZLEplus firmware. The user can make an entire acquisition through this software, as well use the source code to develop his/her customized readout program. Indeed the package includes the C source files and the Visual Studio project (compliant with Visual Studio Professional 2010).
Note:

DPP-ZLEplus doesn't support DES mode (2 GS/s sampling frequency).
DPP-ZLEplus
Digital Pulse Processing for the Zero Length Encoding
Product page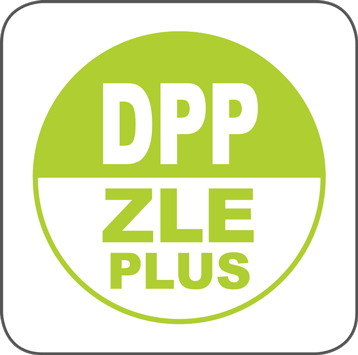 Documentation
Software
Firmware
Ordering Options
| Code | Description |
| --- | --- |
| WFWDPPZL1030 | DPP-ZLE - Digital Pulse Processing Zero Length Encoding for (x730) - 10 Licence Pack (Obsolete) |
| WFWDPPZL1051 | DPP-ZLE - Digital Pulse Processing Zero Length Encoding for (x751) - 10 Licence Pack (Obsolete) |
| WFWDPPZL2030 | DPP-ZLE - Digital Pulse Processing Zero Length Encoding for (x730) - 20 Licence Pack (Obsolete) |
| WFWDPPZL2051 | DPP-ZLE - Digital Pulse Processing Zero Length Encoding for (x751) - 20 Licence Pack (Obsolete) |
| WFWDPPZLA230 | DPP-ZLE - Digital Pulse Processing Zero Length Encoding for (x730) - 2 Licence Pack (Obsolete) |
| WFWDPPZLA251 | DPP-ZLE - Digital Pulse Processing Zero Length Encoding for (x751) - 2 Licence Pack (Obsolete) |
| WFWDPPZLA530 | DPP-ZLE - Digital Pulse Processing Zero Length Encoding for (x730) - 5 Licence Pack (Obsolete) |
| WFWDPPZLA551 | DPP-ZLE - Digital Pulse Processing Zero Length Encoding for (x751) - 5 Licence Pack (Obsolete) |
| WFWDPPZLAA30 | DPP-ZLE - Digital Pulse Processing Zero Length Encoding for (16ch x 730) |
| WFWDPPZLAA51 | DPP-ZLE - Digital Pulse Processing Zero Length Encoding for (8ch x 751) |
| WFWDPPZL1025 | DPP-ZLE - Digital Pulse Processing Zero Length Encoding for (x725) - 10 license Pack (Obsolete) |
| WFWDPPZL2025 | DPP-ZLE - Digital Pulse Processing Zero Length Encoding for (x725) - 25 license Pack (Obsolete) |
| WFWDPPZLA525 | DPP-ZLE - Digital Pulse Processing Zero Length Encoding for (x725) - 5 license Pack (Obsolete) |
| WFWDPPZLAA25 | DPP-ZLE - Digital Pulse Processing Zero Length Encoding for (16ch x 725) |
| WFWDPPZLAD25 | DPP-ZLE - Digital Pulse Processing Zero Length Encoding for (8ch x 725) |
| WFWDPPZLAD30 | DPP-ZLE - Digital Pulse Processing Zero Length Encoding for (8ch x 730) |
| WFWDPPZLAD51 | DPP-ZLE - Digital Pulse Processing Zero Length Encoding for (4ch x 751) |