CAEN WaveDump
CAEN Digitizer readout application
Basic console for waveforms acquisition
Multichannel waveform plot
Advanced mode configuration:

common board settings
individual settings for threshold and DC offset adjustment
725-730-751 ADC calibration

Advanced mathematical functions: amplitude spectra and FFT
Configuration of 742 boards and DRS4 chip corrections
Family-specific function setting (e.g. Decimation for 724 and 740 boards)
Multi format (ASCII, binary) data saving
Source files and Visual Studio project open source for developer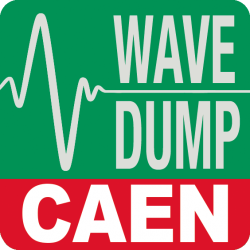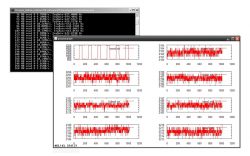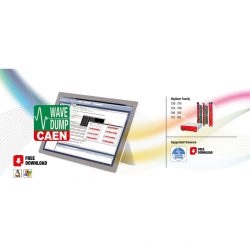 Overview
WaveDump is a basic console application, with no graphics, supporting digitizers running Standard firmware. It allows the user to program a single board (according to a text configuration file containing a list of parameters and instructions), to start/stop the acquisition, read the data, display the readout and trigger rate, apply some post-processing (e.g. FFT and amplitude histogram), save data to a file and also plot the waveforms using Gnuplot (third-party graphing utility: www.gnuplot.info).
WaveDump is a very helpful example of C code demonstrating the use of libraries and methods for an efficient readout and data analysis. Starting with this demo is strongly recommended to all those users willing to write the software on their own. Source files and the VS project are included for developers.
NOTE: WaveDumpdoes not support DPP firmware.
| | |
| --- | --- |
| Supported Operating Systems: | Windows (32-64 bit), Linux (32-64 bit) |
| Language: | C |
| Supported Products: | VME, NIM and Desktop Digitizers |
| Supported Comm. Interface: | USB, Optical Link, VME |
| Additional Software Required: | CAENDigitizer, CAENComm, CAENVMELib, Gnuplot (Linux only) |
Applications
Signal inspection and waveform recording
Research and development of prototypes
Data collection for offline statistical analysis
Beam monitoring
Sensors readout and detectors' performances
Lida