DT5742
16+1 Channel 12 bit 5 GS/s Switched Capacitor Digitizer
12 bit @ 5 GS/s, Desktop module
Switched Capacitor technology based on the DRS4 chip (designed at Paul Scherrer Institute)

1024 capacitor cells per channel (acquisition window of ~ 200 ns @ 5 GS/s)

5 GS/s, 2.5 GS/s, 1 GS/s, 750 MS/s software selectable sampling frequencies
16 analog input channels on MCX coaxial connectors
1 additional analog input (TR0):

fast (low latency) trigger
digitizable for high resolution timing (up to 50 ps)

1 Vpp input dynamic range with programmable DC offset adjustment
Dead-time due to conversion: 110 µs (analog inputs only), 181 µs (TR0 input)
Trigger modes:

External on TRG-IN connector; common to all groups
Fast (Low Latency) on TR0 connector; common to all groups
Self-trigger, combinations of channels over-threshold in logic OR; common to all groups

Memory buffer options: 128 events/ch; 1024 events/ch
USB and Optical Link communication interfaces
Demo software tools, C and LabVIEW libraries

Overview
The Mod. DT5742 is a Desktop module housing 16+1 Channel 12 bit 5 GS/s Switched Capacitor Digitizer. The input dynamic range is 1 Vpp on single-ended MCX coaxial connectors (16-bit DAC on each channel to control the DC Offset).
The digitizer is based on the Switched Capacitor Array DRS4 chip (Domino Ring Sampler). This technology relies on a series of 1024 capacitors (analog memory) in which the analog input signal is continuously sampled in a circular way.
The sampling frequency is 5 GHz by default and it can be programmed to 2.5 GHz, 1GHz, and 750 MHz. The analog to digital conversion is not simultaneous with the chip sampling phase, and it starts as soon as the trigger condition is met, thus producing a dead time of 110 μs in case only the analog inputs are digitized, 181 μs when also the fast trigger TR0 is digitized. When the trigger stops the DRS4 chip sampling (holding phase), the analog memory buffer is frozen, and the cell content is made available to the 12 bit ADC for the digital conversion.
The digital memory allows to store subsequent events, even if the readout is not yet started. Moreover, since the digital memory buffers work like FIFOs, the readout activity from USB or Optical Link does not affect write operations of subsequent events.
The available trigger sources are:
External Trigger, trigger on TRG-IN connector, common to all enabled groups.
Fast (Low Latency) Local Trigger, trigger on TR0 connector, common to all enabled groups. This mode is called "Fast" or "Low Latency" since the trigger latency to hold the DRS4 is reduced with respect to the external trigger. This trigger mode is convenient for high precision timing measurements, since the TR0 can be digitized and reported in the output data to be used as time reference.
Self-trigger, common to all enabled groups. For each group is possible to select combination of channels (logic OR) that provide a trigger whenever the input crosses the threshold. This mode cannot be used at 5 GHz due to the trigger latency.
The module features the front panel CLK IN connector and an internal PLL for clock synthesis from internal/external references. The module is available with digital memory sizes of 128 event/ch or 1024 event/ch. DT5742 houses USB 2.0 and Optical Link interfaces. USB 2.0 allows data transfers up to 30 MB/s. The Optical Link supports transfer rate of 80 MB/s and offers Daisy chain capability. Therefore, it is possible to connect up to 8/32 ADC modules to a single Optical Link Controller (Mod. A2818/A3818).
Software available (Windows and Linux): CAEN provides drivers for all the different types of physical communication channels, a set of C and LabView libraries (CAENComm and CAENDigitizer), demo applications and utilities:
CAENUpgrader: tool that allows the user to update the firmware of the digitizers, change the PLL settings, load, when requested, the license for the pay firmware and other utilities.
Software for DT5742 running Waveform Recording Firmware:
CAEN WaveDump: software console application that can be used to configure and readout event data from any model of the CAEN digitizer family and save the data into a memory buffer allocated for this purpose.
Package

Desktop module: 154x50x164 mm3 (WxHxD)
Weight: 630 gr
Analog Input

Channels
16 channels
1 special channel (TR0)
Single endedImpedance
Zin = 50 Ohm

Connector
MCXFull Scale Range (FSR)
1 Vpp

Bandwidth
500 MhzOffset
Programmable 16-bit DAC for DC offset adjustment on each channel. Range ± 1 V
Digital Conversion

Resolution
12 bitsSwitched Capacitor Array
Domino Ring Sampler chip (DRS4), 8+1 channels with 1024 storage cells each

Sampling Rate
5 GS/s – 2.5 GS/s – 1 GS/s – 0.75 GS/s SW selectable, simultaneously on each channel

Dead Time (A/D Conversion)
110 μs, analog inputs only
181 μs, digitizing TR0
ADC Sampling Clock generation

Clock source: internal/external.
On-board programmable PLL provides generation of the main board clocks from internal (50 MHz local Oscillator) or external (front panel CLK-IN connector) reference
Digital I/O

CLK-IN (AMP Modu II)
AC coupled differential input clock
LVDS, ECL, PECL, LVPECL, CML (single ended NIM/TTL available by A318 adapter) Jitter < 100 ppm requested

GPO (LEMO)
Trigger digital output
NIM/TTL
Zin = 50 OhmTRG-IN (LEMO)
Trigger digital output
NIM/TTL
Zin = 50 Ohm

GPI (LEMO)
External trigger digital input
NIM/TTL
Zin =50 Ohm
Memory

128 events/ch or 1024 events/ch (1024 S/event) Multievent Buffer
Independent read and write access; programmable event size and pre/post-trigger
Trigger

Trigger Source
– Fast (Low Latency) trigger: Common trigger by programmable threshold on TR0
– Self-trigger: Common trigger by combination of channels over/under threshold in logic OR
– External-trigger: Common trigger by TRG IN connector
– Software-trigger: Common trigger by software command

Trigger Propagation
GPO programmable digital outputTrigger Time Stamp
30-bit counter
8.5 ns resolution
9 s range
Synchronization

Clock Propagation
One-to-many: clock distribution from an external clock source on CLK-IN connector

Acquisition Synchronization
Sync, Start/Stop through digital I/O (GPI or TRG-IN input / GPO output)Trigger Time Stamps Alignment
By GPI input connector
ADC and Memory controller FPGA

Altera Cyclone EP3C16 (one FPGA manages 16+1 channels)
Communication Interface

Optical Link
CAEN CONET proprietary protocol
Up to 80 MB/s transfer rate
Daisy-chain: it is possible to connect up to 8 or 32 ADC modules to a single Optical Link Controller (respectively A2818 or A3818)

USB
USB 2.0 compliant
Up to 30 MB/s transfer rate
Upgrade

Firmware can be upgraded via USB/Optical Link
Software

General purpose C libraries, configuration tools, readout software (Windows and Linux support)
Electrical Power

Voltage range: 12 ± 10% Vdc. Power consumption (typ.): 1.7A @12V
DT5742
16+1 Channel 12 bit 5 GS/s Switched Capacitor Digitizer
Product page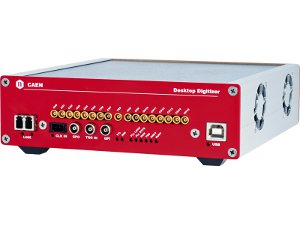 Documentation
Software
Firmware
Compare
Compare with Digitizers.
Ordering Options
Code
Description
WDT5742BXAAA
DT5742B - 16+1Ch. 12 bit 5 GS/s Switched-CapacitorDigitizer: 1024 events/ch (1kS/event), EP3C16,SE

RoHS

WDT5742XAAAA
DT5742 - 16+1 Ch. 12 bit 5 GS/s Switched-CapacitorDigitizer: 128 events/ch (1kS/event), EP3C16, SE

RoHS