VX1743
16 Channel 12bit 3.2 GS/s Switched Capacitor Digitizer
12-bit @ 3.2 GS/s, 1024 samples per event
Developed in collaboration with CEA/IRFU & CNRS/IN2P3/LAL and based on the SAMLONG chip
3.2, 1.6, 0.8, 0.4 GS/s software selectable sampling frequencies
Analog inputs on MCX coax. connectors
16 channels in 1-unit VME64X 6U form factor
2.5 Vpp input dynamic range with programmable individual DC offset adj.
One discriminator per channel with programmable threshold
Adjustable post-trigger delay (up to 1.25 µs @ 3.2 GS/s)
Digital Memory buffer: 7 events/ch
1024 samples per channel (320 ns recorded time per event @ 3.2 GS/s)
Dead time due to event conversion: 125 µs (max. @ 1024 samples)
Real time hit counting independent of acquisition rate on each channel
On-board charge calculation for fast histogramming (user-defined integration window)
One embedded pulser per channel for test and reflectometry applications
Optical Link interface (CAEN proprietary protocol)
VME64X-compliant interface
A2818(PCI) / A3818 (PCIe) Controller available for handling up to 8/32 modules Daisy chained via Optical Link
Firmware upgradeable via VMEbus/Optical Link
Multi-board synchronization features
16 programmable LVDS I/Os
Fully controlled by the WaveCatcher readout software
Drivers and libraries for Windows and Linux 32/64-bit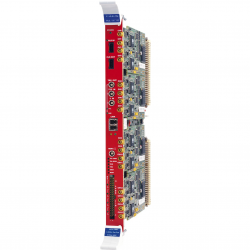 Overview
The Mod. VX1743 is a VME64X 6U module housing 16 Channel 12 bit 3.2 GS/s Switched Capacitor Digitizer, with 2.5 Vpp single-ended input dynamics, issued from the collaboration with CEA/IRFU & CNRS/IN2P3/LAL and based on SAMLONG chip. A programmable DAC on each channel allows for DC Offset adjustment in the ±1.25 V range.
The analog input signals are continuously sampled into the SAMLONGs (sampling intervals down to 312.5 ps) in a circular analog memory buffer (1024 cells). As a trigger signal arrives, all analog memory buffers are frozen and subsequently digitized with a resolution of 12 bits into a digital memory buffer. During analog to digital conversion process, the VX1743 cannot handle other triggers (Dead Time: 115 us).
The memory buffer allows to store up to 7 full events for each cannel (1 event = 1024x12bit). The buffer can be read by VME bus or Optical Link simultaneously with write operation of successive events.
The module features front panel Clock Input and Output, as well as a PLL for clock synthesis from internal/external references. VX1743 supports multi-board synchronization allowing all switched capacitor memories to be synchronized to a common clock source and ensuring Trigger time stamps alignment. Once synchronized, all data will be aligned and coherent across multiple VX1743 boards
Each channel is equipped with an individual discriminator, with programmable threshold, which generates a trigger request when the input signal goes overthreshold. The trigger requests from the channels are processed by the board to generate a common trigger causing all the channels to acquire an event simultaneously. The common trigger can also be provided externally via the front panel Trigger Input or via the software, for debug purposes, through VMEbus/Optical Link
VX1743 houses VME (VME64X compliant) and Optical Link interfaces. The VME interface allows data transfers of 60 MB/s (MBLT64), 100 MB/s (2eVME), 160 MB/s (2eSST). The Optical Link supports transfer rate of 80 MB/s and offers Daisy chain capability. Therefore, it is possible to connect up to 8/32 ADC modules to a single Optical Link controller (Mod. A2818/A3818).
Mod. VX1743 features an embedded Charge Mode, where the pulse integration window is defined by the user (high rates ~3.5 KEvents/s). This feature allows to perform on-line processing on detector signal directly digitized.
Some typical applications:
Precise characterization of high speed detectors (PMTs, SiPMs, APDs,…)
High Resolution Photon timing with MCP-PMTs
Software available (Windows and Linux):
CAEN provides drivers for all the different types of physical communication channels, a set of C libraries (CAENComm and CAENDigitizer) for Windows and Linux OS, as well as a control software tool for Windows:
CAENUpgrader: tool that allows the user to update the firmware of the digitizers, change the PLL settings, load, when requested, the license for the pay firmware and other utilities.
WaveCatcher: fully graphical program that implements an oscilloscope. NEW
GENERAL

1-unit wide VME64X 6U module
ANALOG INPUT

Channels
16 channels
single endedImpedance
50 Ohm

Connector
MCXFull Scale Range
2.5 Vpp
DC coupled

Bandwidth
500 MHzOffset
Programmable 16-bit DAC for DC offset adjustment on each channel.
Range: ± 1.25 V
TEST FUNCTIONALITY

One pulser per channel with programmable 16-bit pattern (fixed amplitude)
DIGITAL CONVERSION

Switched Capacitor Array
SAMLONG Fast Analog Memory chip
2 channels, 1024 storage cells/ch
320 ns minimum recorded time/eventSampling Rate
0.4 – 0.8 – 1.6 – 3.2 GS/s
Simultaneously on each channel
SW selectable

Dead Time (Event A/D Conversion)

125 µs (max. @ 1024 samples)

Note:

value decreasing proportionally with the recording depth (configurable record length)

Resolution
12 bits
SYSTEM PERFORMANCES

Sampling Time Precision
< 20 ps @ 3.2 GS/s (before calibration)
< 5 ps @ 3.2 GS/s (after calibration)Note: obtained with factory calibration and dual-pulse timing measurement with pulse generator.
Test conditions: periodic input pulses with 1-V Amplitude, 1-kHz Frequency, rise time of 0.8 / 1.6 / 2.5 ns. The resolution does not change significantly when varying the delay Δt between the two pulses

Noise Level
0.75 mV RMS
CLOCK GENERATION

Synchronization clock source: internal/external
On-board PLL provides generation of the main board clocks from an internal (50 MHz loc. oscillator) or external (front panel CLK-IN connector) reference
DIGITAL MEMORY

7 event/ch Multi-Event Buffer (1024 samples per event)
SYNCHRONIZATION

Clock Propagation

–

Daisy chain through CLK-IN/CLK-OUT (AC coupled differential LVDS, ECL, PECL, LVPECL, CML on AMP MODU II connectors)

–

One-to-many clock distribution from an external clock source on CLK-IN connector

Clock cable compensation

Acquisition Synchronization

–

Sync Start/Stop through digital I/O (S-IN or TRG-IN input, TRG-OUT output)

–

External Trigger time Stamp reset

Trigger Time Stamps Alignment
By S-IN input connector
ADC & MEMORY CONTROLLER

Altera Cyclone EP3C16 (1 FPGA serves 4 channels)
COMMUNICATION INTERFACE

Optical Link
CAEN CONET proprietary protocol,
up to 80 MB/s transfer rate
Daisy chainable: it is possible to
connect up to 8/32 ADC modules to a
single Optical Link Controller (Mod.A2818/A3818)

VME
VME 64X compliant
Data transfer mode: BLT32, MBLT64 (70 MB/s using CAEN Bridge), CBLT32/64, 2eVME, 2eSST (up to 200 MB/s)
ANALOG MONITOR

Al12-bit / 125MHz DAC FPGA controlled; four operating modes:
– Test pulses: 1-Vpp ramp generator
– Majority signal: proportional to the nr. of channels under/over threshold (steps of 125 mV)
– Memory Occupancy signal: proportional to the Multi Event Buffer Occupancy (1 buffer ~ 1 mV)
– Voltage level: programmable output voltage level
LVDS I/O

16 general purpose LVDS I/Os controlled by FPGA
Busy, Data Ready, Memory full, Individual Trig-Out and other functions can be programmed
An Input Pattern from the LVDS I/Os can be associated to each trigger as an event marker
DIGITAL PULSE PROCESSING

Software selectable embedded Charge Mode for input pulse high rate charge integration and fast histogramming
FIRMWARE UPGRADE

Firmware upgreadable via VMEbus/Optical Link
SOFTWARE

–

General purpose C libraries and configuration tools(Windows and Linux support)

–

WaveCatcher readout software (Windows only)
POWER CONSUMPTIONS

4 A @ +5 V
625 mA @ +12 V
-12 V not used
VX1743
16 Channel 12bit 3.2 GS/s Switched Capacitor Digitizer
Product page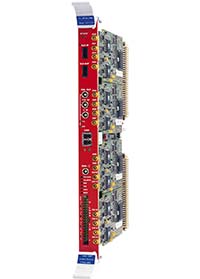 Documentation
Software
Firmware
Compare
Compare with Digitizers.
Ordering Options
Code
Description
WVX1743XAAAA
VX1743 - 16 Ch. 12 bit 3.2GS/s Switched-Capacitor Digitizer: 7 events/ch (1kS/event), EP3C16, SE

RoHS