V1741
64 Ch Peak Sensing ADC
1-unit 6U VME Module
1k, 2k, 4k 8k, 16k Peak Sensing ADC
64 input channels, single ended, ERNI SMC (Zin: 1 kΩ)
Low dead time (re-triggering less than 100 ns after the previous gate closes)
Sliding scale algorithm for DNL reduction over 1/16 of the full ADC scale
4 Vpp Full Scale Range (3.75 Vpp with sliding scale enabled)
Full-scale INL < 0.05% over 1 : 99% FSR
Accepts positive and negative inputs
Zero suppression with programmable threshold
Multi-Event Buffer (512 event/channel)
Common Gate mode (64 channels converted at once) with linear gate width or programmable by software
Individual Gate mode with 64 independent self-gating channels
Fast Clear input for the event discard (PUR)
Extended Time Stamp (48 bit)
Internal dead-time counters
VME64/VME64x and Optical link (CAEN CONET proprietary protocol) communication interfaces
Multi-board synchronization and Daisy chain capabilities
Windows and Linux drivers, C and LabVIEW libraries, demo software and firmware upgrade tool
Firmware upgradable by the user
2 models available:

V1741 (1-unit wide 6U VME)
VX1741 (1-unit wide 6U VME64X)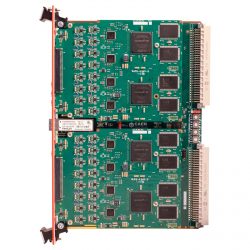 Overview
The V1741 (VX1741) is a Digital Peak Sensing ADC belonging to a new generation of detector readout systems based on a mixed analog-digital acquisition chain, combining a high channel density (64 channels) and a low dead time.
Conversion gain ranges from 1k up to 16k channels with a low differential non linearity (DNL) thanks to the sliding scale method. 
The FLASH ADC architecture makes possible to achieve an extremely low conversion time of the pulse peak, so new conversions take place less than 100 ns after the previous gates close.
Receiving the typical slow signal from a Charge Sensitive Preamplifier followed by a Shaping Amplifier, the FPGA identifies the peak of the pulse within a gate by means of digital filters. The energy data are stored with the time stamp in a multi-event buffer and are available for the readout by VME bus or optical link interface (Daisy-chainable). Data throughput can be reduced by the Zero Suppression algorithm with programmable thresholds.
The front panel hosts LEMO (NIM/TTL) inputs for the Gate and for the event discard during the acquisition in case of pile-up. The Gate can be linear (same width as the external signal) or re-formed with programmable width. Specific I/Os allow for multi-board synchronization and for Gate propagation.
The V1741 is provided with drivers for the supported communication interfaces, C and LabVIEW libraries, demo software for an easy board understanding. Firmware upgrade can be performed via optical link or VMEbus by the user. 
GENERAL

Form Factor
1-unit wide VME 6U module
Weight
535 g
ANALOG INPUT

Channels

64 channels

Single ended

Connector

64-pin Dual Row ERNI SMC

Bandwidth

30 MHz

Impedance

Zin = 1 kΩ

Full Scale Range (FSR)

4 Vpp (3.75 Vpp with sliding scale enabled) or 8 Vpp (default)

SW selectable

 

Offset

The Sliding Scale automatically manages the DAC for DC offset adjustment on each channel.
DIGITAL CONVERSION

Resolution
12 bits

Sampling Rate
62.5 MS/s simultaneously on each channel
CONVERSION GAIN

1k, 2k, 4k, 8k, 16k
DEAD TIME

< 100 ns
INTEGRAL NON LINEARITY (INL)

< 0.05% over 1 : 99% FSR
DIFFERENTIAL NON LINEARITY (DNL)

< 1%
ZERO SUPPRESSION

Common thresholds to 8 channels groups and programmable in: ADC counts step over the entire FSR
GATE

Gate mode with linear gate width or programmable by software
MEMORY

Multi-event Buffer (512 event/channel)
DIGITAL I/O

CLK-IN (AMP Modu II)

AC coupled differential input clock

LVDS, ECL, PECL, LVPECL, CML

(single ended NIM/TTL available by A318 adapter)

Jitter<100ppm requested

GATE (LEMO)

External trigger digital input

NIM/TTL; Zin = 50 Ω

CLK-OUT (AMP Modu II)

DC coupled differential

LVDS clock output locked at

ADC sampling clock

GPO (LEMO)

Trigger digital output

NIM/TTL; Rt = 50 Ω

REJ (LEMO)

front panel digital input

NIM/TTL

Zin = 50 Ω
TRIGGER

Trigger Source

Self-trigger (T.B.D.): channel over/under-threshold for Common Trigger generation

External-trigger: Common by TRG-IN connector

Software-trigger: Common by software command

Trigger Propagation

TRG-OUT programmable digital output

Trigger Time Stamp
31-bit counter, 16 ns resolution, 17 s range;48-bit extension by firmware 
LVDS I/O

16 general purpose LVDS I/O controlled by the FPGA: Run, Busy, Veto, Trigger and other functions can be programmed
An Input Pattern from the LVDS I/O can be associated to each trigger as an event marker
ADC & MEM. CONTROLLER

Altera Cyclone EP1C16 (one FPGA serves 16 channels)
SYNCHRONIZATION

Clock Propagation

Daisy chain:through CLK-IN/CLK-OUT

connectors

One-to-many: clock distribution from an

external clock source on CLK-IN connector

Clock Cable delay compensation
COMMUNICATION INTERFACE

Optical Link

CAEN CONET proprietary protocol

Up to 80 MB/s transfer rate

Daisy chainable: it is possible to

connect up to 8 or 32 ADC modules to a

single Optical Link Controller (respectively A2818 or A3818)

VME

VME 64X compliant

Data transfer mode: BLT32, MBLT64

(70 MB/s using CAEN Bridge),

CBLT32/64, 2eVME, 2eSST (up to 200 MB/s)
DPP FW SUPPORTED

Peak Sensing firmware
FIRMWARE UPGRADE

Firmware can be upgraded via VMEbus/Optical Link
SOFTWARE

General purpose C libraries, configuration tools, readout software (Windows and Linux support)
POWER CONSUMPTIONS

5.6 A @ +5V; 250 mA @ +12V, -12V not used
Compare
Compare with ADCs (Peak Sensing).
Ordering Options
Code
Description
WV1741XAAAAA
V1741 64ch Peack Sensing ADC

RoHS