SCI-Compiler
User Firmware Generator and Compiler for CAEN Programmable Boards
Download FREE TRIAL version here
Block diagram based user firmware generator and compiler for CAEN programmable boards:

DT5495 – V2495 Programmable Logic Unit support
DT5550, DT5550SE and R5560 support for pulse processing development
DT5550W support for SiPM readout using WeeROC ASICs

Automatic VHDL generation starting from logic blocks and virtual instruments
Very simple generation of complex logic: schematics based design
Advanced signal processing block: PHA based on Trapezoidal Filter, Charge Integration or Peak Stretcher, 500 ps resolution TDC, Oscilloscope, Digitizer, MCA
Advanced sequencer Design based on graphical representation of State Machine ideal to implement custom ASIC readout system
Automatic generation of drivers, libraries and demo software for Windows, Linux and macOS to implement communication between devices and PC software through USB, ethernet and VME protocol.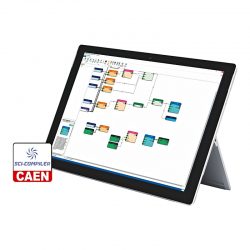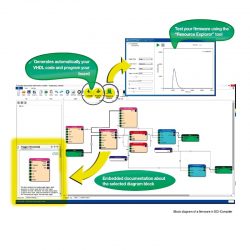 Overview
SCI(entific) Compiler is Windows based software designed to accelerate the firmware implementation for signal processing in scientific instrumentation and is targeted to generate custom applications for nuclear physics world. SCI-Compiler is an automatic code generator that, starting from a graphical block diagram, generates a VHDL peace of code that implements the required function. Moreover, SCI-Compiler is able to generate C libraries and drivers to be used in Windows, Linux and macOS for software implementation.
SCI-Compiler uses a prebuilt library set containing macroblocks with complex function. Each macroblock could be imagined as a modular instrument (MCA, Oscilloscope, Digitizer, TDC) that the user could connect with each other.
Programming with SCI-Compiler is much more similar to implement an experimental setup than developing a software.
What is SCI-Compiler
The increasing use of programmable logic devices in trigger and data acquisition systems makes clear that having a general purpose platform and technicians dedicated to the firmware development is becoming more and more important. The advantage of employing programmable logic devices with respect to standard logic modules (like NIM logic modules) is remarkable: a single programmable logic device includes the potentiality of hundreds of thousands of standard logic modules. For the technicians, who usually work with standard logic modules, the use of specific languages like VHDL or Verilog for the firmware development could represent a limitation in the spread of these powerful devices.
We introduce an innovative method to simplify the firmware development. This method is based on a graphical programming interface consisting of blocks specifically developed for nuclear physics applications. For instance, any trigger logic could be implemented by connecting specific blocks in the graphical interface, as easily as physically connecting NIM modules in a rack.
The SCI-Compiler software allows to develop both purely digital applications, exploiting blocks like scaler, counter, pattern matching, logic analyzer and state machine, and analog processing applications, such as custom multichannel analyzer using charge integration, trapezoidal filter, spectrum and oscilloscope blocks. In addition, the SCI-Compiler software provides the function to read and test the ASICs, enabling the user to develop a sequencer for the ASIC control.
The SCI-Compiler software focuses the attention only on the functional blocks of the application to be implemented and does not require a deep knowledge of the device in use, enabling the employment of programmable logic devices also to users who are not experts in firmware development.
Common Application
Detectors Readout in Nuclear Physics: PMTs, SiPM, position-sensitive tubes , …
Readout of digital and analog ASICs
Complex trigger logic
Event Counters
Single Channel (SCA) and Multi Channel Analyser (MCA)
Time to Digital Converter
Replacement for any old logic-based system
Time tagging logic
Particle realtime Time of Arrival distribution calculation
Waveform recording digitizer
Logic Analyzer
X-Ray and Gamma Ray Imaging
SiPM testing and characterization
Custom board prototyping
Supported Hardware
SCI-compiler has been designed to generate code for some particular hardware platform designed by CAEN. Presently, SCI-Compiler supports the following CAEN products:

Driver requirements
OS
Windows Framework required
Support CAEN Board
Third-party software required (*)

Windows 7 or greater (32/64 bit)

4.0 or higher

V2495 – DT5495
18.0 or higher

DT5550 – DT5550W – DT5550SE- R5560
2017.4 or higher

(*) Not required if using SCI-Compiler cloud compiling service (coming soon)
SCI-compiler is designed for CAEN programmable boards by 

SCI-Compiler
User Firmware Generator and Compiler for CAEN Programmable Boards
Product page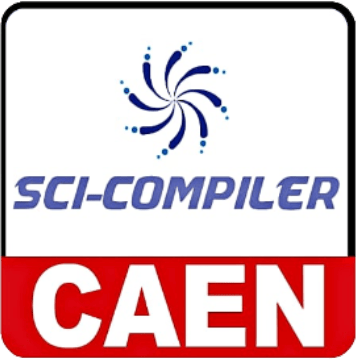 Documentation
Software
Firmware
Ordering Options
| Code | Description |
| --- | --- |
| WSW555XAAAAA | SW555 - Sci-Compiler User Firmware Generator |