DT5495
Programmable Logic Unit
User Programmable FPGA
Compact Desktop form factor
Up to 162 inputs, up to 130 outputs
LVDS/ECL/PECL/NIM/TTL
3 expansion slots for piggyback board:

A395A 32 LVDS/ECL/PECL input ch.
A395B 32 LVDS output ch.
A395C 32 ECL output ch.
A395D 8 NIM/TTL input/output ch.
A395E 8 Analog output 16bit ch.

32 independent programmable Gate and Delay Generator
Ethernet and Mini-USB 2.0 Connection
Available in VME version V2495
Supported by SCI-Compiler software tool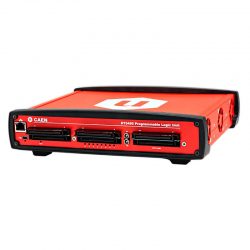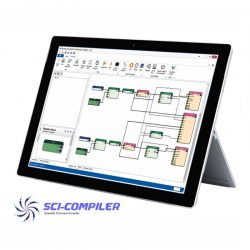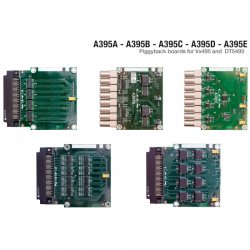 Overview
The DT5495 is the completely new version of the CAEN bestseller VME General Purpose Programmable Unit V1495. This new design brings a simpler connectivity, a 150% increase in the logic resources, more programmable Gate&Delay generators and it does all this remaining compatible with previous I/O expansion boards. The boards are a suitable solution for the implementation of digital functions such as Coincidence, Trigger Logic, Gate and Delay generator, Input/Output Register and more.
The architecture of the DT5495 is based on the User FPGA (Altera Cyclone V GX C4, 50K Logic Elements) which is directly interfaced to the front panel I/Os (up to 162 inputs and up to 130 outputs) and to an internal local bus.
The DT5495 can be controlled and programmed via Ethernet or Mini-USB on the front panel. A Software tool is provided for free to easily upload the custom Firmware on the User FPGA.
The DT5495 is also completed by 32 internal delay lines that can be used to generate programmable gate and delay signals. The channel interface can be freely expanded by adding up to three independent piggyback boards (there are 3 expansion slots interfaced to the User FPGA), choosing between the five available types:
A395A 32 LVDS/ECL/PECL input channels
A395B 32 LVDS output channels
A395C 32 ECL output channels
A395D 8 NIM/TTL input/output channels
A395E 8 Analog output 16bit channels
Therefore, the Mod. DT5495 can achieve a maximum number of 194 I/O channels.
Model Compare:
Piggyback
A395A
A395B
A395C
A395D
A395E
No. of channels
32
32
32
8
8
Channel type
Digital input
Digital input
Digital input
Digital I/O selectable
Analog Output
Description
Differential LVDS/ECL/PECL
Differential LVDS
Differential ECL
NIM/TTL
16 bit resolution
Output range:
± 5V @10 Ohm RL
± 4V @200 Ohm RL
Note
single ended TTL optional
LVDS 100 Ohm RI
ECL
NIM/TTL selectable 50 Ohm Rt
DAC board equipped with DT5495 – Vx495 Firmware and VHDL source for custom development
Brandwith
200 MHz
250 MHz
300 MHz
250 MHz
–
Front panel connector
3M P50E-068-P1-SR1type (34+34) pins
3M P50E-068-P1-SR1type (34+34) pins
3M P50E-068-P1-SR1type (34+34) pins
LEMO 00
LEMO 00
FW2495SC is a FPGA firmware that allows to use the DT5495 as a Multievent latching scaler housing up to 160 independent counting channels (this maximum number of channels is achieved if the DT5495 is expanded with three A395A boards)
Output channels

LVDS 100 Ohm Rl
input channels

64 LVDS/ECL/PECL110 Ohm Rt. Extended Common Mode input range -4V to +5V; Fail Safe input feature.
Bidirectional (I/O) channels

NIM/TTL selectable 50 Ohm Rt
Input bandwidth

t.b.d.
I/O delay

t.b.d.
Packaging

Desktop
A395A piggyback board

no. of ch.
32
Direction
Input
Logic
Direct
Signal
LVDS/ECL/PECL (single ended TTL optional)110 Ohm Rt. Extended Common Mode input range -4V to +5V;

Fail Safe input feature.

Bandwidth
200 MHz
Panel conn.
Robinson Nugent P50E-068-P1-SR1-TG type, (34+34) pins
A395B piggyback board

| | |
| --- | --- |
| no. of ch. | 32 |
| Direction | Output |
| Logic | Direct |
| Signal | LVDS 100 Ohm Rl |
| Bandwidth | 250MHz |
| Panel conn. | Robinson Nugent P50E-068-P1-SR1-TG type, (34+34) pins |
A395C piggyback board

| | |
| --- | --- |
| no. of ch | 32 |
| Direction | Output |
| Logic | Direct |
| Signal | ECL |
| Bandwidth | 300MHz |
| Panel conn. | Robinson Nugent P50E-068-P1-SR1-TG type, (34+34) pins |
| WARNING! | A "Mounting Option" is necessary in order to install 3 A395C on the V1495 |
A395D piggyback board

| | |
| --- | --- |
| no. of ch | 8 |
| Direction | I/O selectable |
| Logic | TTL IN=DirectTTL OUT=DirectNIM IN=Invert NIM OUT=Direct |
| Signal | NIM/TTL selectable 50 Ohm Rt |
| Bandwidth | 250 MHz |
| Panel conn. | LEMO 00 |
DT5495 - Mezzanine Installation
Ordering Options
Code
Description
WDT5495XAAAA
DT5495 - Programmable Logic Unit PLUS

RoHS

WK5495KITXAA
DT5495+ SW555 - Desktop Programmable Logic Unit and Sci Complier Bunble Kit