A395
Piggyback boards for Vx495 and DT5495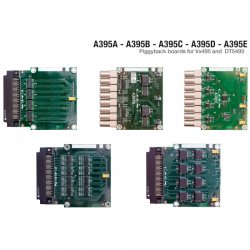 Overview
The channel interface of V2495 (V1495) and DT5495 can be freely expanded by adding up to three independent piggyback boards (there are 3 expansion slots interfaced to the User FPGA), choosing between the five available types:
A395A 32 LVDS/ECL/PECL input channels
A395B 32 LVDS output channels
A395C 32 ECL output channels
A395D 8 NIM/TTL input/output channels
A395E 8 Analog output 16-bit channels
Therefore, the V2495 and DT5495 can achieve a maximum number of 194 I/O channels.
A395  Models Compare:
Piggyback
A395A
A395B
A395C
A395D
A395E
No. of channels
32
32
32
8
8
Channel type
Digital input
Digital input
Digital input
Digital I/O selectable
Analog Output
Description
Differential LVDS/ECL/PECL
Differential LVDS
Differential ECL
NIM/TTL
16 bit resolution
Output range:
± 5V @10 Ohm RL
± 4V @200 Ohm RL
Note
single ended TTL optional
LVDS 100 Ohm RI
ECL
NIM/TTL selectable 50 Ohm Rt
DAC board equipped with DT5495 – Vx495 Firmware and VHDL source for custom development
Brandwith
200 MHz
250 MHz
300 MHz
250 MHz
–
Front panel connector
3M P50E-068-P1-SR1type (34+34) pins
3M P50E-068-P1-SR1type (34+34) pins
3M P50E-068-P1-SR1type (34+34) pins
LEMO 00
LEMO 00
Nr. of Channels / Channel type

A395A: 32 / Digital Input
A395B: 32 / Digital Output
A395C: 32 / Digital Output
A395D: 8 / Digital I/O Selectable
A395E: 8 / Analog Output
Logic

A395A: Direct
A395B: Direct
A395C: Direct
A395D: Direct /Invert
A395E: Analog Outputs
Signal

A395A: Differential LVDS/ECL/PECL (single ended TTL optional) / Zdiff: 100 Ω /Extended Common Mode /input range: -4V to +5V /Fail Safe input feature
A395B: Differential LVDS / Requires 100 Ω termination
A395C: Differential ECL
A395D: TTL IN = Direct / TTL OUT = Direct / NIM IN = Invert / NIM OUT = Direct
A395E: 16-bit resolution /±5 V @10 kΩ RL / ±4V @200 Ω RL
Bandwidth

A395A: 200 Mhz
A395B: 250 Mhz
A395C: 300 Mhz
A395D: 250 Mhz
A395E: n.a.
Front Panel Connector

A395A: 3M P50E-068-P1-SR1type (34+34) pins
A395B: 3M P50E-068-P1-SR1type (34+34) pins
A395C: 3M P50E-068-P1-SR1type (34+34) pins
A395D: LEMO 00
A395E: LEMO 00
Power Consumptions

A395A: 0.1 A (max) @ +5V internal rail / +12V and -12V internal rails are not used
A395B: 0.1 A (max) @ +5V internal rail / +12V and -12V internal rails are not used
A395C: 1.4 A (max) @ +5V internal rail / +12V and -12V internal rails are not used
A395D: 1.1 A (max) @ +5V internal rail / +12V and -12V internal rails are not used
A395E: 0.3 A (max) @ +5V internal rail / +12V and -12V internal rails are not used
A395B: 0.1 A (max) @ +5V internal rail / +12V and -12V internal rails are not used
Ordering Options
Code
Description
WA395XAAAAAA
A395A - 32 LVDS/ECL/PECL input channelsinterface for V1495 and V2495

RoHS

WA395XBAAAAA
A395B - 32 LVDS output channelsinterface for V1495 and V2495

RoHS

WA395XCAAAAA
A395C - 32 ECL output channelsinterface for V1495 and V2495

RoHS

WA395XDAAAAA
A395D - 8 NIM/TTL input/output channelsinterface for V1495 and V2495

RoHS

WA395XEAAAAA
A395E - 8 channel 16Bit ±5V DACfor V1495 and V2495

RoHS