V1495
General Purpose VME Board
User customisable FPGA Unit (with preloaded demo code)
LVDS/ECL/PECL inputs (differential)
64 inputs, expandable to 162 (with 32 outputs)
32 outputs, expandable to 130 (with 64 inputs)
405 MHz maximum frequency supported by clock tree for registered logic
I/O delay smaller than 15 ns (in Buffer Mode)
Programmable 3-color LED
Libraries (C and LabView) and Software tools for Windows and Linux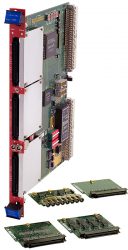 Overview
The Mod. V1495 is a VME 6U board, 1U wide, suitable for various digital Gate/Trigger/Translator/Buffer/Test applications, which can be directly customised by the User, and whose management is handled by two FPGA. The first one is the FPGA "Bridge", used for the VME interface and for the connection between the VME and the 2nd FPGA (FPGA "User") through a proprietary local bus. The FPGA "Bridge" manages also the programming via VME of the FPGA "User".
The FPGA "User" (Cyclone EP1C20) manages the front panel I/O channels and is substantially an empty FPGA. It is available to be programmed by the User according to the desired logic function. The I/O channel digital interface is composed by four sections placed on the motherboard. The channel interface can be freely expanded by adding up to three independent mezzanine boards, choosing between the five available types.
A395A 32 LVDS/ECL/PECL input channels
A395B 32 LVDS output channels
A395C 32 ECL output channels
A395D 8 NIM/TTL input/output channels
A395E 8 Analog output 16bit channels

NEW!
Therefore, the Mod. V1495 can achieve a maximum number of 194 I/O channels.
A Mounting Option is necessary in order to install three A395C on the V1495 (see Ordering Options).
The FPGA "User" can be programmed "on the fly" via VME, without any external hardware tools, without disconnecting the board from the set up, and without resetting it or turning the crate off. A flash memory on the board stores the programming file, which can be loaded to the FPGA "User" at any moment. Four (independent, digital, programmable, asynchronous, chainable) timers, are available for Gate/Trigger applications.
The unit is supported by some free "FPGA demo firmwares", but custom applications can be developed as well.
The unit is supported by the following firmwares:
Five free "User FPGA Demo firmwares"
Multievent scaler firmware (Mod. FW1495SC )
FW1495SC is a FPGA firmware that allows to use the Mod. V1495 as a Multievent latching scaler housing up to 128 independent counting channels (this maximum number of channels is achieved if the V1495 is expanded with two A395A boards).
The Mod. V1495 has been developed in the framework of the european project EURITRACK, which belongs to the Sixth Framework Programme (FP6).
Output channels

LVDS 100ohm Rl
V1495 General Purpose VME Board Input channels

64 LVDS/ECL/PECL110ohm Rt. Extended Common Mode input range -4V to +5V; Fail Safe input feature.
Bidirectional (I/O) channels

NIM/TTL selectable 50ohm Rt
Input bandwidth

200 MHz
I/O delay

< 15 ns (in buffer mode)
VME interface

Addressing: A24, A32
Data Transfer: D16, D32, BLT32, BLT64
Geographical addressing
Multicast commands
Packaging

6U-high, 1U-wide VME unit
A395A Piggyback Board No. of channels

32
Direction

Input
Logic

Direct
Signal

LVDS/ECL/PECL(single ended TTL optional)110ohm Rt. Extended Common Mode input range -4V to +5V; Fail Safe input feature.
Bandwidth

200MHz
Front panel connector

Robinson Nugent P50E-068-P1-SR1-TG type, (34+34) pins
A395B Piggyback Board No. of channels

32
Direction

Output
Logic

Direct
Signal

LVDS 100ohm Rl
Bandwidth

250MHz
Front panel connector

Robinson Nugent P50E-068-P1-SR1-TG type, (34+34) pins
A395C Piggyback Board No. of channels

32
Direction

Output
Logic

Direct
Signal

ECL
Bandwidth

300MHz
Front panel connector

Robinson Nugent P50E-068-P1-SR1-TG type, (34+34) pins
WARNING!

A "Mounting Option" is necessary in order to install three A395C on the V1495 (see Ordering Options)
A395D Piggyback Board No. of channels

8
Direction

I/O selectable
Logic

TTL IN=Direct
TTL OUT=Direct
NIM IN=Invert
NIM OUT=Direct
Signal

NIM/TTL selectable 50ohm Rt
Bandwidth

250MHz
Front panel connector

LEMO 00
A395E Piggyback Board No. of channels

8
Direction

Output
Logic

Analog
Range

±5V @10kΩ RL
±4V @200Ω RL
Resolution

16bit
Front panel connector

LEMO 00
Ordering Options
Code
Description
WV1495XAAAAA
V1495 - General Purpose VME Board (Obsolete)