DT5550
32 Channel DAQ System with Programmable FPGA
32-channel Acquisition System (fully differential inputs)
Integrated system for managing digital and analog ASIC outputs to readout multi-channel, segmented, or pixelated detectors (e.g. SiPMs or PMTs)
48 differential digital lines and programmable 2A power supply to support ASICs readout
Multi-board support for system-building
Ideally suited for R&D projects utilizing ASICs with multi-channel detectors
Optional Digitizer functionality via DT5550AFE (single-ended analog inputs) accessory
80MS/s, 14bit ADC
Includes firmware implementing charge integration and waveform recording
USB 3.0 for fast data transfer
"Open-FPGA Capability" via Sci-Compiler software, a graphical development platform for quick, user-friendly FPGA programming

Dramatically simplifies development of complex logic schematics and processing algorithms
Automatic VHDL firmware code generation via GUI-based block diagrams
Supports processing functions such as PHA-based Trapezoidal Filter, Peak Stretcher, Charge Integration, Waveform Recording, MCA, Scaler, and more…

8 programmable digital I/O on LEMO connectors for external control signals (trigger, veto, busy, etc…)
Standard VHDCI Connectors

1 analog connector with 32 analog channels and an I2C bus
2 digital connectors carrying 24 differential digital lines (each) and programmable power supply for ASICs control"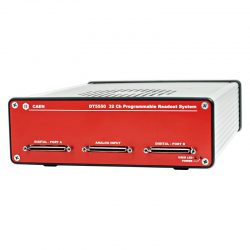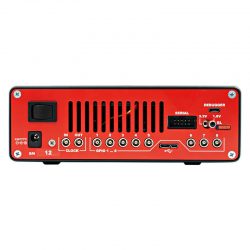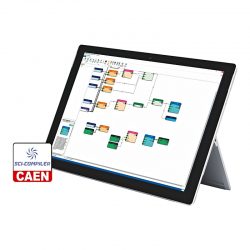 Overview
The DT5550 is a Programmable 32-channel Digital Acquisition System for physics application. It is one of the CAEN programmable board designed to help users in building a customized acquisition system fitting the needs of their detectors and experimental conditions. The applications of the DT5550 range from nuclear spectroscopy to ASICs readout, from neutron physics to Silicon Photmultipliers detection systems. The firmware, the readout software and some design files are distributed for free and open source so that the user can easily customize them in order to implement a full and complex experimental readout system on a single board. 
The DT5550 is capable to manage simultaneously a large number of digital and analog signals to implement many functionalities required by physics experiments: signal digitization, complex trigger logic, Pulse Height Analysis with MCA capabilities, Time Tagging, Pulse Shape Discrimination, Scaler, Counters and so on. The large number of digital I/O and analog inputs make the DT5550 a solution suitable to readout most of the ASICs commonly used in physic, allowing the user to minimize the effort in designing a readout system (only a simple adapter board between the ASIC and the DT5550 I/O connectors is needed). It is possible, for example, to use a DT5550 to readout up to 8 WeeROC Petiroc (analog readout) or up to 8 WeeROC Catiroc. 
The DT5550 can be used for the following applications:
Readout of the following detectors:

HPGe, Segmented germanium detector
Array/matrix of PMTs
Multi anode PMTs
Array/Matrix of SiPMs
Position sensing detectors (for application like gamma camera) with realtime position reconstruction
APD, SPAD, SiPIN and SDD
Silicon detectors, CCD
CdTE and CZT detector
Neutron Detector (3He tubes, position sensing tubes)
Neutron scintillator detectors with Gamma Neutron discrimination
Readout of mixed signals ASICs
Nuclear Spectroscopy
High Energy Physics
Imaging with multichannel detectors
The DT5550 is fully supported by SCI-Compiler, a Windows-based graphical development system for easy FPGA programming. This tool allows to develop and compile the firmware code using graphical blocks which represents the functionalities needed for firmware implementation (for example oscilloscope, TDC, MCA, charge integration, etc). SCI-Compiler automatically generates the VHDL firmware code starting only from logic blocks and virtual instruments that can be connected together in the GUI and, moreover, it generates C/C++/C#/Python Libraries for custom software development in Windows, Linux, MacOS, Android OS. 
A complete, ready to use default firmware is provided for free and open source. The default firmware manages the basic waveform digitization and charge integration and it is preloaded on the board. The user can open the default firmware in SCI-Compiler and modify it in order to customize, for example, the trigger logic, the data online processing or integrate it in a larger system. 
The SCI-Compiler license and one-year upgrade is included with the DT5550. 
The SCI-5550 Readout Software is the free and open source Windows-based software developed to perform acquisitions with the DT5550. It works in conjunction with the DT5550 default firmware and it can be modified by the user according to the custom functions implemented in the firmware and for any other need. 
Available board models and accessories are listed in the tab "ordering option" and "accessories"
Developed in collaboration with 

Packaging

163x50x226 mm3 (WxHxD) Desktop
Analog Input

Channels
32 channels
Differential

Connector
VHDCI

Bandwidth
31 MHz

Impedance
Zdiff = 100 Ω

Full Scale Range
2 Vpp
Digital Input

Channels
2 x 24 channels
Differential

Connector
2 x VHDCI

Signal Type
CMOS 3.3V
LVCMOS 1.8V
LVDS
BLVDS

Impedance
Zdiff = 100 Ω

Coupling
AC
Digital Conversion

Resolution
14 bits

Sampling Rate
80 MS/s Simultaneously on each channel
Clock Generation

Clock source: internal/external
On-board programmable PLL provides generation of the main board clocks from an internal (25 MHz local Oscillator) or external (rear panel CLK-IN connector) reference
LEMO Digital I/O

CLOCK-IN (LEMO)
Zin = 50 Ω
Single-ended, 25 MHz, 3.3V

CLOCK-OUT (LEMO)
Rt = 50 Ω
Single-ended, 25 MHz, 3.3V, 50mA

GPIO 1 – 8 (LEMO)
General purpose programmable digital I/Os
Single-ended, Zin / Rt = 50 Ω
Memory

16 kS/ch
Trigger

Trigger Source
Internal/External: managed by the default firmware
Complex trigger logic: implementable by the user on the open FPGA

Trigger Propagation
Through programmable LEMO GPIO 1 – 8

Trigger Time Stamp
Default FW: 32-bit counter, 12.5 ns resolution, 50 s range;
Custom FW: defined by the firmware design
Synchronization

Clock Propagation
LEMO CLOCK IN/OUT connectors

Acquisition Synchronization
Through programmable LEMO GPIO 1 – 8
FPGA

Open FPGA
Xilinx XC7K160T (Kintex-7 family)
Communication Interface

USB 3.0
USB 2.0 back compatibility Up to 240 MB/s transfer rate
Firmware

Default
Waveform recording and Charge Integration

Custom
Use SCI-Compiler to develop your own firmware (LICENSE INCLUDED)
Firmware Upgrade

Firmware can be upgraded via USB 3.0 or mini-USB debugger (on-fly)
Software

– SCI-5550 Readout Software to manage the default firmware
– SCI-Compiler for custom firmware development
Compare
Compare with Programmable DAQ Platforms.
Ordering Options
Code
Description
WDT5550AFEXA
DT5550AFE - Single-Ended to Differential Input Adapter for DT5550

RoHS

WDT5550XAAAA
DT5550 - 32 Channel DAQ System with Programmable FPGA and Sequencer

RoHS