DT5550AFE
Single Ended to Differential Input Adapter for DT5550
Single-Ended to Differential signals compact converter
32 analog input channels on MCX connectors
Positive or negative input signals
Input Dynamic: 2 Vpp
Programmable DC offset
Differential Output on a single 68-pin VHDCI connector, carrying converted signals and control lines.
Radiation Tolerant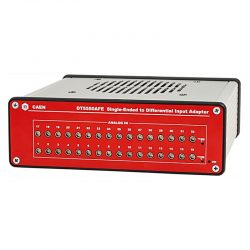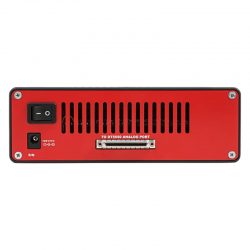 Overview
The DT5550AFE is a useful single-ended to differential adapter, specifically designed to interface with the DT5550 board, the CAEN Data Acquisition System with User Programmable FPGA and Sequencer.
It has 32 analog inputs on MCX connectors with 2 Vpp input dynamic, programmable DC offset, fixed 1x gain and input selectable impedance between 1 kΩ and 50 Ω. The DT5550AFE receives the single-ended signals on the 32 MCX connectors available on the front panel and provides the differential analog outputs and control lines on a single VHDCI connector, on the rear panel. The converted signals can be carried out by a single VHDCI cable to the DT5550 analog differential input.
The DT5550AFE does not use programmable components: it can be placed near the detectors even in high radiation regions, in order to easily connect the single-ended signals to the DT5550 board for digitization and pulse processing purposes.
Packaging

Alloy Box

Dimensions (WxHxD)
160 x 160 x 56 mm3
Polarity

Positive or negative input signals
Offset

Programmable DC offset, range ±2 V.
Regulation through the SCI-5550 Readout Software.
Full Scale Range

2 Vpp
Gain

1x fixed
Power Consumption

Power Consumption 3 A @ 12 V
Inputs

ANALOG IN
Analog signals input (single-ended) Input impedance: selectable 50 Ohm/ 1 kOhm
Selection through the SCI-5550 Readout Software 32 MCX connectors.
Outputs

TO DT5550 ANALOG PORT
Analog Output (differential)
Zdiff : 100 Ohm
68-pin VHDCI connector Suggested cable: SCSI-5 type
Power Requirements

Power supply voltage: + 12 V
DC 2.1mm Power Socket connector
provided with the kit.
DT5550AFE
Single Ended to Differential Input Adapter for DT5550
Product page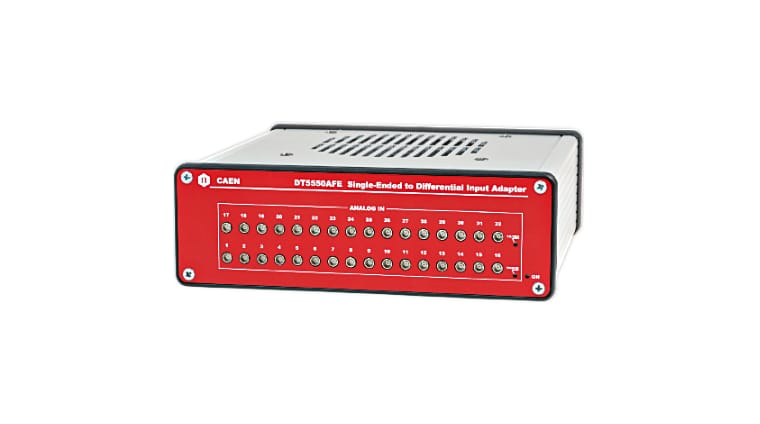 Documentation
Software
Firmware
Ordering Options
Code
Description
WDT5550AFEXA
DT5550AFE - Single-Ended to Differential Input Adapter for DT5550

RoHS