V6533
6 Channel 4 kV/3 mA VME HV Power Supply Module (9 W)
Features
6 independent HV channels in 1 unit wide VME 6U module
up to 6 kV and 3 mA output ranges
Available with positive, negative or mixed polarity
SHV coaxial output connectors
Common floating return
Low Ripple (Typ: from < 3 mVpp to < 15 mVpp)
up to 1 nA Iset/Imon resolution (with Imon-Zoom: up to 100 pA)
Status output
Channel ON/Status LEDs
Interlock logic for board enable
Individual channel enable
Optional A6580 DC Input Power Equalizer
Module control via OPC Server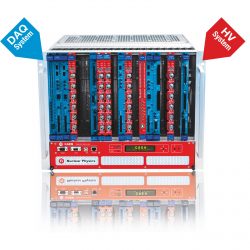 Overview
The V6533 is a 1-unit wide VME 6U module housing 6 High Voltage Power Supply Channels 4kV, 3mA (9W max). The board is available with either positive or negative output polarity; mixed version with 3 positive and 3 negative channels is also available. The channels share a common floating return, which allows on-detector grounding reducing the noise level. HV outputs are delivered through SHV connectors.
The HV output RAMP-UP and RAMP-DOWN rates may be selected independently for each channel in the 1÷ 500 V/s range with 1 V/s steps.
The module features 50nA Iset/Imon resolution. Features include Imon Zoom, increasing resolution to, increasing resolution to 5nA. The modules fit into both VME/VME64 standard and V430 crates. Functional parameters can be programmed and monitored via VMEbus.
A complete set of free software Tools is available to control this unit: GECO2020 with user friendly GUI and CAEN HV Wrapper library for custom SW development. OPC Server also supported.
Safety features include:
OVERVOLTAGE and UNDERVOLTAGE warning when the output voltage differs from the programmed value
Programmable via trimmer HVMAX and IMAX hardware protection limit
OVERCURRENT detection: if a channel tries to draw a current larger than its programmed limit, it enters TRIP status, keeping the maximum allowed value for a programmable time (TRIP), before being switched off. If TRIP is set to "constant current mode", the channel behaves like a current generator
Channels can be enabled or disabled through the Global Interlock logic
Channels individually enabled via front panel jumpers (passive or active mode available)
Available Options:
A6580 DC Input Power Equalizer
Polarity

Positive or Negative; common floating return
Output Voltage

0÷4 kV (connector output)
Max. Output Current

3 mA (9W max), Max. 300 µA with Imon Zoom (optional)
Voltage Set/Monitor Resolution

100 mV
Current Set/Monitor Resolution

50 nA ; monitor resolution 5 nA with Imon Zoom
VMAX hardware

0÷4 kV common to all board channels
VMAX hardware accuracy

2% of FSR
IMAX hardware:

0÷3 mA common to all board channels
IMAX hardware accuracy:

2% of FSR
VMAX software

0÷4 kV selectable for each channel
VMAX software resolution

100 mV
Voltage Ripple

1kV/500µA: 3mV Typical / 5mV Maximum
2kV/1mA: 3mV Typical / 5mV Maximum
4kV/2mA: 12mV Typical / 20mV Maximum
3kV/3mA: 10mV Typical / 20mV Maximum
Ramp Up/Down

1÷500 V/s, 1 V/s step
Vmon vs. Vout accuracy

typical: ± 0.05% ± 1 V
max: ± 0.05% ± 2 V
Vset Vs. Vout accuracy

typical: ± 0.05% ± 1 V
max: ± 0.05% ± 2 V
Imon vs. Iout accuracy

typical: ± 2% ± 1 µA
max: ± 2% ± 5 µA
Iset vs. Imon accuracy

typical: ± 2% ± 1 µA
max: ± 2% ± 5 µA
V6533
6 Channel 4 kV/3 mA VME HV Power Supply Module (9 W)
Product page

Documentation
Software
Firmware
Compare
Compare with VME High Voltage Power Supplies.
Ordering Options
Code
Description
WV6533MAAAAA
V6533M - 6 Channel VME Programmable High Voltage Power Supply (3 ch -4 kV 3 mA, 3 ch +4 kV 3 mA, 9W)

RoHS

WV6533XAAAAA
V6533N - 6 Channel VME Programmable High VoltagePower Supply (-4 kV 3 mA 9 W max.)

RoHS

WV6533XPAAAA
V6533P - 6 Channel VME Programmable High VoltagePower Supply (+4 kV 3 mA 9 W max.)

RoHS