N845
16 Channel Low Threshold Discriminator
Individually programmable thresholds
Programmable output width
TEST and VETO inputs
OR and Current Sum outputs
High sensitivity on small signals
4-digit Led display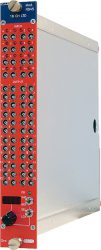 Overview
The Mod. N845 is an 16 Channel Low Threshold (leading edge type) Discriminator housed in a one unit wide NIM module. The module accepts 8 negative inputs and produces 2×16 NIM outputs (NIM outputs are provided with a fan-out of two)+ 16 /NIM outputs (negated) on front panel LEMO 00 connectors.
The pulse forming stage of the discriminator produces an output pulse whose width is adjustable in a range from 6 to 95 ns. The discriminator thresholds are individually settable in a range from -1 mV to -255 mV (1 mV step), via an 8-bit DAC. The minimum detectable signal is -3 mV. The back panel houses VETO and TEST inputs, the logical OR output (the relevant OR LED lights up if at least one channel is over threshold) and the Current Sum output, which generates a current proportional to the input multiplicity, i. e. to the number of channels over threshold, at a rate of -1.0 mA per hit (-50 mV per hit into a 50 Ohm load) ±20%.
Packaging

1U-wide NIM unit
Inputs

16 inputs (negative polarity, 50 ohm impedance, DC coupling)
Max input voltage

-400 mV
Min. detectable signal

-2 mV
Max input frequency

60 MHz (8 ns output pulse width)
Double pulse resolution

16 ns (8 ns output pulse width)
Threshold range

-1 mV to -255 mV (-1 mV step)
Outputs

8×3 NIM (1 pair bridged + 1 complementary)
Input/output delay

10.5±1.5 ns
Output width

Programmable from 6+1 ns to 95+7 ns
Interchannel insulation

60 dB for 2.5 ns rise time input signals
Control inputs

NIM logic signals, high impedance:VETO: allows vetoing of all channels simultaneously TEST: triggers all the enabled channels at once
Control outputs

OR: standard NIM signal; Current Sum: current proportional to input multiplicity (-1 mA ± 20% per hit)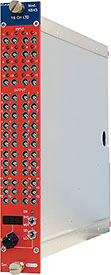 Documentation
Software
Firmware
Compare
Compare with Discriminators.
Ordering Options
Code
Description
WN845XAAAAAA
N845 - 16 Channel Low Threshold Discriminator 50 Ohm Negative Inputs

RoHS