NIM8301
7U 12 slot smart fan unit 300/600 W Crate
19″ x 7U (5+2) enclosure
12 NIM slot
Pluggable Linear Power Supply (300W and 600W available)
Equipped with long-life NIM connectors
Pluggable 2U Fan Unit
Short circuit protection
Over / Undervoltage protection
Over temperature protection
CAN bus, Ethernet, USB and RS232 interface for remote monitoring and control
SBC controlled with graphic OLED colour display
Ergonomic pointer
Libraries, Demos (C and LabView) and Software tools for Windows and Linux
Easy firmware upgrading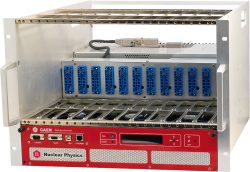 Overview
The CAEN Mod. NIM8301 is a 7U (5+2) full size NIM crate (19″-12 slot) available with both pluggable 300W and 600W power supplies. The units are ventilated with pluggable 2U fan unit.
Safety features include: short circuit protection, Over / Undervoltage protection, Over temperature protection.
Remote monitoring and control take place through CAN bus, Ethernet, USB and RS232 interfaces. The crates are also SBC controlled via graphic OLED Display. User-friendly control software completes the NIM 8301 features. The Unit is powered by 110 or 220 Vac, 50 ÷ 60 Hz.
Mechanics

19″ x 7U (5+2) bin, 12 slot, 2U space for fan tray
Mains input

230 VAC or 115 VAC, 50-60 Hz.
Maximum Total OutputPower

300/600 W
Interface

RS 232, USB (2.0), CAN bus, Ethernet
Fuse

4 A Class T @ 300W 220 Vac
8 A Class T @ 300W 115 Vac
6.3 A Class T @ 600W 220 Vac
15 A Class T @ 600W 115 Vac
Maximum currents

300 W

17A @ ±6V
3.4A @ ±12V
3.4A @ ±24V

600 W

45A @ ±6V
8A @ ±12V
8A @ ±24V

600 W / Y version

20A @ ±6V
15A @ ±12V
4A @ ±24V

600 W / Z version

45A @ ±6V
18A @ ±12V
±24V not present
Isolation

CE acc. to EN 61010
Power requirements

610W and 1150W (for 300W and 600 W) at full load
Noise and ripple

< 3 mVpp @ ±6V, ±12 V, ±24 V (Typ.)< 5 mVpp @ ±6V, ±12 V, ±24 V (Max.)
Output Voltage Characteristic

dual tracking for all ±DC outputsSoft startDC output calibration (manually)
Temperature sensors

Power Supply: nr. 4 (3 thermal switches, 1 thermal sensor)FAN Unit: nr. 2Backplane: nr. 6 (optional)
Status control

Alarm signalled by FAIL LED, FAIL signal and buzzer Alarm reason displayed on FAN unit OLED display and managed by remote control
Output Impedance

0.3 mohm static
Output Current Characteristic

Foldback (Isc < 3 A Imax = I nominal + 15%) and Trip Off
Over Voltage Protection

Trip Off when the output voltage > 105% of nominal voltage
Under Voltage Protection

Trip Off when the output voltage < 95% of nominal voltage
Over Current Protection

Trip Off when the current > programmable Iset value
Over TemperatureProtection

Trip Off when temperature of heat sink > 70° C or when transformer temperature > 110° C Signaled:- temperature FAN Unit > 50°C- temperature Power Supply Control > 65° C
Operation

0 ÷ 40°C without derating
Cooling Airflow

540 m³/h (at maximum fan speed)
Firmware

NIM8301 firmware can be upgraded via Ethernet
NIM8301
7U 12 slot smart fan unit 300/600 W Crate
Product page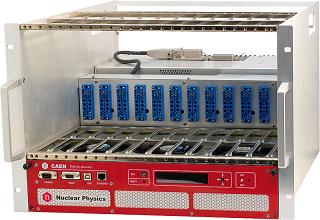 Documentation
Software
Firmware
Application SW
Name
File extension
File size
Revision
Last update
OS
OS Version
CAEN NIM8301 Tool
ZIP
1.24 MB
-
February 1st, 2009
Windows
10
7
8

CAEN NIM8301 Tool
ZIP
298.82 kB
1.0
February 1st, 2009
Linux
2.4
2.6

Compare
Compare with Powered Crates.
Ordering Options
Code
Description
WNIM8301300W
NIM8301/30 - NIM 7U crate, 12 slot, smart fan unit, 300W (±6V 17A, ±12V 3.4A, ±24V 3.4A)

RoHS

WNIM8301600W
NIM8301/60W - NIM 7U crate,12 slot,smart fan unit600W (±6V 45A, ±12V 8A, ±24V 8A)

RoHS

WNIM8301600Y
NIM8301/60Y - NIM 7U crate, 12 slot, smart fan unit, 600W (±6V 20A, ±12V 15A, ±24 4A)

RoHS

WNIM8301600Z
NIM8301/60Z - NIM 7U crate, 12 slot, smart fan unit, 600W (±6V 45A, ±12V 18A, NO 24V)

RoHS