NIM8305
2 Slot Switching 450 W Mini Crate
Cost effective, compact solution
12A @ ±6 V and 12A @ ±12 V output
2 air cooled NIM slots
Ideal for small experiments, laboratories and universities
Portable: 170 x 310 x 125 mm3 (WxHxD); 5 kg weight
Equipped with long-life NIM connectors
Wide AC input voltage range: 100 Vac to 240 Vac
Active PFC
Extra low noise switching power supply
ON/OFF switch
Power good and stand-by leds
Short circuit protection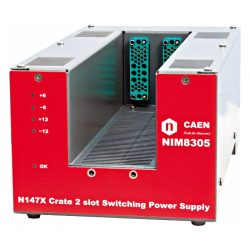 Overview
The CAEN Mod. NIM8305 is a 2 slot NIM crate with switching power supplies; the unit is provided with three ventilation fans.
The NIM8305 delivers 12A @ ±6V and 12A @ ±12V.
Safety features include: short circuit protection, Over / Under voltage protection, Over temperature protection.
The Unit is powered by 100 ÷240 Vac, 50 ÷ 60 Hz, power factor 0.98% (230 VAC).
Documentation
Software
Firmware
Compare
Compare with Powered Crates.
Ordering Options
Code
Description
WNIM8305XAAA
NIM8305 - NIM crate, 2 slot, Switching PS (±6V 12A, ±12V 12A)

RoHS