N957
8k Multi-Channel Analyzer
Features
1 input Multichannel Analyzer
Fully computer controlled MCA
8K ADC, fast conversion time with linearization enhancement circuit
PHA acquisition mode
Suitable for HPGe, Nai(Tl), CdTe and other detector technologies
USB 2.0 communication interface
Libraries, Demos (C and LabView) and Software tools for Windows and Linux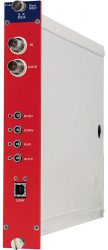 Overview
The Mod. N957 is a 8k Multi-Channel (MCA) with USB port, housed in a 1-unit wide standard NIM module. The multichannel analyzer performs the essential function of collecting the data and producing output, in the form of converted value of input peaks. The input pulses can be those produced by a standard spectroscopy amplifier. They can be Gaussian, semi-Gaussian or square waves, unipolar (positive) or bipolar, in a range from 0 to 10 V, with a rise time greater than 0.1 µs. The trigger can be made "on signal" (Auto Gate mode) or "external" (External Gate mode). In the first case a discriminator, with a settable threshold, enables the conversion. In the second case, an external gate is fed to the module, via front panel GATE In connector.The input channel has one peak amplitude stretcher, the output of which is digitised by a 13 bit fast (0.8 ms) ADC featuring a sliding scale technique, to improve the differential non-linearity.Converted waveforms are stored into a 64 KSamples buffer memory. The unit hosts an USB2.0 port (also compatible with USB 1.1), which permits a simple control and data-acquisition via PC.
Libraries for Windows and Linux will be provided as well. Future firmware upgrade is possible via USB.
Packaging

One unit NIM mechanics
No. of ADC channels

1
Resolution

13 bit (8192 channels – 8064 valid if sliding scale enabled)
ADC Conversion time

0.8 µs
Dead Time

4.8 µs
LSB

1.22 mV
Gate

Signal must occur prior to and must extend for at least 0.2-μs after the peak (in External Gate mode)
Differential Non-Linearity

< 1%
from 5% to 95% of input FSR (500 mV ÷ 9.5 V)
Integral Non-Linearity

< 0.065%
from 5% to 95% of input FSR (500 mV ÷ 9.5 V)
Gain Instability

<+150 ppm/°C
USB port

Compatible with USB 1.1 and USB 2.0;
3m maximum cable length (longer distance can be achieved with commercial off-the-shelf products)
Maximum transfer rate

30 Mbyte/s (USB 2.0 Bulk Transaction Protocol);
75 Kbytes/s (USB1.1)
I/O signals

NIM/TTL; selected via internal switch
Discriminator Threshold

Software programmable, 0 mV ÷ 500 mV range, 100 steps
Compare
Compare with ADCs (Peak Sensing).
Ordering Options
Code
Description
WN957XAAAAAA
N957 - 8k Multi-Channel Analyzer

RoHS