N1145
Quad Scaler And Preset Counter / Timer
Four 8-digit up-counters with 250 MHz max counting rate
One 7-digit down-counter with 80 MHz max counting rate
NIM and TTL inputs
One LED display per section
Up to three sections can be cascaded for 24-digit counting
Frequency and frequencies ratio measurements
Individual GATE and RESET per counter
Manual or pulse triggered RESET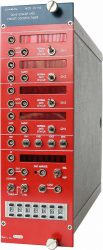 Overview
The Mod. N1145 is a double unit NIM module that includes four independent 8-digit counters each with their own display and can accept up to 250-MHz input rates. These counters can be cascaded to increase the word length to 16-digits for two counters, and 24-digits for three counters. Counters 2 and 4 have a "Carry" or overflow output to allow the cascading of the counters. Counters 1 and 3 have a set of bridged gate connectors to allow a single gate to be used on multiple counters.
An 80-MHz fifth counter with its own display can be used as a timer, counter, rate divider, or delay.
Packaging

Two units wide NIM module
Inputs

1 NIM/TTL level input per section, 50 Ohm impedance;min. FWHM: 2 ns (sections 1 ÷ 4), 3 ns (section 5)
Gate

Section 1 and 3: 2 bridged high-impedance NIM/TTL inputs Section 2 and 4: 50 Ohm impedance NIM/TTL input
Carry

std. NIM level; two sections can be cascaded by feeding first CARRY into the input of the second section, thereby making a 16-digit counter
Load

1 NIM/TTL input, loads counter with value set on thumb-wheel switches, min. FWHM: 3 ns
Comm. Reset

1 NIM/TTL input, 50 Ohm impedance; clears sections from 1 to 4, min. FWHM: 3 ns
Out

2 NIM outputs; are true as long as counter's value differs from zero
End marker

1 NIM output; a pulse is generated when the counter reaches zero. Pulse width can be adjusted by turning the front panel trimmer (50 ns to 1 µs)
Max. frequency

Sections 1 to 4: 250 MHz (2 ns pulse FWHM)
Section 5: 80 MHz (3 ns pulse FWHM)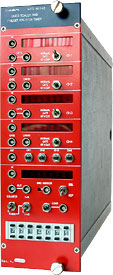 Documentation
Software
Firmware
Compare
Compare with Scalers.
Ordering Options
Code
Description
WN1145XAAAAA
N1145 - Quad Scaler and Preset Counter-Timer

RoHS