V792N
16 Channel Multievent QDC
High channel density
12bit resolution
2.8 µs / 16 ch conversion time
600 ns fast clear time
Zero and overflow suppression for each channel
±1.5% differential non linearity
±0.1% integral non linearity
32 event buffer memory
BLT32/MBLT64/CBLT32/CBLT64 data transfer
Multicast commands
Live insertion
Libraries, Demos (C and LabView) and Software tools for Windows and Linux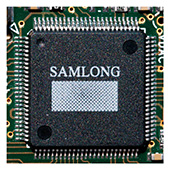 Overview
The Model V792N is a 1-unit wide VME 6U module housing 16 Charge-to-Digital Conversion channels with current integrating negative inputs (50 Ohm impedance).
For each channel, the input charge is converted to a voltage level by a QAC (Charge to Amplitude Conversion) section. Input range is 0 ÷ 400 pC.
The Model V792N features LEMO 00 connectors for both input and control signals. The outputs of the QAC sections are multiplexed and subsequently converted by two fast 12-bit ADCs. The integral non linearity is ±0.1% of Full Scale Range (FSR) measured from 5% to 95% of FSR. The ADCs use a sliding scale technique to improve the differential non-linearity.
The Mod. V792N offers a 32 event buffer memory, A24/A32 addressing mode, D16, D32, BLT32/MBLT64 and CBLT32/CBLT64 data transfer mode. Multicast commands are also supported.
The board supports the live insertion that allows inserting or removing them into the crate without switching it off.
Packaging

1-unit wide 6U VME module (version NA requires the V430 backplane)
Inputs

16 channels, 50 Ohm impedance, negative polarity, DC coupling
Input range

0 ÷ 400 pC (if Sliding Scale is used FSR is reduced from 4095 to 3840 counts)
Resolution

12 bit
Gain

100 fC/count
Max. tolerated positive voltage input

15 mV
Reflections

< 5% with 2 ns fall time input signals
Input offset

±2 mV
RMS Noise

0.5 counts typical
Integral non linearity

0.1% of FSR (=3840 counts)
from 5% to 95% of FSR
Interchannel gain uniformity

±4%
Interchannel gain uniformity

> 60 dB
Power rejection

0.002 count/mV (+5V); 0.01 count/mV (-5V)
0.0046 count/mV (+12V); 0.0012 count/mV (-12V)
Fast clear time

600 ns
Gate timing

the Gate signal must precede the analog input by > 15 ns
Conversion time

2.8 µs for all channels
Zero suppression

Treshold values programmable in:
16 ADC counts steps over the entire FSR
2 ADC counts steps over 1/8 of FSR
Control inputs

NIM input signals:
GATE: temporal window for current integration .
RST: resets QAC sections, MEB status and control registers.
VETO: inhibits the conversion of the QAC signals.
FCLR: FAST CLEAR of QAC sections.
Control outputs

NIM output signals:
DRDY: indicates the presence of data
BUSY: board full, resetting, converting or in MEMORY TEST mode
VME interface

A24/A32
Geographical Addressing
Multicast commands
D16/D32,BLT32/MBLT64,CBLT32/CBLT64

Documentation
Software
Firmware
Compare
Compare with QDCs.
Ordering Options
Code
Description
WV792XNCAAAA
V792NC - 16 Channel Multievent Charge ADC (No JAUX, No 12V DCDC, live ins)

RoHS