R8031
8-16 Channel 100 V/ 10 mA 19'' Power Supply Module (USB/Ethernet/Touchscreen)
Features
19″ rack unit (110/220V AC Powered)
100 V / 10mA output ranges
Channels with either positive or negative polarity
BNC coaxial output connectors
Low Ripple
0.5 mV Vset resolution
50 nA Iset resolution
Under/over-voltage alert, overcurrent and max. voltage protection
Programmable ramp-up / ramp-down (1-50 V/s)
Daisy-chain capabilty
2.8″ color touch screen display
Local and Remote control (USB2.0/Ethernet)
Interlock logic for board enable and Individual channel kill
Software Tool for easy channel management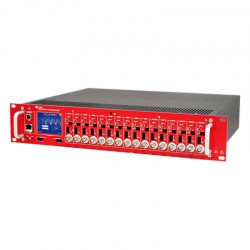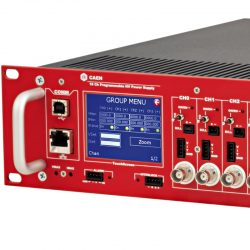 Overview
The Mod. R8031 provides 8 or 16 independent 100 V/ 10 mA channels in a 19″ rack unit (110/220V AC Powered). Each channel can provide a 100V max voltage and a 10 mA max current. The unit is available with positive, negative and "mixed" (4 positive and 4 negative) channels.
Channels outputs are delivered through BNC connectors. The HV output RAMP-UP and RAMP-DOWN rates may be selected independently for each channel in the range 1÷50 V/s in 1 V/s steps. The module features 50 nA Iset resolution.
Module control can take place either locally thanks to a 2.8″ Touchscreen Graphic color LCD display with a completely redesigned user interface or remotely, via USB 2.0 or Ethernet.
A complete set of Software Tools is available to control these units; the user can freely download low level libraries, LabVIEW driver and Graphical application software. Moreover a built-in web interface (Coming Soon) is available to easily controls the module with no need to install software on a PC. The user can monitor the status of the module and configure the HV parameters for each channel in real time.

Safety features include:
OVERVOLTAGE and UNDERVOLTAGE warning when the output voltage differs from the programmed value by more than 2% of set value (minimum 10V).
Programmable VMAX protection limit
OVERCURRENT detection: if a channel tries to draw a current larger than its programmed limit, it enters TRIP status, keeping the maximum allowed value for a programmable time (TRIP), before being switched off
Common Interlock logic for channels enable/disable and individual inputs signal for channel Kill function.
Output ranges

100V / 10mA
Output channels

8-16 channels, BNC connector
Positive, Negative or Mixed (4-8 positive and 4-8 negative) Polarity
Max. Ch. Output Power

1 W
Vset / Vmon Resolution

500 µV
Iset Resolution

50 nA
Imon Resolution

50 nA (high range) / 5 nA (low range)
Vmax

0 ÷ 100 V
Vmax resolution

1 V
Ramp Up/Down

1÷50 Volt/s, 1 Volt/s step
Voltage Ripple

10 – 1000Hz: <3mV typ; <5mV max.
>1kHz: <1mV typ; <3mV max
Vmon vs. Vout Accuracy

± 0.02% ± 20mV
Vset vs. Vout Accuracy

± 0.02% ± 20mV
Imon vs. Iout Accuracy

± 0.5% ± 50µA
Iset vs. Iout Accuracy

± 0.5% ± 50µA
Humidity range

0 ÷ 80%
Operating temperature

0 ÷ 45°C
Storage temperature

-10 ÷ 70°C
Vout / Temperature coefficient

10 ppm/°C typ
Long Term stability (24h after 1h warmup)

±0,01% constant temp, Vout = 70V, no load
Local Control

LCD touchscreen
Remote Control

USB & Ethernet
Packaging

19″ rack unit (110/220V AC Powered)
R8031
8-16 Channel 100 V/ 10 mA 19'' Power Supply Module (USB/Ethernet/Touchscreen)
Product page
Documentation
Software
Firmware
Compare
Compare with Rack-mount High Voltage Power Supplies.
Ordering Options
| Code | Description |
| --- | --- |
| WR8031XAAAAA | R8031N - 8CH Rack-mount Programmable HV PowerSupply(-100V 10mA) - BNC conn. - Common Gnd |
| WR8031XPAAAA | R8031P - 8CH Rack-mount Programmable HV PowerSupply(+100V 10mA) - BNC conn. - Common Gnd |
| WR8031DXAAAA | R8031DN - 16CH Rack-mount Programmable HV PowerSupply(-100V 10mA) - BNC conn. - Common Gnd |
| WR8031DXMAAA | R8031DM - 16CH Rack-mount Programmble HV P.S.(8ch-100V 10mA,8ch +100V 10mA) - BNC conn. - C. Gnd |
| WR8031DXPAAA | R8031DP - 16CH Rack-mount Programmable HV PowerSupply(+100V 10mA) - BNC conn. - Common Gnd |
| WR8031XMAAAA | R8031M - 8CH Rack-mount Programmable HV P.S.(4ch -100V 10mA,4ch +100V 10mA) - BNC conn. - Common Gnd |