A1561H
12 Channel 6 kV/20 µA Common Floating Return Board
Features
12 independent High Voltage power supply channels
0÷6 kV output voltage
Common floating return
20µA current range
Available with positive, negative or mixed polarity
10 mV Voltage Monitor Resolution
50 pA current Monitor resolution
Low Ripple
Programmable TRIP parameter
1÷500 Volt /sec programmable Ramp up/down
Current generator operation in Overcurrent condition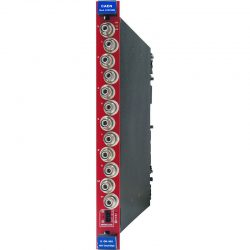 Overview
A1561H is a double width board (5 TE wide) that houses 12 Independent high voltage channels. The board is available with positive, negative or mixed polarity. Channels are delivered through SHV connectors.
SHV connector
– Single width (5 TE wide), 12 channels (Mod. AG561HD)
– Double width (10 TE wide), 24 channels (Mod. AG561HS)
The output voltage range is 0 ÷ 6 kV with 10 mV monitor resolution. The Maximum output current is 20 μA with 50 pA monitor resolution.
Channels share a common floating return, which allows on-detector grounding reducing the noise level. The floating return is insulated from the crate earth up to ±50 V (with a 65 V hardware limit).
Independently programmable for each channel:
| | | |
| --- | --- | --- |
| Output voltage: | 0 ÷ 6 kV | step: 100 mV |
| Current limit (Iset): | 0 ÷ 20 μA | step: 500 pA |
| HV Ramp up/down: | 1 ÷ 500 V/sec | step: 1 V/sec |
| TRIP parameter: | | |
Safety features includes:
Channels can be enabled or disabled through the Global Interlock logic.
Overvoltage and Undervoltage warning when the output voltage differs from the programmed value.
Overcurrent detection: when a channel attempts to exceed the programmed current limit, it signaled to be in "overcurrent" and enter in a TRIP status. The output voltage is varied to keep the current below the programmed limit for a programmable TRIP time, then the channel is switched off. If TRIP is set to "constant current mode", the channel behaves like a current generator.
Hardware VMAX: maximum output voltage can be set, via front panel potentiometer, at the same common value for all the board channels. VMAX value can be read out via software.
Polarity

Positive, Negative or Mixed depending on purchased version
Output Voltage

0÷6 kV
Max. Output Current

20 µA
Voltage Set Resolution

100 mV
Voltage Monitor Resolution

10 mV
Current Set Resolution

500 pA
Current Monitor Resolution

50 pA
VMAX hardware

0÷6 kV common for all the board channels
VMAX hardware accuracy

± 2% of FSR
VMAX software

0÷6 kV settable for each channel
VMAX software resolution

1 V
Ramp Up/Down

1÷500 Volt/sec, 1 Volt/sec step
Voltage Ripple

5mVpp typical
Voltage Monitor vs. Output Voltage Accuracy

± 0.02% ± 1.2 V
Voltage Set vs. Voltage Monitor Accuracy

± 0.02% ± 1.2 V
Current Monitor vs. Output Current Accuracy

± 0.2% ± 40 nA
Current Set vs. Current Monitor Accuracy

± 0.2% ± 40 nA
A1561H
12 Channel 6 kV/20 µA Common Floating Return Board
Product page

Documentation
Software
Firmware
Compare
Compare with High Voltage Power Supply.
Ordering Options
Code
Description
WA1561HDMAAA
A1561HDM - SYx527 H.V. 6 ch channels +6 KV 20 µA + 6 ch channels -6 KV 20 µA - SHV - 50pA res.

RoHS

WA1561HDNAAA
A1561HDN - SYx527 H.V. channels -6 KV 20 µA SHV (12 ch) - 50pA res.

RoHS

WA1561HDPAAA
A1561HDP - SYx527 H.V. channels +6 KV 20 µA SHV (12 ch) - 50pA res.

RoHS