SY5527LC
Universal Multichannel Power Supply System (Low Cost)
Features
Houses up to 4 boards
More compact and handy
~20 cm shorter than the standard version
Communications via Gigabit Ethernet
Communications via Wi-Fi (optional)
OPC Server to ease integration in DCS
Fast, accurate setting and monitoring of channel parameters
Live insertion of boards
Advanced Trip handling
Hardware current protection
Secure access to the system via Intranet
Application software for remote control
Graphical web interface
Easy firmware upgrading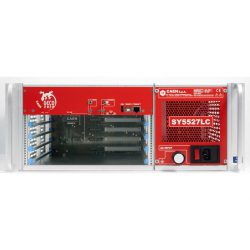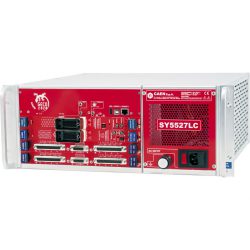 Overview
The SY5527LC system is the Low Cost compact version of a new line of power supply systems which represent CAEN's latest proposal in the matter of High Voltage and Low Voltage Power Supplying. This system outlines a completely new approach to power generation and distribution by allowing the housing, in the same mainframe, of a wide range of boards with different functions, such as High/Low Voltage boards, generic I/O boards (temperature, pressure monitors, etc.) and branch controllers, where the latter are used to control other remote generators and distributors. Modularity, flexibility and reliability are the key-points of its design, enabling this module to meet the requirements needed in a wide range of experimental conditions. The mainframe is housed in a 4U-high euro-mechanics rack and hosts four main sections:
the Board Section, with 4 slots to house power supply boards, distributors and branch controllers;
the Fan Tray Section, housing 3 fans, with programmable rotation speed regulation;
the Power Supply Section, which hosts the 400 W power supply unit;
the CPU Section which includes all interface facilities.
The User Software Interface features the usual friendliness of the previous CAEN systems. The complete line of power supply boards and distributors that has been specially developed for SY1527 and SY2527 are fully compatible with the new mainframes.
The system allows also to deal with power supply solutions composed by "branch controllers (housed in the system mainframe) and on-detector remote boards (manufactured in order to be magnetic field and radiation tolerant). A sophisticated trip handling via software allows to control and correlate trip conditions on the channels of the crate. Live insertion and extraction of the boards, which reduces the down time of the global system and eases access to the computing core and peripherals of the system, complete the system flexibility. Easy interfacing is another key-point of the SY5527LC system. The Gigabit Ethernet interface (and the optional Wi- Fi interface) allows both an easy web access and the connection via OPC Server to a SCADA control system. Enhanced software programming features a unified command set independent from the interface used to communicate with the system. Handy maintenance and upgrading, which constitute a major issue in the reliability of a system, are further guaranteed by the possibility of accessing and servicing the system via network facilities.
Advanced Software
The new SY5527LC takes advantage of a complete set of Software Tools to control the unit and all the parameters of the High Voltage and Low Voltage boards, from low level libraries to graphical application software.

In addition the advanced version of the GECO2020 software introduces Logging and Scripting Capability.
The Logger is a useful tool which records every command sent to the system and every warning/alarm detected by the system. In this way it is possible to automatically monitor the behavior of every single parameter during operations. Complex and advanced commands can be managed through the Scripting capability. Based on a simple proprietary syntax, this tool ensures flexible and fully customizable control on every system and board aspect.
Two new powerful improvements has been carried out on the new backplane:
A new 48V Power Bus distribution
FLEXRAY Fast Serial Link
Packaging

19″-wide, 4U-high Euro-mechanics rack

W: 19" (483 mm)
H: 4U (177 mm)
D: 493 mm / 453 mm (without handles)
Weight

Mainframe: 14kg
PSU and one CPU(A4528) are included; boards are not included
Power Requirements

Voltage range: 100/240 Vac Frequency: 50/60Hz;
Max current : 8A
Max power : 700 W @ 220 Vac 660 W @ 110 Vac
Max. number of boards per crate

4
Power Supply Unit output power

400 W (220 Vac Mains)
350 W (110 Vac Mains)
Communication

Gigabit Ethernet
Wi-Fi (optional)
Software

Graphical interface control software
OS Platforms: MS Windows, Linux
Web Configurator tool
Enhanced Software (optional)

Includes advanced features like Logging, Scripting, Alarm handling
Additional features

OPC Server compatibility
Removable fan unit
FLEXRAY Fast Serial Link
Environmental requirements

Temperature:
Humidity:

Operating
0°C to 40°C
10% to 90% non-condensing

Storage
-30°C to 80°C
5% to 90% non-condensing
SY5527LC
Universal Multichannel Power Supply System (Low Cost)
Product page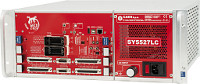 Documentation
Software
Firmware
Compare
Compare with Power Supply System - Mainframes.
Ordering Options
Code
Description
WSY5527LCXAA
SY5527LC - 4 Slot LOW COST Universal Multichannel Power Supply System

RoHS