A1524
6 Ch 12 kV / 100 µA Common Floating Return Board
Features
6 independently controllable High Voltage channels
Common floating return shared by all channels
Available with either positive or negative polarity
0 ÷ 12 kV output voltage
100 µA current full scale, with 10 nA resolution
1 V Voltage Set/Monitor resolution
Programmable TRIP parameter
Voltage ripple smaller than <30 mVpp (typical)
Programmable Ramp Up / Down
Current generator operation in Overcurrent condition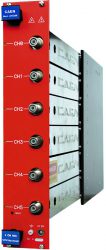 Overview
A1524 is a double width board (10 TE wide) that houses 6 independent high voltage channels, available with either positive or negative polarity. The channels share a Common Floating Return, which allows on-detector grounding reducing the noise level.
The output voltage can be programmed and monitored in the 0 ÷ 12 kV range with 1 V resolution.
The maximum current full scale is 100 µA, with 10 nA Iset/Imon resolution.
The boards are provided with both current and voltage protections. If overcurrent occurs, the corresponding channel can be programmed either to turn off after a programmable trip time or to keep on providing the maximum allowed current. This last particular feature allows the module to work as current generator. The maximum output voltage can be set through a potentiometer to a value which is common to all channels and can be read out via software.
A global enable/disable connector allows to disable the channels when it is not terminated on 50 Ohm. The HV Ramp-Up and Ramp-Down rates may be selected independently for each channel in the 1 ÷ 500 V/s range (1 V/s step).
The board features the CPE HV output connectors and the relevant coaxial cable connectors (Mod. A997) are also available.
No. of Channels

6 (Common Floating Return)
Polarity

Positive / Negative depending on purchased version
Max. Output Current

0.1mA
Output Voltage

0÷12 kV
Voltage Set/Monitor Resolution

1 V
Current Set/Monitor Resolution

10 nA
VMAX hardware

0÷12 kV common for all the board channels
VMAX hardware accuracy

± 2% of FSR
VMAX software

0÷12 kV settable for each channel
VMAX software resolution

1 V
Ramp Up/Down

1÷500 Volt/sec, 1 Volt/sec step
Voltage Ripple

< 30 mV pp
Voltage Monitor vs. Output Voltage Accuracy

± 0.3% ± 2 V
Voltage Set vs. Voltage Monitor Accuracy

± 0.3% ± 1 V
Current Monitor vs. Output Current Accuracy

± 2% ± 0.1 µA
Current Set vs. Current Monitor Accuracy

± 2% ± 0.01 µA
A1524
6 Ch 12 kV / 100 µA Common Floating Return Board
Product page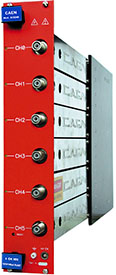 Documentation
Software
Firmware
Compare
Compare with High Voltage Power Supply.
Ordering Options
Code
Description
WA1524XAAAAA
A1524N - SYx527 H.V. channels -12 KV 100 µA - CPE Conn. common floating (6 ch 10TE wide)

RoHS

WA1524XPAAAA
A1524P - SYx527 H.V. channels +12 KV 100 µA - CPE Conn. common floating (6 ch 10TE wide)

RoHS