A1442
16/32 Channel charge sensitive preamplifier
16 channel or 32 channel Version available
1 or 5x sensitivity switchable via font jumper
Two sensitivity range available: 40-200 MeV and 200-1000 MeV
Dimension (mm): 100 x 50 x 130
Input bias voltage (+/- 400 V Max) (1/2 LEMO 00 connector);
ESD input protection
TEST pulse input with inversion or non inversion buffer. (1 or 2 LEMO 00 )
Low power consumption for in vacuum use (< 1000 mW for 16 ch. version)
True Differential output (with 100 Diff. back termination)
Maximum output voltage +/- 4,5 V Diff.
1 or 2 Sum output, each sum of 16 channel.
Noise < 4 KeV on 0 pF input and < 20 eV/pF slope
Rise Time < 5ns at 0 pF input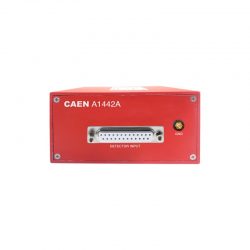 Overview
The A1442 (A/B)  is a 16/32 Charge Sensitive Preamplifier with a very low noise and a fast rise-time.
It can be used with a single or double side multistrip silicon detector, and in generally with multi channels detectors with a common Bias. His compact size and his low power consumption make it suitable for direct coupling with these detectors also in a high vacuum system. It  can be supplied in a 16 or 32 Channel Version (A or B respectively). The preamplifier output signals are in true  differential  and this allow the use a low cost twisted flat cable for the output connections. The preamplifier also provide an Sum outputs of the 16 channels, from witch is possible make timing of pulse shape measurements of the entire detectors with this one signals. The preamplifier sensitivity can be  changed its by a factor of 5 via a jumper on the front panel. The 32 channels version (A1442B ) can operate as two independent  16 ch, preamplifier  with two separate input of  Vbias and Test, and two separate Sum outputs.
Packaging

Shielded Box
Dimension WxHxD (mm): 100 x 50 x 130
No. of Channels

16 / 32
Energy ranges

40-200 MeV and 200-1000 MeV
Sensitivity switch, factor 5
Ouput

Differential (± 4.5 VDiff max )
Output Connector

17+17 PIN HEADER Male Output Connector; (1 for 16 ch. 2 for 32 ch.)
Input Connector

25 pin D-SUB female; (1 for 16 ch. 2 for 32 ch.)
Power Connector

9 pin D-SUB male
Vbias connector

LEMO 00 female (1 for 16 ch. 2 for 32 ch.)
Test connector

LEMO 00 female (1 for 16 ch. 2 for 32 ch.)
Switches

5+5 PIN HEADER 100 mils  for gain setting, test inversion setting, and Sum Output.
Ordering Options
| Code | Description |
| --- | --- |
| WA1442A020XA | A1442A020 - 16 Ch. Charge Sensitive Preamplifiers 20 mV/MeV |
| WA1442B020XA | A1442B020 - 32 Ch. Charge Sensitive Preamplifiers 20 mV/MeV |
| WA1442C020XA | A1442C020 - 64 Ch. Charge Sensitive Preamplifiers 20 mV/MeV |