A1442
16/32 Channel charge sensitive preamplifier
16 channel or 32 channel Version available
x1 or x5 sensitivity switchable via font panel jumper
Maximum output voltage +/- 4,5 V Diff:

200 MeV (SI) @ x1
40 MeV (Si) @ x5

Dimension (mm): 100 x 50 x 130
Input bias voltage (+/- 400 V Max) (1/2 LEMO 00 connector);
ESD input protection
TEST pulse input with inversion or non inversion buffer. (1 or 2 LEMO 00 )
Low power consumption for in vacuum use (< 1000 mW for 16 ch. version)
True Differential output (with 100 Diff. back termination)
1 or 2 Sum output, each sum of 16 channel.
Noise < 4 KeV on 0 pF input and < 20 eV/pF slope
Rise Time < 5ns at 0 pF input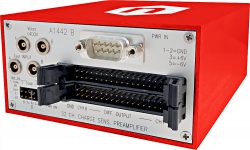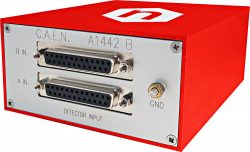 Overview
The A1442 is ideally suited for single or double sided multi-strip silicon detectors as well as for multi-channel detectors with common Bias. Its compact size and low power consumption make it ideal for direct detector coupling in a high vacuum system. It is available in both 16-channel (A1442A) and 32-channel (A1442B) versions (coming soon 64-channel version).
Features:
Preamplifier output signals are in true differential supporting low-cost twisted flat cables for the output connection.
The preamplifier also provides a SUM output of the 16-channels, allowing the user to calculate the timing of pulse shape measurements of the complete strip from a single signal.
Preamplifier sensitivity can be easily changed by a factor of 5 by way of a simple jumper on the front panel. The 32-channel version (A1442B) can be operated as two independent 16-channel preamplifiers with separate Voltage-Bias and Test inputs and two separate SUM outputs.
Packaging

Shielded Box
Dimension WxHxD (mm): 100 x 50 x 130
No. of Channels

16 / 32
Energy ranges

Sensitivity switch, factor 5:

200 MeV (Si) @ x1
40 MeV (Si) @ x5
Ouput

Differential (± 4.5 VDiff max )
Output Connector

17+17 PIN HEADER Male Output Connector; (1 for 16 ch. 2 for 32 ch.)
Input Connector

25 pin D-SUB female; (1 for 16 ch. 2 for 32 ch.)
Power Connector

9 pin D-SUB male
Vbias connector

LEMO 00 female (1 for 16 ch. 2 for 32 ch.)
Test connector

LEMO 00 female (1 for 16 ch. 2 for 32 ch.)
Switches

5+5 PIN HEADER 100 mils  for gain setting, test inversion setting, and Sum Output.
Ordering Options
| Code | Description |
| --- | --- |
| WA1442A020XA | A1442A020 - 16 Ch. Charge Sensitive Preamplifiers 20 mV/MeV |
| WA1442B020XA | A1442B020 - 32 Ch. Charge Sensitive Preamplifiers 20 mV/MeV |
| WA1442C020XA | A1442C020 - 64 Ch. Charge Sensitive Preamplifiers 20 mV/MeV |