EASY3000S
Front Access Crate for EASY3000 System for Hostile Area
Full integration in SY1527/SY2527 Systems
Up to 10 boards per crate
Up to 3 kW output power
Magnetic field tolerance up to 2 kGauss
Radiation tolerance
Front panel power supply and link connection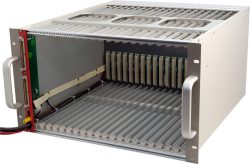 Overview
EASY3000 (Embedded Assembly SYstem) is the new CAEN power supply solution for operation in magnetic field and radioactive environment. CAEN has been involved for more than a decade in developing different solutions for the main LHC experiments, where the electronic equipment of the experiment is dealing with high dose radiation and intense magnetic field. In order to provide safe and reliable operations in such hostile areas, CAEN started tests with rad-tolerant components and magnetic field resistant solutions, patenting the new technology that is now used in this new line of products. Moreover, though designed for harsh environment, the EASY3000 modules can work also in normal condition with excellent performance. The EASY3000S crate is designed to house Power Supply and ADC boards of EASY3000 family; it supports mechanically EASY boards and distributes control signals and power supplies. It is handled by one of six branches of the A1676A – Branch Controller.
The EASY3000S crate must be used with an air and/or
water intercooler and its standard width fit the rack mounting. An optional fan tray (A3000F – EASY3000 Fan Unit) can be used for the stand-alone operation of the EASY3000S crate when no magnetic field is present.
EASY3000S is powered by external 48 V DC. The EASY architecture foresees two independent 48 V power supplies: the first (48 V Power) to power the channels regulators, the other (48 V Service) to power the control logic. EASY3000S has power supply and link connection on the front panel.
The use of CAEN 48 V power sources (Mod. A3484, A3485 and A3486), allows to integrate into the channels control also the management of the 48 V power supplies; A3486 is also suitable to hostile areas.
Nr. of modules per Crate (max)

10
Depth

65 cm
Height

6 U
Width

19″ (84 T.E.)
Weight

11kg
EASY3000S
Front Access Crate for EASY3000 System for Hostile Area
Product page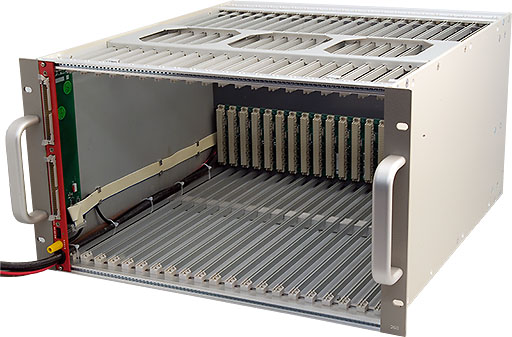 Documentation
Software
Firmware
Compare
Compare with EASY3000 Remote Crates.
Ordering Options
| Code | Description |
| --- | --- |
| WEASY3000MBS | EASY3000S - Crate for EASY3000 PowerSupply System in Hostile Area - Frontal Access |