A3486
3-phase 220/400 Vac . 48 Vdc (2 ch x 2 kW/1 ch x 4 kW) Converter
3U 19" Euro Rack, 50 cm deep
Dual 2 kW or Single 4 kW 48V output
48V ± 10% output dynamics (remotely programmable)
40 A maximum programmable output current (per channel)
Overcurrent protection (programmable trip time)
Overcurrent, Undervoltage and Overvoltage status remotely available
Voltage ripple smaller than 100 mV rms
Local or remote inhibit function
Vertical "bottom-to-top" forced air cooling
EASY-class magnetic field and radiation tolerance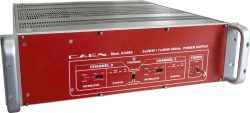 Overview
The CAEN Mod. A3486 is a two channel 400 Vac – 48 Vdc converter, which allows to integrate into the EASY channels control also the management of the 48 V power supplies. Each channel provides a 2 kW output (referred to earth) and can be tracked in order to obtain one 4 kW output. This module is designed to work as main converter in LHC hostile areas, thus completing the EASY system. Features include local or remote control, overload protection and local or remote inhibit function.
The module front panel houses LEDs and channels monitor signals. The channel outputs are provided through Anderson Power single pin connectors.
Mod. A3486S, with power supply and link connection on the front panel, is also available.
Packaging

19″-wide, 3U-high Euro-mechanics rack;Depth: 50 cm.
Output Polarity

Positive; common floating ground DC insulation vs. Earth >4KOHm; max Vcm (common mode) : ±10 V
Voltage

44 ÷ 52 V adjustable via software
Max. Output Power

4 kW
Voltage Ripple

<100mVpp measured on 10Hz to 20MHz bandwidth
AC input

3-phase 400 V / 50 Hz
DC input

2A @ 48V
Voltage Monitor vs. Output Voltage Accuracy:

max. ±0.5%
Voltage Set vs. Output Voltage Accuracy:

max. ±0.5%
Current Monitor vs. Output Current Accuracy:

± 1A ± 2% of reading
Current Set vs. Output Current Accuracy:

± 1A ± 2% of setting
A3486
3-phase 220/400 Vac . 48 Vdc (2 ch x 2 kW/1 ch x 4 kW) Converter
Product page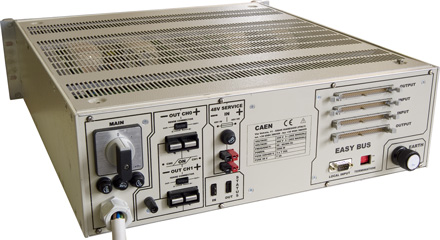 Documentation
Software
Firmware
Compare
Compare with EASY3000 AC/DCs Converters.
Ordering Options
| Code | Description |
| --- | --- |
| WA3486SXAAAA | A3486S - 3-phase 400 Vac - 48 Vdc(2 ch x 2 kW/1 ch x 4 kW) Converter - Frontal Acc |
| WA3486XAAAAA | A3486 - 3-phase 400 Vac - 48 Vdc(2 ch x 2 kW/1 ch x 4 kW) Converter - APP Conn. |
| WA3486LXAAAA | A3486L - 3-phase 220Vac - 48 Vdc(2 ch x 2 kW/1 ch x 4 kW) Converter - APP Conn. |
| WA3486SLXAAA | A3486SL - 3-phase 220Vac - 48 Vdc(2 ch x 2 kW/1 ch x 4 kW) Converter - Frontal Acc |
| WA3486LSXAAA | A3486LS - 3-phase 220Vac - 48 Vdc(2 ch x 2 kW/1 ch x 4 kW) Converter - Frontal Acc |