DT5534E
4 Channel 6 kV/1 mA (4 W) Desktop HV Power Supply Module (USB/Ethernet)
Features
4 independently controllable High Voltage channels in a compact desktop module
6 kV / 1mA output ranges (4W max)
Available with positive, negative or mixed polarity
SHV coaxial output connectors
20 mV Vmon resolution
5 nA Imon resolution
10x Imon zoom available (optional)
Remote control via USB2.0 and Ethernet
Interlock logic for board enable
Individual channel enable
Module control via OPC Server
LabVIEW Instrument Driver
Status output Channel ON/Status LEDs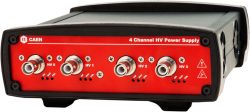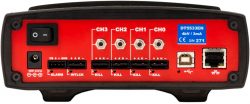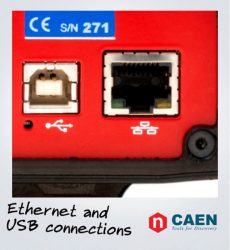 Overview
The DT5534E is a compact desktop module housing 4 independent High Voltage Power Supply Channels 4 kV, 1 mA (4 W max). The unit is available with either positive or negative output polarity; mixed version with 2 positive and 2 negative channels is also available. HV outputs are delivered through SHV connectors.
The HV output RAMP-UP and RAMP-DOWN rates may be selected independently for each channel in the 1 ÷ 500 V/s range with 1 V/s steps. The module features 5 nA Imon resolution. Optionally, the modules can be ordered with current monitor resolution extended by 10x in a Lower range (selectable via software). Functional parameters can be programmed and monitored via USB 2.0 or Ethernet.
A complete set of software tools is available to control these units, from low level libraries to graphical application software.
Safety features include:
Overvoltage and Undervoltage warning when the output voltage differs from the programmed value (±0.5% of the set value, ±3 V)
Programmable hardware VMAX, IMAX protection limit
Overcurrent detection: when a channel attempts to exceed the programmed current limit, it signaled to be in "overcurrent" and enter in a TRIP status. The output voltage is varied to keep the current below the programmed limit for a programmable TRIP time, then the channel is switched of. If TRIP is set to "constant current mode", the channel behaves like a current generator.
Common Interlock logic for channels enable/disable and individual input signal for channel Kill function.
Available Options:
x 10 Imon Zoom, increasing Imon resolution to 500 pA.
Package

Desktop module housed in a 154x50x164 mm3 (WxHxD) alloy box
No. of Channels

4
Polarity

Positive / Negative / Mixed depending on purchased version
Output Voltage

0 ÷ 6 kV
Max. Output Current

1 mA (4W max)
Voltage Set/Monitor Resolution

Set: 100 mV
Monitor: 20 mV
Current Set Resolution

20 nA
Current Monitor Resolution

5 nA (high range) / 500 pA (low range)
Current Set Maximun Value

1050 µA
VMAX hardware

0 ÷ 6100 V common to all board channels
VMAX hardware resolution

25 V
VMAX hardware accuracy

2% of FSR
Ramp Up/Down

1 ÷ 500 Volt/sec, 1 Volt/sec step
Voltage Ripple

15 mVpp Typical
25 mVpp Maximum
Vset vs. Vout accuracy

±0.05% of read ±1 V
Vmon vs. Vout accuracy

±0.05% of read ±1V
Iset vs. Iout accuracy

±2% of read ±50 nA
Imon vs. Iout accuracy

±2% of read ±50 nA
Maximum output power

4 W per channel (software safety limit)
DT5534E
4 Channel 6 kV/1 mA (4 W) Desktop HV Power Supply Module (USB/Ethernet)
Product page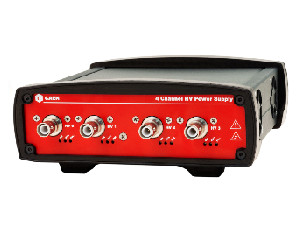 Documentation
Software
Firmware
Compare
Compare with Desktop High Voltage Power Supplies.
Ordering Options
Code
Description
WDT5534EXMAA
DT5534EM - 4 Channel 6 kV/1 mA (4 W) Desktop HV Power Supply (USB/Ethernet) - Mixed
WDT5534EXNAA
DT5534EN - 4 Channel 6 kV/1 mA (4 W) Desktop HV Power Supply (USB/Ethernet) - Negative
WDT5534EXPAA
DT5534EP - 4 Channel 6 kV/1 mA (4 W) Desktop HV Power Supply (USB/Ethernet) - Positive