HiVolta (DT1415ET)
8 Ch Reversible 1 kV/1 mA Desktop HV Power Supply High Accuracy Module (USB/Ethernet/T.screen)
Features
8 channels desktop module
220 V/110 V AC operation
1 kV / 1mA (0.6W) output ranges
Floating Channels
SHV coaxial output connectors
Floating return up to 5kV
Low Ripple (Typ: < 5mVpp differential)
20 mV Vset resolution
20 nA Iset esolution
1 nA Imon resolution (Imon-Zoom: 100 pA)
Under/over-voltage alert, overcurrent protection
Programmable ramp-up / ramp-down (1-100 V/s)
2.8″ color touch screen
Local and Remote control (USB2.0/Ethernet)
Interlock logic for board enable and Individual channel kill
Software Tool for easy channel management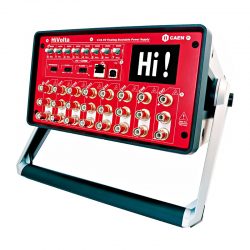 Overview
HiVolta (DT1415ET) provides 8 independent High Voltage 1 kV / 1mA (0.6W) channels in a desktop package; the unit is 110/220V AC Powered.
Channels can be used with either positive or negative polarity, independently from each other. The channels have independent floating return, insulated up to 5 kV one from another (Full Floating channel).
Each channel is provided with one connector for the positive output and two "bridged" for the negative one, thus allowing to "stack" two or more adjacent channels.
Module control can take place either locally, assisted by a 2.8″ Touchscreen Graphic color LCD display or remotely, via USB, or Ethernet.
HV outputs are delivered through SHV connectors.
A complete set of Software Tools is available to control these units; the user can freely download low level libraries, LabVIEW driver and Graphical application software.

Safety features include:
Overvoltage and Undervoltage warning when the output voltage differs from the programmed value by more than ±1% ±2V of set value.
Overcurrent detection: if a channel tries to draw a current larger than its programmed limit, it enters TRIP status, keeping the maximum allowed value for a programmable time (TRIP), before being switched off
Common Interlock logic for channels enable/disable and individual inputs signal for channel Kill function.
Packaging

Desktop package (255x140x330mm); Weight: ~5.2kg
No. of Channels

8
Output Voltage

1 kV
Polarity

Floating 5 kV Max.
Output Current

1 mA Max.
Channel Power

0.6W
Voltage Set/Monitor Resolution

20 mV
Current Set Resolution

20 nA
Current Monitor Resolution

High Power 1 nA
High Resolution 100 pA
Ramp Up/Down

1÷100 Volt/sec, 1 Volt/sec step, settable for each channel
Trip

Max. time an "overcurrent" is allowed to last (seconds). A channel in "overcurrent" works as a current generator; output voltage varies to keep the output current lower than the programmed value. "Overcurrent" lasting more than set value, causes the channel to "trip". Output voltage will drop to zero at the Ramp-down rate; in this case the channel is put in the off state. If trip= INFINITE, "overcurrent" lasts indefinitely. TRIP range: 0 ÷ 999.9 s; 1000 s = Infinite. Step = 0.1 s
Voltage Ripple

differential mode typical <5mV; max 10mV
common mode typical<10mV; max 15mV
Voltage Monitor vs. Output Voltage Accuracy

0.2% ±0.2V ±50ppm/°C
Voltage Set vs. Output Voltage Accuracy

0.2% ±0.2V ±50ppm/°C
Imon vs Output current accuracy

0.5% ±5nA ±50ppm/°C with output current from 10% to 100% f.s. and constant voltage 2% ±5nA ±50ppm/°C with output current up to 10% f.s. and constant voltage
Power requirements

100-240Vac; 50/60Hz; 0.8A rms max; fuse: 2xT1A 6.3×32 250Vac
Humidity range

0 ÷ 80%
Operating temperature

0 ÷ 45°C
Storage temperature

-10 ÷ 70°C
HiVolta (DT1415ET)
8 Ch Reversible 1 kV/1 mA Desktop HV Power Supply High Accuracy Module (USB/Ethernet/T.screen)
Product page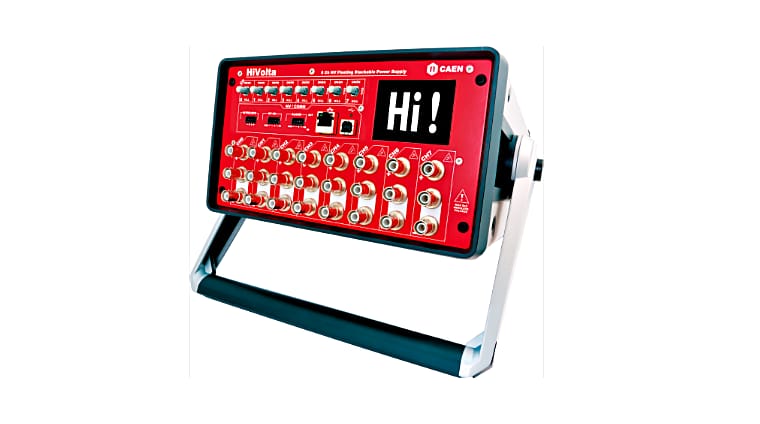 Documentation
Software
Firmware
Compare
Compare with Desktop High Voltage Power Supplies.
Ordering Options
Code
Description
WDT1415ETXAA
DT1415ET - 8Ch Floating Reversible 1kV/1mA (800 mW) Desktop HV Power Supply Module for MPGD

RoHS