CAENSCOPE (Discontinued version)
CAEN Digitizer Oscilloscope Tool
Caenscope is a graphical application that implements an oscilloscope and allows the usage of CAEN's Digitizers.
4 indipendent oscilloscope windows.
Complete trigger control
Data Recording on file (three different format: Binary, Decimal, Hexadecimal).
Virtual channels for algebraic operators on real channels or constants.
Support all digitizer models (VME, Desktop, NIM)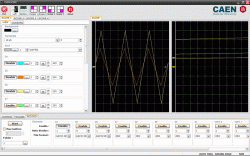 Overview
CAEN Scope is an application that implements a graphical oscilloscope to allow the use and the configuration of CAEN digitizers.
CAEN Scope user friendly interface is divided in different sections to easily manage the digitizer's parameters. The signal visualization is made possible through 4 indipendent windows and the signals are recordable on files in three different formats: Binary, Decimal, Hexadecimal. Recording Controls are found in the Record section, Digitizer's parameters are found in the common section and a full triggers control is provided in the trigger section.
After installation, before launching the program, it is necessary to edit the configuration file and to set the parameters (see manual).
Note: for compilation requires wxWidgets 2.8.10 Library (www.wxwidgets.org)