A7560
2 Ch ± 6000 V/10 µA High Efficiency HV Power Supply Module with Digital Control
Features
Double channel, opposite polarity PCB mount High Voltage Power Supply
High efficiency
+6 kV/10 μA, -6 kV/10 μA output ranges
Vin: from +5 V – 20% to +12 V + 10%
General On/Off: 0-5 V
Power requirement: < 2.5 W @ full power
Low ripple and noise
Serial Line: USART (TX, RX)
Embedded digital control for enhanced performances
Compact package 49x49x23 mm3 (WxLxH)
HV out by wire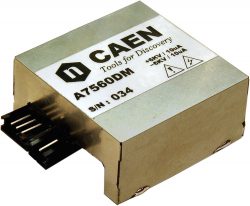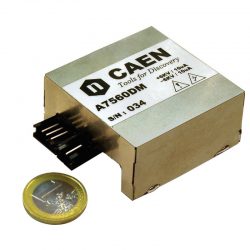 Overview
The A7560 is a compact, high efficiency, low noise double channel High Voltage DC/DC converter in a PCB mount form factor.
It can supply a double output High Voltage with opposite polarity according to the user setting.
The module features a digital control managed by an embedded low power micro-controller. By running a dedicated resident firmware, it can handle calibration, ramp up/down rates, power-on sequence, inner SPI serial bus and self-compensation of nonlinearities for enhanced accuracy.
The A7560 HV channel is handled by a micro controller that every 5ms updates set voltage and current limit, via a 16bit DAC and sampling voltage and current values via a 24bit sigma delta ADC.
Current changes smaller than 6.5nA are digitally filtered with 500ms time constant.
The unit can be externally controlled and configured by means of an USART serial link. It provides all the relevant information as Voltage and Current monitors, Status and Overcurrent for the safety of detectors as RPCs and others. These features make A7560 suitable for integration in user designed systems or embedded applications.
The A7560 is able to work in magnetic field up to 1 kGauss.
Safety Features include:
Overcurrent detection: if the channel attempts to draw a current larger than Iset, the output voltage is automatically adjusted to keep the current below Iset limit. Under this condition, the channel behaves as a current generator.
Protected against short circuits, sparks and humidity.
Packaging

Material: DC01; dimension: W=49 mm; L=49 mm ; H=23 mm
Operating temperature

-10° C ÷ +40° C
Storage temperature

-55° C ÷ +85° C
Voltage Supply (Vin)

from +5 V – 20% to +12 V + 10%
Output Voltage (Vout)

0 ÷ ±6kV
Output polarity

Double channel, opposite polarity
Voltage Set/Mon resolution

set: 100mV; mon.: 100mV
Maximum Output Current (Iout)

10 µA
Current Set/Mon resolution

set: 200 pA; mon.: 100 pA
Ramp Up/Down

1÷500 V/s
Vmon vs. Vout Accuracy

Typical: ±0.2% ±0.5V Max: ±0.3% ±0.5V
Imon vs. Iout Accuracy

Typical: ±0.5% ±20nA Max: ±1% ±100nA
Voltage Ripple

10Hz ÷ 1000Hz typical: 10mV; max.: 30mV
>1000Hz typical: 10mV; max.: 15mV
Output power (max)

120mW
Power requirement

< 2.5 W @ full power
Serial Line

USART (TX, RX)
Electromagnetic compatibility

Weak emission of electromagnetic impulse and RF; one-piece metal shielding with several ground connections
Uniformity of a lot

< 1 %
Protection

Over current short circuit, sparks and humidity
A7560
2 Ch ± 6000 V/10 µA High Efficiency HV Power Supply Module with Digital Control
Product page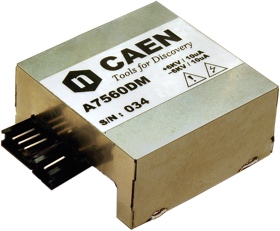 Documentation
Software
Firmware
Application SW
Name
File extension
File size
Revision
Last update
OS
OS Version
A7560 Controller
ZIP
83.81 kB
-
May 25th, 2017
Windows
10
7
8

Compare
Compare with PCB HV Power Supplies.
Ordering Options
Code
Description
WA7560DMXAAA
A7560DM PCB Power Supply +/-6kV 10uA HV PWS Module with Digital Control working in Magnetic Field

RoHS

WA7560DTMXAA
A7560DTM PCB P.S. +/-6kV 10uA HV PWS Module with Digital Control (TTL) working in Magnetic Field

RoHS

WA7560AMXAAA
A7560AM PCB Power Supply +/-6kV 10uA HV PWS Module with Analog Control working in Magnetic Field

RoHS