A7511
1 Ch 1100 V/1000 µA High Efficiency HV Power Supply Module
Features
High efficiency
1100 V/1000 µA output ranges
Available with positive or negative polarity
Stand alone architecture
Compact package: 29x54x16 mm3 (WxLxH)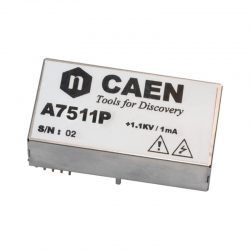 Overview
The A7511 is a high efficiency power supply providing a programmable and monitorable output voltage ranging from 0 to 1100 V, when supplied with a +12 V input. It is available with either positive or negative output voltage.
The board is provided with an over-current protection: if a current larger than the Iout maximum value is drawn, the module is not being damaged.
The output voltage is regulated by providing a 0 to +2 V external voltage (Vset). The module is engineered on a FR4 PCB, coated and housed in DC01 box.
Packaging

Material: DC01; dimension: W=29 mm ; L=54 mm ; H=16 mm
Contact pins

Male strip header; 2.54mm step; phosphor bronze; UL94V0 insulator
Operating temperature

-55° C ÷ +80° C
Storage temperature

-55° C ÷ +85° C
Voltage Supply (Vin)

+12V (±10%)
Maximum Output V (V)

1100
Maximum Output I (µA)

1000 µA
Output polarity

Available positive or negative
Enable

Enable > 2.8 V Channel active
Enable < 1 V Channel disabled
Ripple Typ. (mVpp)

Typical 5mVpp; Maximum 10mVpp
Vset Input (V)

0 ÷ +2
Vmon Output (V)

0 ÷ +2 V
Iset Input

0 ÷ +2 V
Imon Output (V)

0 ÷ +2 V
Status OVC bit

0÷2 V (high = OVC)
DeltaVout/Vout (for ±5% Vin variations)

<1.5 X 10-3 @ full scale
Power requirement (mW)

< 1700 mW
A7511
1 Ch 1100 V/1000 µA High Efficiency HV Power Supply Module
Product page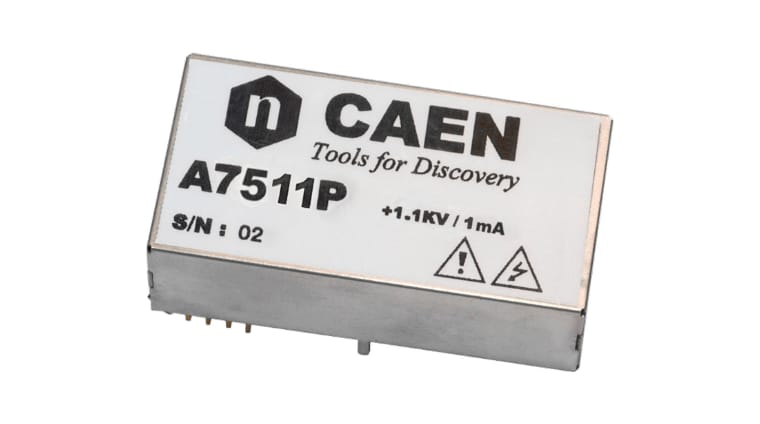 Documentation
Software
Firmware
Compare
Compare with PCB HV Power Supplies.
Ordering Options
Code
Description
WA7511PXAAAA
A7511P - +1.1kV 1mA High Efficiency HV Power Supply Module (12V in)

RoHS

WA7511NXAAAA
A7511N - -1.1kV 1mA High Efficiency HV Power Supply Module (12V in)

RoHS

WA7511NBXAAA
A7511NB - -1.1kV 1mA High Efficiency HV Power Supply Module BOXED

RoHS