A422A
Charge Sensitive Preamplifier with Timing (Box)
Positive or negative input signals
Energy sensitivity range of 5, 30 or 60 mV/MeV (Si)
Low noise
Timing output
Up to 5 kV (positive or negative) detector bias voltage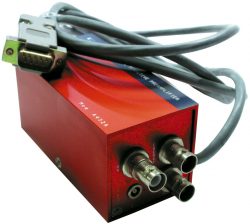 Overview
The Mod. A422A is a charge sensitive preamplifier, designed to be used especially with semiconductor detectors and in particular whenever the charge division is required (as in position sensitive silicon detectors). The unit accepts both positive and negative input pulses. A Test input for detector gain calibration and a HV input (up to 5 kV) for the detector bias are also included. The output is an inverting unipolar voltage pulse, proportional in amplitude to the integrated charge; decay time is 300 µs. A Timing output provides an unipolar inverting fast voltage pulse, with a 15 ns typical rise time, across a 50 Ohm load. Three different sensitivities (5, 30 or 60 mV/MeV) can be selected.
Input

Positive or negative charge pulses
HV Input

Up to 5 kV (positive or negative) for the detector bias
Test Input

positive or negative inputs
Output

Inverting unipolar output
DC offset adjustable to zero via the internal trimmer:
Minimum rise time: 50 ns
Decay time: 300 µs
Max peak amplitude: ± 8 V
Timing Output

Unipolar inverting fast voltage pulse (drives 50 Ohm loads):
Minimum rise time: 14ns
Integral non linearity

± 0.045% (from 0 to ± 8 V peak output)
Gain drift

± 50 ppm/°C to (from 0° to 50°C)
Energy sensitivity

60/30/5 mV/MeV (Si) selectable via internal jumpers (± 10%)
Typical noise

17.5 KeV FWHM at 1000 pF capacitance and 60 mV/MeV sensitivity
A422A
Charge Sensitive Preamplifier with Timing (Box)
Product page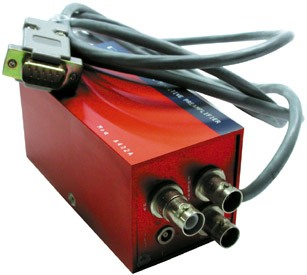 Documentation
Software
Firmware
Compare
Compare with Charge Sensitive Preamplifiers.
Ordering Options
Code
Description
WA422AXAAAAA
A422A - Charge Sensitive Preamplifier with timing(Box)

RoHS