A3801
128 Channel ADC Board
Magnetic field and radiation tolerant
128 input channels (differential)
10 V input dynamics
15 bit resolution
1 kHz max sampling rate
Flat cable input connectors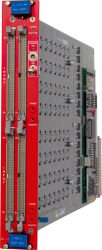 Overview
The CAEN Mod. A3801 is a 128 Channel ADC Board implemented in a double width EASY module. The module is developed for operation in magnetic field and radioactive environment and houses 128 input ADC channels on standard flat cable connectors. Once the threshold, which is common to all channels, is set, the module, when receives one over-threshold input, samples 250 values per channel, with a 1 kHz max sampling rate. Input range is 0 ÷ 10 V (differential) and the ADC resolution is 0.2 mV.
Input Type

Differential
Full Scale Range

0 ÷ +10 V
Common Mode

±2 V
LSB

200 µV
Integral non linearity

0.1% of FSR
Conversion rate

2 s for all channels
Interchannel isolation

60 dB
Temperature stability

0.5 LSB/°C
Weight

1kg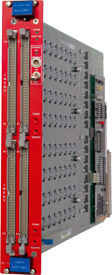 Documentation
Software
Firmware
Compare
Compare with EASY3000 ADCs Boards.
Ordering Options
| Code | Description |
| --- | --- |
| WE3801XAAAAA | A3801 - EASY3000 128 Channel ADC Board |