A3025
4 Channel 8 V / 25 A / 150 W Power Supply Board
EASY Subsystem Power Supply Module
Magnetic field and radiation tolerant
4 floating 2 ÷ 8 V / 25 A channels
150 W maximum output power per channel
VMax and IMax set by trimmer for each channel
On/Off for each channel
Channels individually controlled and protected
Line Drop Regulation on board panel
Interlock capability
48 V Service local and remote on/off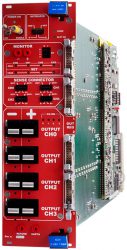 Overview
This document shows the features of the CAEN A3025 4 Channel 8 V / 25 A Power Supply Board, developed for operation in magnetic field and moderate radioactive environment. One A3025 houses 4 floating (reversible polarity) 8 V / 25 A channels (150 W maximum output power per channel).
Two versions are available: Mod. A3025, provided with APP PC5933T output connectors, and Mod. A3025B, provided with screw locks for connecting the output cables.
The connector output voltage range is 1.5 ÷ 8 V with 5 mV monitor resolution; channel control includes various alarms and protections.
The board is provided with Remote Sensing Lines to compensate for the voltage drop over the connection cables.
If the output voltage differs from the programmed value by more than 3% of voltage full scale range, the channel is signalled to be either in Overvoltage and Undervoltage condition.
Moreover, for each channel, a voltage protection limit SVMAX can be fixed via software with 5 mV resolution and the output voltage can not be programmed beyond this value.
The output current is monitored with 10 mA resolution; if a channel tries to draw a current larger than its programmed limit it is signalled to be in Overcurrent condition; the SY 1527 system detects this state as a fault and reacts according to the setting of the TRIP parameter , which can be programmed in 0.1s steps from 0 to 1000s. Actually TRIP = 1000 s means infinite: in case of TRIP infinite the output current is permitted to keep the programmed limit; if the maximum output current value is reached the channel behaves like a constant current generator. In case of TRIP < 1000 s, the output current is permitted to keep the limit only for programmed time interval and then is switched off.
The maximum output voltage (VMAX) and the maximum output current (IMAX) can be fixed for each channel, through trimmers located on the front panel.
Polarity

Reversible
Output Voltage

2 ÷ 8 V (connector output)
Max. Output Current

25 A
Voltage Set/Monitor Resolution

10 mV
Current Set/Monitor Resolution

100 mA
VMAX hardware

0 ÷ 9 V
VMAX software

2 ÷ 8 V
VMAX software resolution

5 mV
Voltage Ripple

< 10 mV pp (@ full load)
Voltage Monitor vs. Output Voltage Accuracy

max. ±50 mV ±0.3% of reading
Voltage Set vs. Output Voltage Accuracy

max. ±50 mV ±0.3% of reading
Current Monitor vs. Output Current Accuracy

± 1A ± 2% of reading
Current Set vs. Output Current Accuracy

± 1A ± 2% of reading
Load Regulation

± 0.3 % (with sense wires)
± 2 % (without sense wires)
Output Power (per Channel)

150 W
Test Set Up

cable: length = 30m; diam.= 8mm (for both output and return) with sense wires connected
test load: >600W
load capacitance: 10µF electrolytic // 100nF ceramic (// to the load)
Weight

6kg
A3025
4 Channel 8 V / 25 A / 150 W Power Supply Board
Product page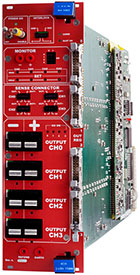 Documentation
Software
Firmware
Compare
Compare with EASY3000 LV Floating Power Supply Boards.
Ordering Options
| Code | Description |
| --- | --- |
| WE3025XAAAAA | A3025 - EASY3000 L.V. channels 8 V/25 A/150 Wfloating - APP Conn. (4 ch) |