A1426 CARDARELLI
Matched Charge Preamplifier
Fast, non-inverting preamplifier, positive output
Up to 5 mV/fC sensitivity
ENC of 0.3 fC (2000 e)
Input impedance can be matched to a 50 Ohm transmission line
Amplifier can be very far from the detector (up to 100m)
Output range 0 to 1 V
Output impedance of 50 Ohm
Up to 1 kV (positive or negative) detector bias voltage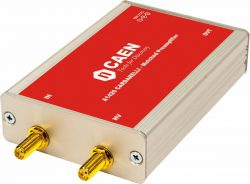 Overview
A1426 is a fast and low noise preamplifier with AC coupled input. It is composed by two amplification stages implementing BJT NPN silicon technology. The amplifier A1426 has been designed to be used with fast detectors as e.g. diamond detectors, thin silicon detectors with 100 ps time resolution and high counting rate RPC.
The main feature of the A1426 amplifier is that the input impedance can be matched to a 50 Ohm transmission line, thus allowing to put the preamplifier far from the detector at a distance up to 100 m, without deteriorating its response in terms of equivalent noise. In particular, A1426 has an input impedance very close to 50 Ohm in the frequency range of interest. It Shows a discrete matching in the range 6 Mhz – 600 Mhz, and a RL > 13 dB in the range 6 Mhz – 320 Mhz.
Another important feature of A1426 is the fast shaping of the signal, down to 12 ns, that allows working at a rate of few MHz without
incurring in signal pile-up.
A1426 is suited for detectors installed in hostile environments with high radiation flux and high temperature, when is not possible to connect the front-end electronics in proximity of the sensor (e.g. nuclear reactors or high intensity, high ionizing particle beams). The amplifier, in fact, can be connected to the detector by means of a long cable without a significant degradation of its performance. Dedicated 50 Ω triaxial cables of different lengths are available on request.
A1426 embeds an high voltage input and decoupling stage for detector bias rated up to 1 kV.
The module is powered by an external AC-DC stabilized power supply provided with the preamplifier.
Based on the fast preamplifier developed by R. Cardarelli, INFN Roma2
Packaging

Shielded box
Dimensions (WxHxD):
69 x 24 x 103 mm3 (without connectors)
69 x 24 x 134 mm3 (including connectors)
Weight: 220 g
No. of Channels

1
Input Pulse polarity

Positive only
Input pulse width

100 ps to 8 ns
Sensitivity

up to 5 mV/fC
Mode

Non-Inverting
ENC noise

0.3 fC (2000 e)
Output Range

0 ÷ 1 V(open circuit)
0 ÷ 500 mV 50 Ω termination
Input Impedance

50 Ω
Output Impedance

50 Ω
Detector HV Rating

1 kV
Power requirements

+12 V 30 mA (typical)
The module is powered by an external AC-DC stabilized power supply provided with the amplifier and included in the delivered kit.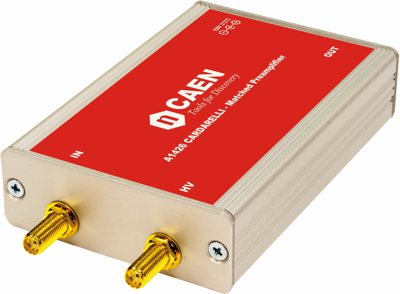 Documentation
Software
Firmware
Compare
Compare with Fast Preamplifiers.
Ordering Options
Code
Description
WA1426XAAAAA
A1426 CARDARELLI - Matched Preamplifier

RoHS

WA1430XAAAAA
A1430 - Wide Band Pulse polarity Inverter

RoHS

WA1431XAAAAA
A1431 3 meters 50 ohm triaxial cable with SMA straight plug for A1426

RoHS

WA1432XAAAAA
A1432 10 meters 50 ohm triaxial cable with SMA straight plug for A1426

RoHS

WA1433XAAAAA
A1433 30 meters 50 ohm triaxial cable with SMA straight plug for A1426

RoHS