NIM8302P
5U 5 slot 150 W Portable Crate
Low cost compact solution
270 mm x 5U, 7 slot (5 free) enclosure
7 slot non-ventilated NIM bin (5 free slots)
Slot linear power supply (150 W)
Equipped with long-life NIM connectors
Short circuit protection
Over / Undervoltage protection
Over temperature protection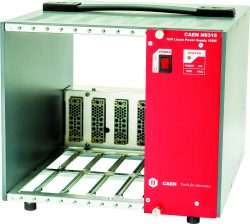 Overview
The CAEN Mod. NIM8302P is a portable (5 slot free) non ventilated NIM crate provided with pluggable 150W power supply
Safety features include: short circuit protection, Over/Undervoltage protection, Over temperature protection. The Unit is powered by 110 or 220 Vac, 50 ÷ 60 Hz. On the front panel the status of power supply is indicated by green/red LED.
Mechanics

270 mm x 5U, 7 slot (5 free), non ventilated; portable version; weight: 11kg
Mains input

230 VAC or 115 VAC, 50-60 Hz.
Maximum Total OutputPower

150 W
Fuse External

External 2 A, class T (230 VAC)
Power requirements

280W at full load
Output power

5 A @ ±6V 3 A @ ±12 V 1.5 A @ ±24 V
Isolation

CE acc. to EN 61010
Load Regulation

< 0.5 % for 10-100% load change, < 0.02 % for ±10% line change
Ripple

±6V < 5 mVpp ±12 V < 8 mVpp ±24 V < 10 mVpp
Transient response recovey

0.15 ms for recovery to ±1% of voltage for 10-100% load change
Output Impedance

0.6 mohm static
Output Voltage Characteristic

dual tracking for all ±DC outputsSoft startDC output calibration (manually)
Output Current Characteristic

OVC protection / Trip Off
Over Voltage Protection

Trip Off when the output voltage > 130% of nominal voltage
Under Voltage Protection

Trip Off when the output voltage < 70% of nominal voltage
Over Current Protection

Trip Off when current: >6A@+24V, >2A@-24V, >6A@+12V, >3.75A@ 12V, > 10A@±6V
Over TemperatureProtection

Trip Off when temperature > 75° C
Temperature sensors

nr.1
Status control

Fail/Status LED signal
Operation

0÷45°C without derating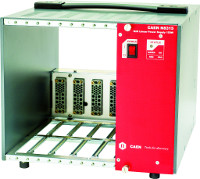 Documentation
Software
Firmware
Compare
Compare with Powered Crates.
Ordering Options
Code
Description
WNIM8302P150
NIM8302P/15 - NIM Portable crate, 5 slot, 150W (±6V 5A, ±12V 3A, ±24V 1,5A)

RoHS