Overview
This page contains the .xml Configuration Files of all EASY Boards. These files contain the operating parameters of each EASY Board and are used to configure EASY Crates connected to the A1676A branch controller.
The A1676A branch controller is a single width board and will be housed in one SYx527 system, while the remote sections will operate in the "hostile area".
The User can build his crate configuration file using the CAEN EASY Rack Builder, a Java(TM) application which allows EASY Users to create their customised EASY Crate configurations.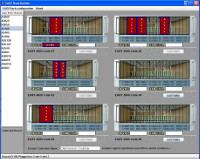 Documentation
Software
Firmware
Application SW
| Name | File extension | File size | Revision | Last update | OS | OS Version |
| --- | --- | --- | --- | --- | --- | --- |
| EASY Rack Builder Software | TGZ | 303.87 kB | 2.6.3 | March 1st, 2014 | Cross-platform | - |
Configuration file
| Name | File extension | File size | Revision | Last update | OS | OS Version |
| --- | --- | --- | --- | --- | --- | --- |
| A1396 configuration file for EASY Rack Builder Software | XML | 100.44 kB | 2.0 | March 5th, 2007 | Cross-platform | - |
| A3006 configuration file for EASY Rack Builder Software | XML | 24.58 kB | 2.0 | September 4th, 2006 | Cross-platform | - |
| A3009 configuration file for EASY Rack Builder Software | XML | 47.43 kB | 2.0 | September 4th, 2006 | Cross-platform | - |
| A3009B configuration file for EASY Rack Builder Software | XML | 46.18 kB | 2.0 | September 5th, 2006 | Cross-platform | - |
| A3016 configuration file for EASY Rack Builder Software | XML | 24.59 kB | 2.0 | September 6th, 2006 | Cross-platform | - |
| A3016B configuration file for EASY Rack Builder Software | XML | 24.60 kB | 2.0 | September 7th, 2006 | Cross-platform | - |
| A3025 configuration file for EASY Rack Builder Software | XML | 19.31 kB | 2.0 | September 8th, 2006 | Cross-platform | - |
| A3025B configuration file for EASY Rack Builder Software | XML | 19.32 kB | 2.0 | September 11th, 2006 | Cross-platform | - |
| A3050 configuration file for EASY Rack Builder Software | XML | 10.90 kB | 2.0 | September 12th, 2006 | Cross-platform | - |
| A3100 configuration file for EASY Rack Builder Software | XML | 7.14 kB | 2.0 | September 13th, 2006 | Cross-platform | - |
| A3485 configuration file for EASY Rack Builder Software | XML | 7.21 kB | 1.0 | April 4th, 2006 | Cross-platform | - |
| A3486 configuration file for EASY Rack Builder Software | XML | 11.62 kB | 1.1 | April 2nd, 2007 | Cross-platform | - |
| A3602 configuration file for EASY Rack Builder Software | XML | 15.81 kB | 1.1 | August 20th, 2007 | Cross-platform | - |
| A3801 configuration file for EASY Rack Builder Software | XML | 232.45 kB | 3.00 | September 6th, 2010 | Cross-platform | - |
| A3802 configuration file for EASY Rack Builder Software | XML | 71.78 kB | 1.0 | January 10th, 2007 | Cross-platform | - |
| A3100B configuration file for EASY Rack Builder Software- | XML | 6.95 kB | 1.0 | March 5th, 2007 | Cross-platform | - |
| A4602 configuration file for EASY Rack Builder Software | XML | 22.30 kB | 1.0 | October 9th, 2006 | Cross-platform | - |
| A3801A configuration file for EASY Rack Builder Software | XML | 58.13 kB | 1.0 | April 3rd, 2006 | Cross-platform | - |
| A3025D configuration file for EASY Rack Builder Software | XML | 14.86 kB | 1.0 | September 18th, 2006 | Cross-platform | - |
| A3050D configuration file for EASY Rack Builder Software | XML | 10.91 kB | 2.0 | September 19th, 2006 | Cross-platform | - |
| A3486S configuration file for EASY Rack Builder Software | XML | 11.63 kB | 1.0 | May 14th, 2007 | Cross-platform | - |
| A3512N configuration file for EASY Rack Builder Software | XML | 28.00 kB | 1.0 | April 17th, 2006 | Cross-platform | - |
| A3535N configuration file for EASY Rack Builder Software | XML | 140.31 kB | 1.0 | April 20th, 2006 | Cross-platform | - |
| A3535P configuration file for EASY Rack Builder Software | XML | 140.31 kB | 1.0 | April 21st, 2006 | Cross-platform | - |
| A3540N configuration file for EASY Rack Builder Software | XML | 54.41 kB | 1.0 1.0 | April 24th, 2006 | Cross-platform | - |
| A3540P configuration file for EASY Rack Builder Software | XML | 54.41 kB | 1.0 | April 24th, 2006 | Cross-platform | - |
| A4601F configuration file for EASY Rack Builder Software | XML | 38.34 kB | 1.0 | April 26th, 2006 | Cross-platform | - |
| A4601H configuration file for EASY Rack Builder Software | XML | 37.44 kB | 1.0 | April 28th, 2006 | Cross-platform | - |
| A3100HBP configuration file for EASY Rack Builder Software | XML | 7.14 kB | - | May 6th, 2019 | Cross-platform | - |