A1427 KIT
Low noise fast current preamplifier and discriminator
A1427 Preamplifier characteristics
Fast non inverting preamplifier, negative output (EOUT)
Input impedance: 50 Ω AC coupled
Output high impedance (EOUT)
Bipolar output high impedance (FOUT)
Test input (TEST IN) impedance: 50 Ω, negative polarity
FOUT/DET IN gain (FOUT negative lobe):

FC version: 700÷2500
PR version: 500÷1500

FOUT/TEST IN gain: 1/100 of DET IN gain
Output noise (peak to peak) < 40 mV
Up to 3 kV detector bias voltage (HV IN)
Rbias: 200 kΩ
A1428 Discriminator characteristics:
Input polarity negative
Input impedance 50 Ω
Threshold -1 mV to -100 mV
Output: standard TTL signal
Maximum frequency 15 MHz for Fission Chamber
Maximum frequency 6 MHz for Proton Recoil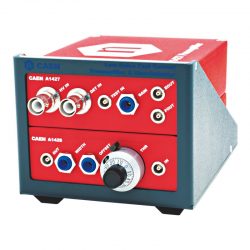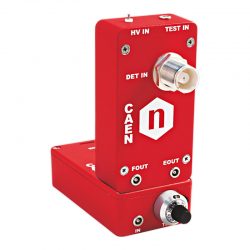 Overview
A1427 Kit contains a fast preamplifier (A1427) and a discriminator (A1428) assembled together. It is developed by CEA Saclay for the Cabri reactor in Cadarache and it is suitable for fission chambers, boron deposition proportional counters, 3He counters and proton recoil counters. 
The A1427 Kit is designed to work with high counting rate and it is specifically studied to be not sensible to the external electromagnetic fields. CAEN provides two versions of the kit with different mechanics and connectors: one for desk use and one made for the Cabri reactor.
A1427 is a fast and low noise current preamplifier with AC coupled input. It hosts two outputs: EOUT (unipolar) that can be integrated to calculate the energy associated to the input signal and FOUT (bipolar) that can be used to calculate the rate of the input signal, discriminating the negative pole using the A1428 discriminator that is designed to fit with A1427. The discriminator thresholds is settable from -1 to -100 mV via a 10 turn rotary handle with lock.
The Kit is available in two different versions one for fission chambers (FC) the other for proton recoil detectors (PR).
We provide A1427 and A1428 separately and in the A1427 Kit configuration, that includes the A1427 and the A1428 assembled together, both for fission chambers and for proton recoil detectors.
A1427 KIT
Low noise fast current preamplifier and discriminator
Product page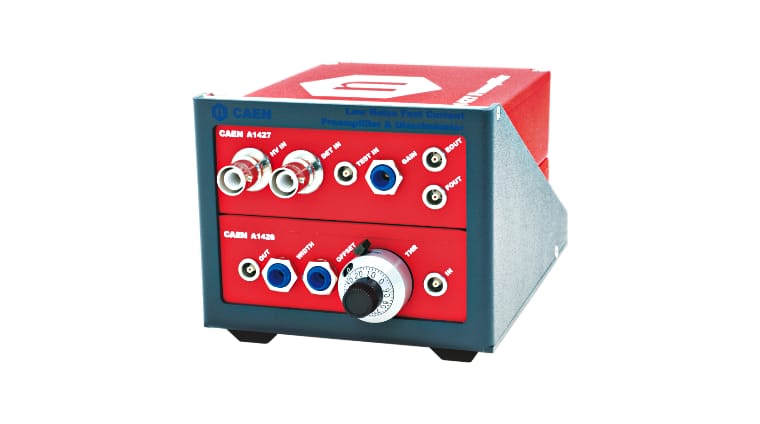 Documentation
Software
Firmware
Ordering Options
| Code | Description |
| --- | --- |
| WK1427CABFCA | A1427KIT with A1427 Cabri Preamp. for Fission Chammber A1428 Cabri Discrimin. for Fission |
| WK1427CABPRA | A1427KIT with A1427 Cabri Preamp. for Proton Recoil + A1428 Cabri Discrimin. for Proton Recoil |
| WK1427FCAAAA | A1427KIT with A1427 Preamp. for Fission Chamber + A1428 Discrimin. for Fission Chamber |
| WK1427PRAAAA | A1427KIT with A1427 Preamp. for Proton Recoil + A1428 Discrimin. for Proton Recoil |
| WK1427IAEAFC | A1427KIT with A1427 Preamp. for Fission Chamber +A1428 Discriminator for Proton Recoil |
| WK1427IAEAPR | A1427KIT with A1427 Preamp. for Proton Recoil + A1428 Discrimin. for Proton Recoil IAEA |