A1425
Fast Charge Sensitive Preamplifier
Fast, inverting preamplifier
Sensitivity of 3.6 mV/fC
ENC of 0.16 fC (1000 e)
Output impedance of 50 Ohm
Output range 0 to 1 V
Up to 1 kV (positive or negative) detector bias voltage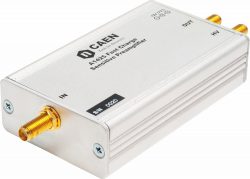 Overview
The A1425 is a fast and low noise preamplifier with AC coupled input. The fast rise time makes it suited for amplifying the signals from detectors as fast silicon sensors and diamond detectors.
It has been designed for spectroscopy applications, and can be combined with sub-nanosecond measurements of particle time-of flight. It is optimized for high-speed single MIP particle detection with diamond detectors, where the signal integrated change is extremely small. It integrates a high voltage input for detector bias up to 1 kV.
Packaging

Shielded Box
Dimensions (WxHxD):
65 x 24 x 95 mm3 (without connectors)
65 x 24 x 110 mm3 (including connectors)
Weight: 134 g
No. of Channels

1
Mode

Inverting
Input Pulse polarity

Negative only
Sensitivity

3.6 mV/fC
ENC noise

0.16 fC (1000 e)
Output Range (V)

0 ÷ 1 (50 Ohm termination)
Output Impedance

50 Ohm
Detector HV Rating

1 kV
Power requirements

+12 V 30 mA (typical)
The module is powered by an external AC-DC stabilized power supply provided with the amplifier and included in the delivered kit.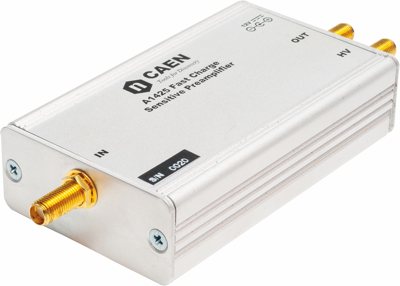 Documentation
Software
Firmware
Compare
Compare with Fast Preamplifiers.
Ordering Options
Code
Description
WA1425XAAAAA
A1425 - Fast Charge Sensitive Preamplifier

RoHS