About EASY ( Embedded Assembly SYstem )
EASY ( Embedded Assembly SYstem ) is the CAEN high/low voltage power supply to be used every time the magnetic field and radiation become a problem.
For More information about EASY Products click here.

Why EASY?
During the last decade, CAEN has been involved in developing different solutions in order to satisfy the requirements coming from main LHC experiments where the electronic equipment of the experiment is dealing with high dose of radiation and strong magnetic field.
In order to provide safe and reliable operations in these hostile areas, CAEN started tests with rad-tolerance components and magnetic field resistant solutions, patenting this technology that is now used in a line of products for "hostile" area.
In addition even if designed for harsh environment the EASY modules can work also in normal conditions with excellent performance.
Widely used in LHC experiments, producing over 6,500 electronic units, containing more than 190,000 sub-boards.
In addition even if designed for harsh environment the EASY modules can work also in normal condition with excellent performance.
System Philosophy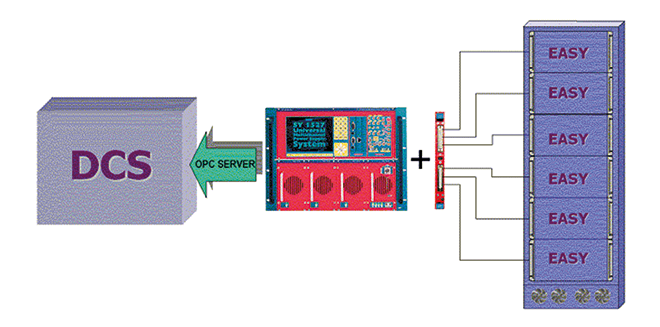 The power supply is located directly in the hostile area; here the EASY modules provide a wide variety of output voltages to satisfy the requirements of most detectors and front end electronics (LV up to 100A and HV up to 12 kV).The control of the EASY power supply system can be done remotely using a Branch Controller (model A1676A) plugged in a SY1527 or SY2527 mainframe located in the control room. Trough the mainframe an immediate and "automatic" interfacing with the DCS or the custom control software is achieved using the provided and full reliable OPC server software.
Flexibility and Compatibility
Each branch controller module can handle up to 6 EASY crates. Since the A1676A is a one unit wide board, each SY1527 power system can house up to 16 branch controller boards, while each SY2527 can house up to 6 branch controller boards, enabling the monitoring up to 96 EASY systems. The module can work even side by side with standard HV and/or LV board. An unique interface and a cost effective set-up for all the experiment's power requirements!
Architecture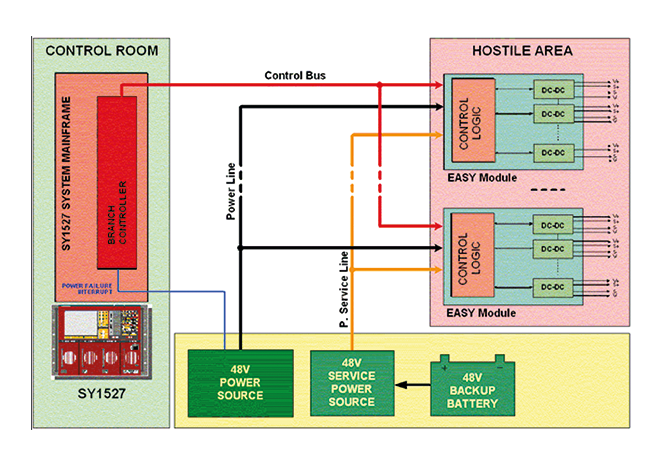 The EASY3000 (for boards up to 40cm long, A3XXX Family) can house up to 10 boards depending on the boards' width, while the EASY4000 (for boards up to 55cm long, A4XXX Family) can house up to 9 boards. As illustrated in Figure, the branch controller is the interface between the supply unit (SY1527 or SY2527) and the remote boards in the EASY crate. The branch controller role is to configure the EASY channels as they belong to the supply unit slot in which the branch controller is located. In this way all the channels of the EASY boards, will be considered as channels of the branch control board, increasing hugely the number of channels the system can handle.
EASY3000/4000 Crates and Boards hostile areas tolerances
Magnetic field: 2 kGauss
Radiation:

1·1011 p/cm2 TD
2·1012 n/cm2 TD
15 kRad TID